With the NHL Trade Deadline quickly approaching, there seems to be plenty of rumors surrounding Edmonton Oilers forward Patrick Maroon. It's no secret the 29-year-old is a pending unrestricted free agent (UFA) this summer and is the most valuable of Edmonton's pending free agents.
Last week I ran a poll asking fans if they thought the Oilers should trade or keep Maroon. The results said that 57% of fans thought Edmonton should re-sign the left winger. Without a contract, and with February 26 just three weeks away, the rumors aren't going away.
You can count Jim Matheson of the Edmonton Journal as one that doesn't believe the Oilers should be so hasty to give Maroon away. Matheson doesn't see the Oilers moving Maroon unless they're confident they can find an adequate replacement. More importantly, someone who still score 20 goals and 40 points.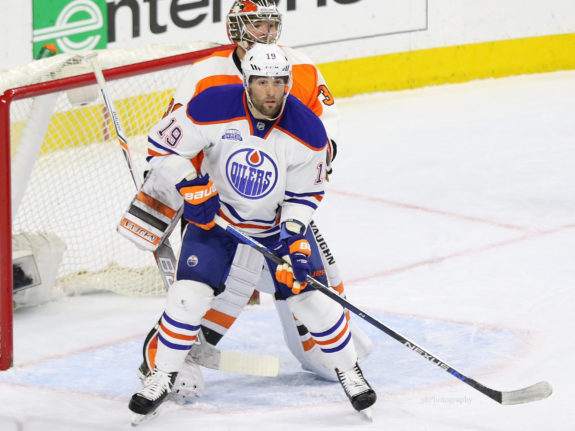 He also thinks the only other scenario a Maroon trade happens is if general manager Peter Chiarelli can land a right-shot offensive defenseman. Matheson, like many, believe Maroon is part of the solution in Edmonton, and not the problem.
The concern from many though is the thought of having two slower lumbering bodies on the left side when the Oilers clearly lack foot speed in their lineup. So the question becomes, do you trade him or keep him? Here's the latest on what's going on with these Maroon rumors.
Oilers Could Trade Maroon, Sign Him in Summer
There's an interesting scenario that could unfold with this Maroon situation if Edmonton can't get a contract extension signed. Elliotte Friedman believes the two sides will continue their dialog in hopes of finding a deal that works for both sides. If they don't, Friedman thinks the Oilers are working on contingency plans.
Friedman believes one of those plans could be to trade Maroon at the deadline, only to bring him back in the summer during free agency. Edmonton would be able to acquire some much-needed pieces in this scenario to bolster a roster that needs an overhaul. For Maroon, he gets a chance to play for a Stanley Cup contender this spring.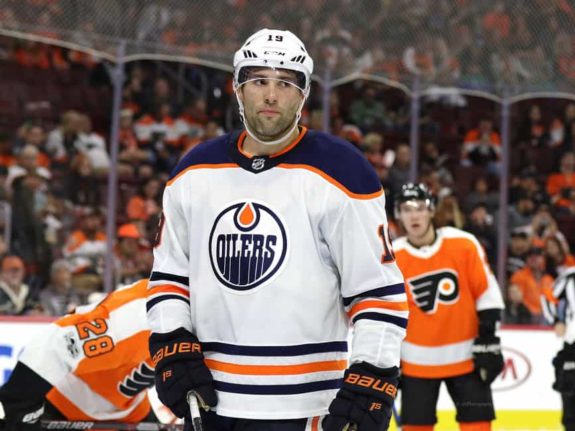 It's an unlikely possibility, but a possibility nonetheless. Maroon has 13 goals in 52 games this season and scored 27 goals last season. There would definitely be some interest around the league in bringing in a potential top-six power forward with scoring abilities.
Related: Why the Oilers Aren't Making the Playoffs
TSN's Frank Seravalli has moved Maroon up to third on his Trade Bait board behind Evander Kane (Buffalo Sabres), and Mike Green (Detroit Red Wings). Maroon, unlike some of the others on Seravalli's list, doesn't have a no-movement (NMC) or no-trade (NTC) clause in his contract.
His $1.5 million cap hit would be easily digestible for suitors as well, which increases his trade value for the Oilers.
Could Maroon Be Traded to Eastern Conference?
The Fourth Period published an interesting report that speculates that Maroon could end up being traded to an Eastern Conference team. One of the teams apparently is the Pittsburgh Penguins, who also have interest in Mark Letestu. There are four other teams from the East that may be interested as well.
They go on to list the Boston Bruins, Columbus Blue Jackets, Philadelphia Flyers, and Tampa Bay Lightning. The Lightning look poised to make a deep playoff run, but they've currently got Yanni Gourde and Alex Killorn on the left side. Gourde has been a revelation this season with 20 goals and 41 points in 55 games.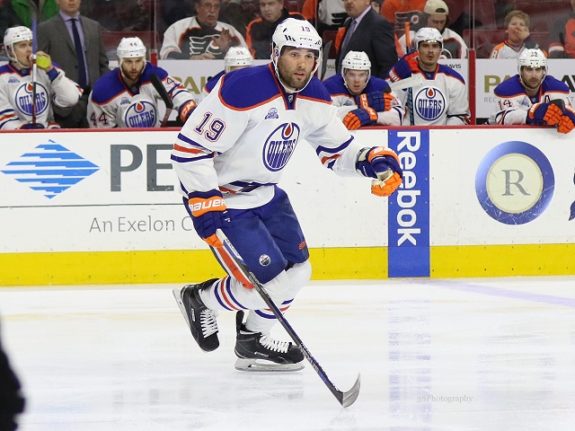 Like Maroon, he's coming in on the cheap at $1 million and has another year on his deal. Meanwhile, Killorn (32 points in 55 games) is on pace for a career year. Tampa Bay is currently without Ondrej Palat for six to eight weeks with a lower-body injury. Maroon could be a stop-gap, but it would be tight as Tampa has just $1.9 million in projected cap space once Palat is back.
The Boston Bruins would be an ideal fit as they've got some younger guys on the left side that could slide down the depth chart. Maroon's style could open up space for a playmaking center like David Krejci. The problem is cap space as the Bruins have $527,324 in projected space once Anders Bjork and Noel Acciari return from injury.
Related: Should Maroon Remain an Oiler?
However, the Bruins do have several players that could interest Oilers general manager Peter Chiarelli. Danton Heinen, Zach Senyshyn, and Bjork come to mind. Heinen, 22, has 38 points in 49 games. Bjork, 21, has 12 points in 30 games. Senyshyn, 18 points in 42 AHL games. To make a deal work Edmonton might have to retain some salary or take some back.
My Thoughts on Maroon Trade Rumours
If the Oilers and the Maroon camp don't have a deal in place in the next two weeks, it could be bon voyage. Edmonton can ill-afford to lose another scoring winger, let alone let one walk for nothing via free agency this summer. So if nothing is concrete, the Oilers should force a move and not risk losing an asset with nothing coming back in return.
The organization has several issues they need to address. Edmonton is slow, they don't have a real triggerman in their top six, they're without a true No.1 defenseman, and they have depth chart issues up front. Trading Maroon likely won't bring the Oilers a king's ransom, but they should still get value.
The real question becomes how good Chiarelli can be at gauging his value on the trade market. He's blown several deals in the past, and everyone comes back to the poor returns he got for Taylor Hall and Jordan Eberle. Those two wingers have a combined 39 goals this season, while the return has netted Edmonton ten goals this season.
There's pressure from the fan base for Chiarelli to find value in a Maroon trade and not give him away for nothing. If he gets anything less than equal or better value, he risks further hindering his public perception amongst not just fans, but the media as well. They'd have a field day with this.
Edmonton needs a true scorer like a Mike Hoffman, but they might not have all the pieces to make a deal like that. It would be great if the Oilers could do a sign and trade with Maroon sending him to Ottawa for Hoffman. The Oilers would need to build a package to make that trade work, and it would have to include a  defenseman.
Either way, the Maroon watch is on, and we should know a clear direction of what's happening in the next week or two. I'd suggest the actual value for Maroon might be between $3.5-4 million, and if he asks for anything more than that the Oilers should trade him.
Do you agree? Leave your thoughts in the comments below.
Edmonton Oilers regular contributor providing insight on all things Oilers including club history, prospect profiles, trade breakdowns, and everything else in between. Check back regularly for new and exciting content. Follow on Twitter @SanderTHW.