It's not as if losing Jack Eichel to a high-ankle sprain is the reason the Sabres will miss the playoffs this season. Mired in the bottom of the league standings, with wins few and far between, this team has been out of contention since Thanksgiving.
The freak injury took place in the first period of Saturday night's game against the Boston Bruins. The face of the franchise was battling behind the net and got tangled up with Bruins' defenseman Matt Grzelcyk and twisted awkwardly to the ice. Ironically, Grzelcyk is Eichel's former Boston University teammate.
Hope Eichel is okay, this didn't look good pic.twitter.com/sTkAmK7pnb

— Marina Maher (@marinakmaher) February 11, 2018
Eichel has 22 goals and 53 points in 55 games for the Sabres. The center has been the catalyst for the Sabres' offense. In his last 30 games, he had 15 goals and 19 assists for 34 points. His production was good enough to rank in the top 10 in the NHL in goals (tied for seventh) and points (tied for fifth) during that stretch.
He's been a glimmer of hope for a team in the league's basement. The team's woeful offense isn't just bad, but historically bad. Heading into Sunday night's game against the Colorado Avalanche, they were dead last in the League with 128 goals in 55 games.
Exposing Another Weakness
Losing Eichel leaves the Sabres with a massive hole in their lineup. It also exposes yet another weakness: there continues to be an overall lack of toughness on the Sabres. Teams freely take their shots at the Sabres' skilled players and impose their positioning in front of goalies Robin Lehner and Chad Johnson. There's almost never any retribution or price to pay.
In this league bereft of true enforcers, there's still an unwritten rule of an eye for an eye. Yet the lack of accountability on this team is baffling. It's been this way since Ryan Miller got steamrolled by Milan Lucic on Nov. 12, 2011.
The play that caused the injury may have had an element of innocence–Grzelcyk may not be the type to run a player. That said, he used his stick to push Eichel's skate out from under his body. He's part of a Bruins franchise that has always had an edge.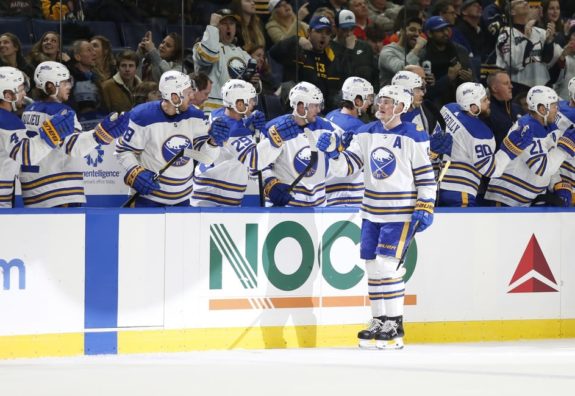 Grzelcyk dropped both Eichel and Sam Reinhart without paying a price. There were no calls by the referees. And no recourse from the Sabres. Not one teammate did anything but watch.
The way the game is played today, the accepted and expected way to deter these types of hits is to hit back. Even harder. Despite an element of "whoops, I didn't mean that." A response by the Sabres would've been nice to see. It should be expected and appreciated both on the bench and in the stands by fans.
Soft Housley
"I think it's the duty of the officials to make the right calls. Grzelcyk is not that type of player who's going to try to take somebody out. It was unfortunate. He was just trying to get his stick down on the puck," said Housley.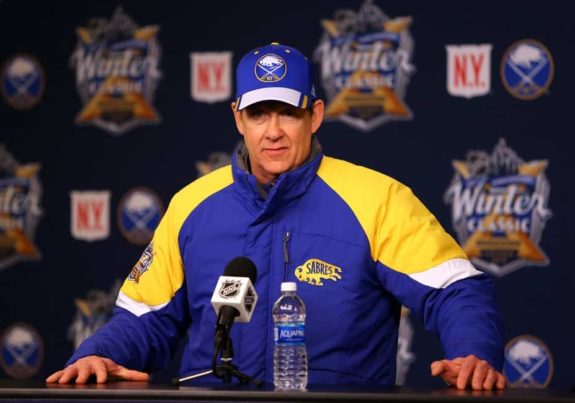 It's exactly the weak response one could expect from the former Sabres defenseman. Once is an accident, but twice is a trend. It should have been dealt with. Isn't that why Jordan Nolan is on this team? Or is it for his jaw-dropping dekes and blazing speed that have amounted to two goals in 48 games?
When Kyle Okposo was drilled in the back by New Jersey Devils forward Taylor Hall, where was Nolan? Where was the swarm of Blue and Gold sweaters to send the message that plays like that will not be tolerated?
Team Toughness
Some will say the Sabres were playing well and were smart to not seek an element of revenge; that it may have cost them a penalty and some of their momentum. The reality is, their season is already lost. Taking a stand for their fellow teammates and having one another's back would have been more important than winning a meaningless game in February.
Every good team, specifically in playoff contention, would have valued the possible precipitated loss. Every good team would have clobbered the offenders—even if the hits/plays were clean.  That's how today's game is played. Otherwise, a green light is given to take liberties at will.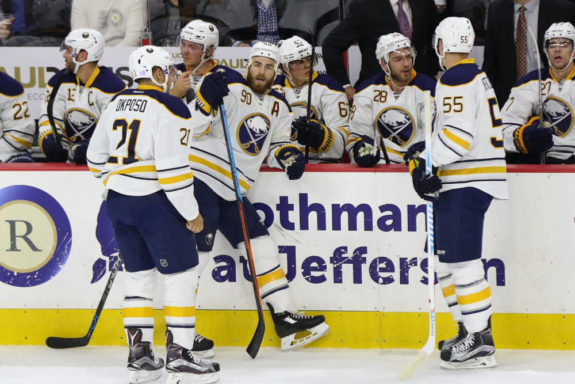 There's a serious lack of emotion on this team. No one expects a full-on donnybrook to result from a hit like either of those by Grzelcyk, but had he pulled this with Auston Matthews or Connor McDavid or Sidney Crosby or Steven Stamkos, there would be retribution. These players have the full support of their teammates.
Former Sabre and now Montreal Canadien, Nic Deslauriers, was no superstar for Buffalo, but he had his teammates' backs. In a heartbeat. Nolan doesn't hold a candle to Deslauriers. He's invisible most nights.
Injury Outlook
The quickest return scenario for the 21-year-old Eichel is to miss four to six weeks. He missed roughly six weeks to start the 2016-17 season when he got tangled up with Zemgus Girgensons in a practice session one day before the season opener and sustained a similar injury.
It should be a given that Eichel is shut down for the remainder of the season. Get him 100 percent healthy without risking a meaningless re-injury in the final weeks of a lost season. The team's star player, about to start the biggest contract in franchise history, should be allowed to properly heal and rebuild strength and confidence rather than rushing to get back into the lineup. But, that's not the plan, according to Housley.
"We've got a lot to prove this season," Housley told Mike Harrington of the Buffalo News.
Housley is wrong. The 'lot' that needs to be proved has nothing to do with Eichel's return. It does, however, have everything to do with playing with and for one another. Until the individual players work with heart, as a unit, the team will never move forward.
Eichel's injury is a new level of rock-bottom this season for the once-proud franchise. That is, until they lose the draft lottery this summer.
Jeff has been covering the NHL for over a decade for various sites. He's been with The Hockey Writers as a lead Sabres writer three years, while also writing a satire column called "Off the Crossbar."