It's no secret that Edmonton Oilers head coach Todd McLellan is on the hot seat and could be one of several coaches fired after the season. USA Today's Kevin Allen wrote a piece highlighting a list of coaches that could get the ax after 2017-18. McLellan's name made the list along with Alain Vigneault, Jeff Blashill, Joel Quenneville, Barry Trotz, and Bill Peters.
Almost a week ago, I wrote about the questionable futures of McLellan and Oilers general manager Peter Chiarelli. For all intents and purposes, intuition would suggest that both will be safe and get a chance to turn this ship around. Then again, what if Bob Nicholson and Edmonton owner Daryl Katz say enough is enough? What would the Oilers do to fill their head coaching position?
Related: Should the Oilers Fire Chiarelli & McLellan?
If we use Allen's list, and for this exercise consider all those names as available, here are five names that might be of interest.
Kris Knoblauch
Current Team: Philadelphia Flyers (Assistant Coach)
Last year's Memorial Cup was Knoblauch's swan song in the OHL as the head coach of the Erie Otters. After four straight 50-win seasons with the Otters, Knoblauch was pegged to join the NHL ranks as a coach. Philadelphia picked him up to be an assistant to Derek Hakstol.
The 39-year-old had been to two Memorial Cup tournaments (2011, 2017) with two different teams. TSN's Craig Button pegged Knoblauch as one of the best young, up and coming coaches in hockey. At last year's tournament, he drew plenty of praise for how he neutralized the CHL's best defenseman Thomas Chabot and forward Mathew Barzal.
Aside from Connor McDavid, he's helped mold future stars like Dylan Strome, and Alex DeBrincat. He's also worked with Cody Eakin, and Sam Reinhart during his time with the Kootenay Ice. He found ways to win in junior, and while AHL jobs were aplenty, NHL executives came calling to add Knoblauch and his bright hockey mind to their staffs.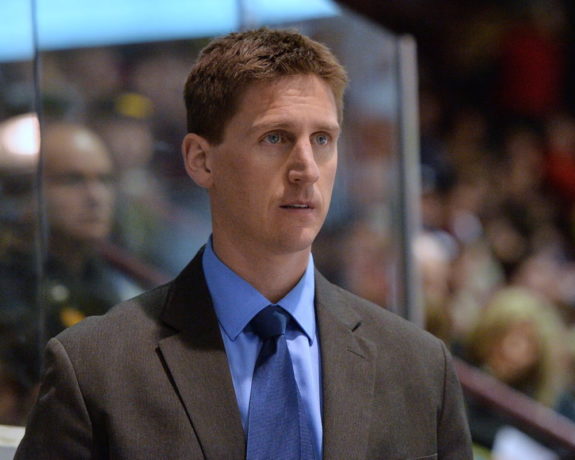 Why Edmonton? Knoblauch's earned a reputation as a great communicator, especially with younger players. He instills responsibility and hockey smarts in his players, and he earned plenty of attention for his work with a young McDavid in junior.
McDavid's agent, Jeff Jackson, has raved about the work Knoblauch did with Connor in junior. Knoblauch's described as an adaptable coach, can make smart adjustments on the fly, and ultimately knows how to utilize his bench. Those three skills are three flaws many prognosticators feel describe McLellan.
One of Knoblauch's duties is to run the Flyers power play (PP) which has made a slight improvement from last year and currently operates at 20.1%. If Hakstol were to lose the Flyers coaching job, Knoblauch would likely be his successor. He's also a University of Alberta Golden Bears alumni member to throw some icing on the cake.
Sheldon Keefe
Current Team: Toronto Marlies (AHL)
When the regular season concludes, and teams start firing coaches, one name you're going to start hearing more of is Keefe's. The Toronto Maple Leafs are probably preparing themselves knowing full well their AHL team's head coach is going to garner plenty of interest this summer.
Keefe has coached the Marlies to a 42-16-2 record this year, and their 86 points put them second overall in the entire AHL. The Marlies are also the first team to clinch a playoff spot in  2017-18. They're the fourth-highest scoring team in the AHL, and have the best goals-against total in the league.
The Marlies are a legitimate contender for the Calder Cup this spring. More importantly, Keefe has kept the Marlies competitive all while losing several key pieces from his team. Travis Dermott, Kasperi Kapanen, Rinat Valiev, Kerby Rychel, Nikita Soshnikov are all gone from the Marlies.
Why Edmonton? While prioritizing development, Keefe has been able to implement his younger players, elevate their games, and make them integral parts of the team's success. Keefe has also found a way to do something Edmonton has struggled to do, insulate younger talent with veterans sharing the responsibility.
The Baby Leafs look to become the first Canadian-based AHL club to win the Calder Cup since 2006-07. In Keefe's three seasons behind the Marlies bench, he's compiled a 138-61-13 record through 212 games. He's emerged as one of the best coaches in the AHL.
He's rocking a .681 winning percentage (W%) in his three years with the Marlies. There's familiarity for the Oilers as well with Keefe being Darnell Nurse's coach in junior with the OHL's Sault Ste. Marie Greyhounds. It's just a matter of time before the 37-year-old winds up behind an NHL bench.
Alain Vigneault
Current Team: New York Rangers
Vigneault, 56, joined the Rangers for the 2013-14 season. In his first year, he took New York to the Stanley Cup Final which they lost in five games. The following year they came within one win, losing in game seven to the Tampa Bay Lightning, of reaching the final in back to back years.
Since then the Rangers have lost in the first, and second-round of the playoffs. New York's GM Jeff Gorton has now committed to a rebuild. The Rangers have since traded away Ryan McDonagh, Rick Nash, and Michael Grabner at the trade deadline.
With a youth movement on the horizon, Vigneault might not be a strong suit for New York. He's earned a reputation for being hard on younger talent, and his handling of Pavel Buchnevich drew criticism this year. A 1-5-2 start to the year became the launching pad for the "Fire Vigneault" crusade in New York.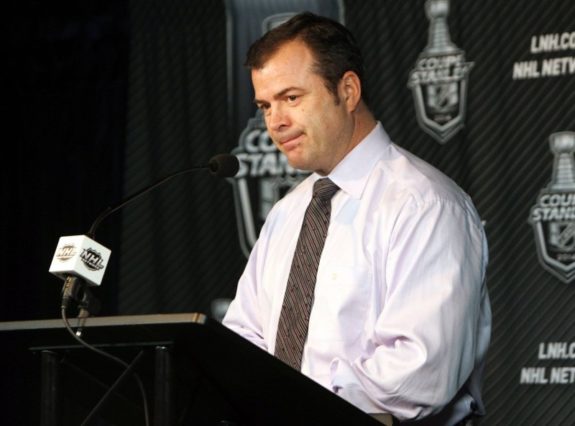 Why Edmonton? The wheels have fallen off the bus, but Vigneault led the Rangers to three consecutive 100-point seasons prior to this year. He went to the Stanley Cup Final twice in the span of four years, and his special teams have always posted respectable numbers.
Since 2013-14, Vigneault's power play runs at 18.8% (16th), and his penalty kill has operated at 82% (9th). Vigneault's coached 16 seasons in the NHL and ranks 11th all-time in wins (645). Among active NHL coaches, that number ranks fourth.
His career winning percentage (W%) is .590 through 1,204 games coached. Vigneault won the Jack Adams award in 2007 after his first year with the Vancouver Canucks.
Barry Trotz
Current Team: Washington Capitals
Trotz, 55, is in the final year of his contract with the Washington Capitals, and there hasn't been any discussion about an extension. The Capitals are in the midst of a very tough playoff race in the Metropolitan Division and are leading the division by a thread.
Under Trotz, Washington has won the Presidents Trophy in back to back years, but still haven't had any substantial playoff success. In all three of Trotz's seasons behind the Capitals bench, the team has bowed out in the second-round of the playoffs.
Trotz hasn't been able to get this team over the hump, and now in his fourth year, patience might be running out. The Capitals haven't been to the Eastern Conference Final in 20 years, and if that doesn't change, Trotz could be without a job this spring.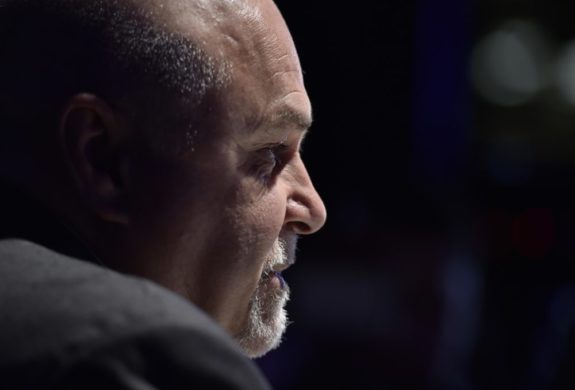 Why Edmonton? With 19 seasons under his belt, Trotz ranks as the fifth winningest coach in NHL history. His 752 regular season wins trail Scotty Bowman, Joel Quenneville, Ken Hitchcock, and Al Arbour. That's some pretty elite company.
Trotz would bring structure to an Oilers system that has drawn plenty of criticism. After losing Karl Alzner, Kevin Shattenkirk, Justin Williams, Marcus Johansson, and Nate Schmidt, Trotz has still managed to keep the Capitals in first place in the NHL's most difficult division.
Since jumping behind Washington's bench, no other team has amassed more points than the Capitals (424). Washington's PP ranks first overall since 2014-15 (23.1%), and their PK ranks seventh (82.6%). He'd fix the special teams problem, and he'd find ways to elevate Connor McDavid and Leon Draisaitl while insulating Cam Talbot.
Joel Quenneville
Current Team: Chicago Blackhawks
The obvious choice, if he were to become available, is Joel Quenneville. Like Trotz, Quenneville is a very structured coach who demands responsibility on both ends of the ice from his players. Paul Skrbina of the Chicago Tribune, believes the issues in Chicago are more to do with the players than the job Quenneville has done.
Corey Crawford has battled injuries, and the likes of Patrick Kane, Jonathan Toews, Brandon Saad, Duncan Keith, and Brent Seabrook have all had down years. As THW's Matt Morrow suggested, after two disappointing playoffs, Blackhawks GM Stan Bowman promised change.
With Chicago about to miss the playoffs for the first time during Quenneville's tenure, it's possible he wears the goat horns for the year the 'Hawks have had.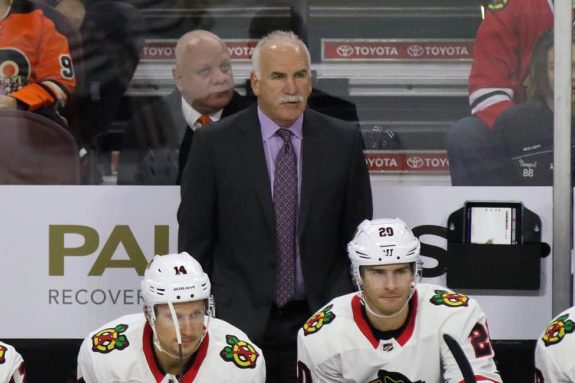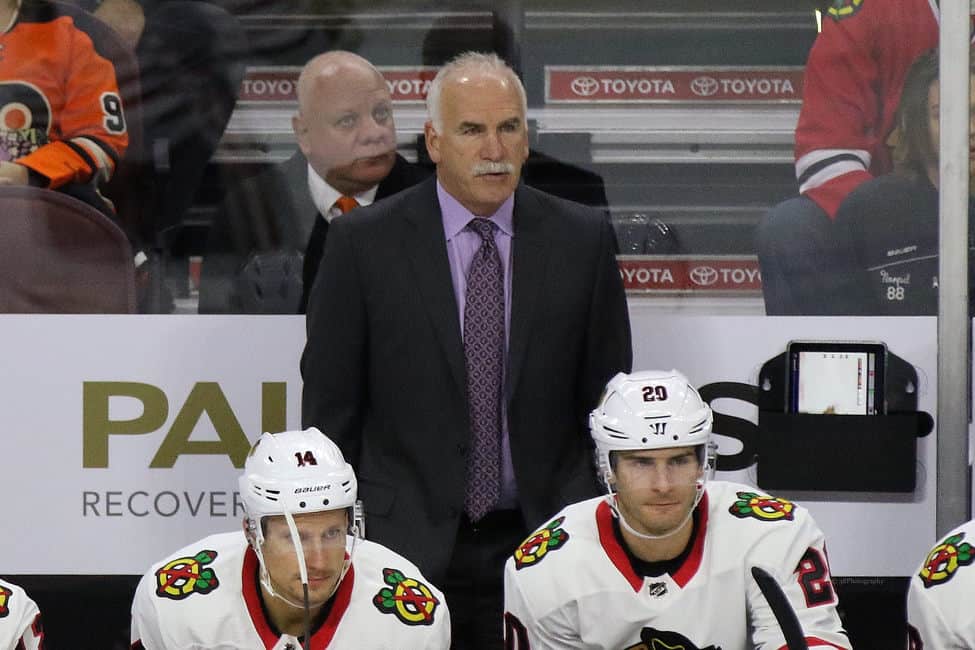 Why Edmonton? In an NHLPA survey, Quenneville came up as the coach players most wanted to play for. The reason is likely obvious, as Coach Q won three Stanley Cups in six years with the Blackhawks. He took Toews, Kane, and Keith to the next level, all while going head-to-head with some of the NHL's best coaches in the playoffs.
Quenneville has been a master strategist and through all the changes in Chicago over the years, he's always got the most out of his roster. Edmonton has had it's fair share of problems trying to find the right line combinations. Since joining the 'Hawks in 2008-09, Quenneville has led Chicago to the third-best record in the NHL over that span.
Chicago's overall offense ranked first, their goals-against ranked eighth. Only Scotty Bowman (1,244) has more wins all-time than Quenneville (881). He's also made the Conference Final six times with two different teams and has four Stanley Cups to his name including one as an assistant with the Colorado Avalanche in 1996.