With the 2017-18 season coming to a close shortly, the Edmonton Oilers are faced with some tough decisions on where to go from here. The team flat-out stumbled and regressed after a fantastic showing in 2016-17. A lot has gone wrong, and now it's time to figure out how to get this team back into the playoffs.
There's a lot of talk about the roster, but also the futures of general manager Peter Chiarelli and head coach Todd McLellan. Edmonton, for better or for worse, has a very vocal fan base and they're beyond displeased with how this team has regressed. On Hockey Night in Canada, Bob Nicholson got on the air and discussed the matter as well.
Now, this isn't one of those things where because fans are upset that the organization should or will make a move to please the fan base. So let's look at the reality of the situation in what's become a very polarizing conversation.
Remember should they and will they are two different things. Many of you might not like the will they part of these answers, but if they do move on from one of them, here's a compilation of some names that might be of interest.
Should the Oilers Fire Peter Chiarelli?
The short answer to this question is not this spring. Despite Edmonton's gigantic fall from last year, and failure to live up to expectations, Chiarelli will be safe. His public approval rating amongst fans is at an all-time low, and why wouldn't it be?
Chiarelli has botched a handful of deals that have left the fan base to have a lack of faith in his ability to perform his duties. We're talking about a guy who has traded Taylor Hall, Jordan Eberle, and Patrick Maroon, and now needs a top-line scorer.
Then there's the Griffin Reinhart mistake that cost the Oilers an opportunity to snag another offensive wizard in Mathew Barzal. The mistakes continued after Edmonton overachieved in 2016-17.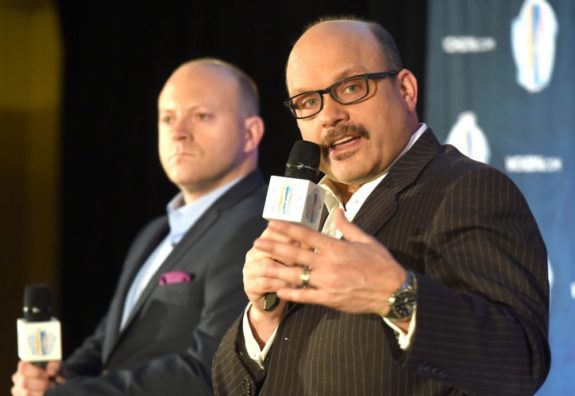 Chiarelli let several players walk who were amongst the fabric of last year's Oilers team that was one win away from the Western Conference Final.
He overvalued and overestimated the abilities of Edmonton's lineup. When faced with a glaring hole on defense during Andrej Sekera's absence due to injury, Chiarelli failed to add a significant piece to help shelter the defense.
Adding to that, Chiarelli's reputation for poor negotiating in trades and contracts has mismanaged the assets in Edmonton. The Oilers are a bottom-five team in the NHL that's also a team that'll be up against the salary cap after this summer.
What Happens With Chiarelli This Spring?
So why wouldn't Chiarelli be let go? It seems as if the entire organization is ready to hit the reset button after this season and write it off. Many Oilers players took steps backward this year, and the team had injuries to significant pieces compared to last year when they generally went unscathed.
When the 2017-18 season comes to a close, you can almost bet your bottom dollar that Bob Nicholson will come to the podium and give Chiarelli a public vote of confidence. Why? Because it's the Oilers, that's why. Nicholson will give Chiarelli every opportunity to right his wrongs and get this team back into the playoffs.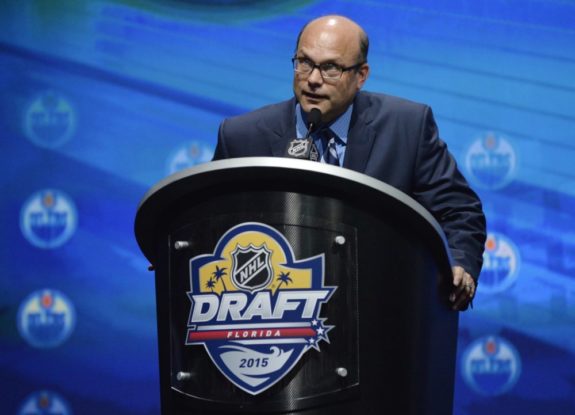 He knows his GM has his hands full, and from all accounts, it sounds like internally, the organization isn't ready to hit the panic button just yet. It's clear what Edmonton's needs are this summer.
Related: Oilers Trade Deadline Primer
They need to find a winger who can play with Connor McDavid, and find an offensive defenseman that can quarterback the power play. If Edmonton ends up in the same spot next year, you can be sure Chiarelli will be gone by next spring.
If Chiarelli Is Fired, Who Could Replace Him?
There's a ton of names that could eventually end up in Edmonton's GM chair; it's just a matter of when and if management pulls the plug on Chiarelli. For argument's sake, if Edmonton's looking for a new GM this spring, here's a handful of names.
Tom Fitzgerald (New Jersey), Michael Futa (Los Angeles), and Bill Zito (Columbus) have all been interviewed in recent years for GM vacancies. However, the one name that would serve Edmonton best might be Nashville Predators assistant GM Paul Fenton.
He's been David Poile's right-hand man for over a decade and has been a crucial piece in Nashville's continued success at the draft. The Preds have also been quite shrewd with the salary cap, which has been a big problem in Edmonton's current structure.
Fenton can help that. This is a guy that's also played a part in drafting guys like Roman Josi, Mattias Ekholm, and Viktor Arvidsson all outside the first round, and has a strong scouting background. If he's available, that's the guy for Edmonton.
Why Paul Fenton Could Help the Oilers
Fenton's been with the Preds since 1998. He's rounding up to 20 years with the organization, and if Nashville can finally climb the mountain and win the Stanley Cup this season, you can bet Fenton will be highly pursued, again.
Poile gets a lot of credit, but it's Fenton who's in the trenches with him helping to create the success in Nashville. During his near 20 years in Nashville, he's had his hand in every facet of the organization.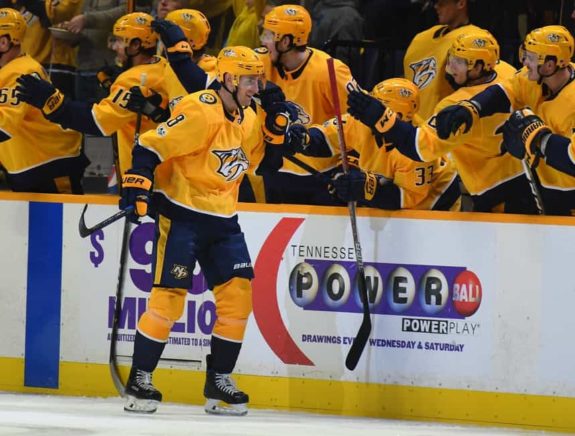 He's run player personnel, drafting, developing, and been in charge of the amateur scouts. Most importantly, Fenton understands one key philosophy in building a successful organization: if you build through the draft and continually find assets through development, you can stay on top for a long time.
Edmonton's struggled with drafting for most of the organization's existence, aside from recent years. Fenton's uncanny eye might take the Oilers to new heights.
Should the Oilers Fire Todd McLellan?
This is another tough question, and it'll be a decision that comes right from Chiarelli. McLellan was a Chiarelli hire, and the two have been working hand-in-hand to get the Oilers back to Stanley Cup contender status.
Last season, McLellan was able to squeeze a lot out of the roster and his systems clicked with the makeup of the team. This season, it's been the opposite. The special teams have fallen apart, and McLellan has found more challenges with getting consistency from Edmonton's roster.
He's tried nearly every line combination you can think of, except for trying Ryan Nugent-Hopkins with McDavid. You could make an honest argument that the team isn't responding to the message from the coaching staff this year. It's a team with fragile confidence, and all the losing this year isn't helping that problem.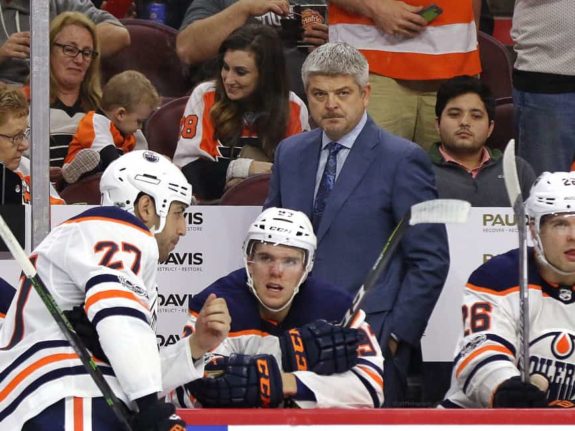 But are the Oilers seriously going to move on to their eighth coach since 2008? It's been one bad year, and this wouldn't send the right message to the team. This is a team construction problem, and McLellan's hands are tied. What he and his staff can do, though, is go back to the drawing board and adapt strategy.
Edmonton's not a fast team, so you can't play run-and-gun hockey. They're also not a physical team, so you can't play a crash-and-bang style either. The answer is somewhere in the middle. Chiarelli will stand by his coach, and he should. This season has gone completely off the rails, but McLellan deserves another kick at the can to redeem himself.
He'll be back next season whether most fans like it or not. But if the Oilers stumble out of the gate, all bets are off, and they could be looking for an answer early in 2018-19. Patience is starting to wear thin with the fan base. They want and deserve a winner after all this suffering.
If McLellan is Fired, Who Could Replace Him?
Here are some names to consider if McLellan is fired this spring. Dave Tippett is eager to step in behind an NHL bench again after the debacle that happened in Arizona. He's found ways to squeeze the most out of his rosters, and between 2007-12 he coached two different teams to the Western Conference Final.
Tippett also won the Jack Adams Award in 2009-10. Lindy Ruff found himself behind an NHL bench this season as the New York Rangers' assistant coach. Another name is one that comes goes off the board: David Quinn.
Related: 5 Thoughts – J.D. Dudek & Others
The Philadelphia Flyers made a move similar to this when they went after Dave Hakstol. Quinn is the head coach of Boston College and is currently tutoring three Oiler prospects in J.D. Dudek, Graham McPhee, and Aapeli Rasanen.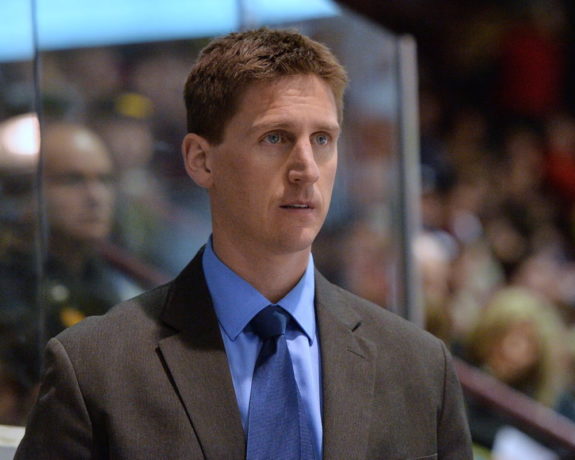 Then there's Kris Knoblauch, who's currently on the Flyers' staff. Knoblauch is familiar with McDavid, having coached him in junior, as well as Ryan Strome's brother Dylan.
Another college name is Jim Montgomery, who coaches Denver. Last year they were the top-ranked team in the country. Montgomery has been pursued for NHL coaching jobs for years now, but has always decided to stay in Denver. He almost ended up with the Florida Panthers recently.
Other names from the AHL to consider are Rocky Thompson (Chicago Wolves), Benoit Groulx (Syracuse Crunch), and Mike Van Ryn (Tucson Roadrunners). Sheldon Keefe (Toronto Marlies) and Scott Gordon (Lehigh Valley Phantoms) are currently coaching the top two teams in the AHL standings.
What do you think? Should the Oilers move on from Chiarelli and/or McLellan this spring, or should they give them a chance to redeem themselves? Leave your thoughts in the comments below.