Serron Noel
2017-18 Team: Oshawa Generals (#8)
Date of Birth: August 8, 2000
Place of Birth: Guelph, ON
Ht: 6'5" Wt: 201 lbs
Shoots: Right
Position: RW
NHL Draft Eligibility: 2018 first-year eligible
Rankings
NHL Central Scouting Mid-Term: 9th
Future Considerations: 31st
McKeen's Hockey: 22nd
ISS Hockey: 21st
HockeyProspect.com: 28th
The NHL Draft always has at least one player projected in the first round that is known for his immense size and talent. In 2017, Michael Rasmussen was that player. In 2018, that player is Oshawa Generals' forward Serron Noel.
Noel is everything you want in a potential power forward. He's 6-foot-5 and over 200 pounds as a 17-year old. He is a menace in front of the net. Most importantly for him, his skating has taken massive strides.
RELATED: THW's 2018 Draft Guide
Coming into the season, the biggest question on Noel was his skating. Every big man seems to have his skating questioned. But this was for good reason. Although the skill was on display, Noel was a step behind in 2016-17. He knew he needed to improve. To his credit he did. He took a huge step in 2017-18.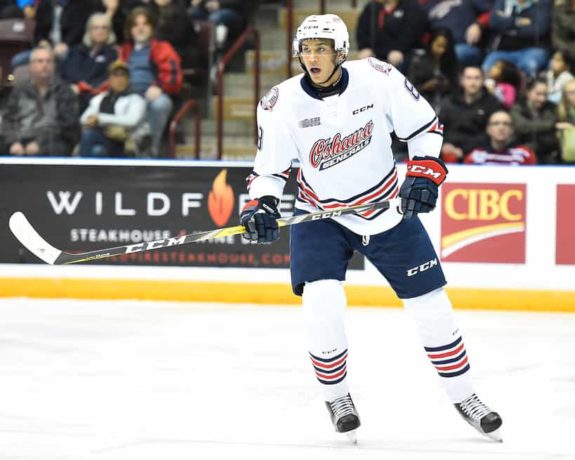 Noel finished the season with a line of 28-25-53 in 62 games and added an assist in five playoff games against the Niagara IceDogs. On top of his improved skating, he demonstrated his lethal shot. Of note, he has a great release for a big man. There's a lot to like here.
With that said, there are questions. Noel scored his 28 goals on just 105 shots. He averaged less than two shots/game. For someone who has the skills and build he has, it's somewhat concerning he only generated 105 shots. He's got much more to give on the offensive end. In my live viewing of him, there were pockets of the game I didn't even notice him. It's kind of a tale of two extremes. When he's noticeable, he brings people to their feet. Otherwise, I barely knew he was on the ice.
In order for Noel to reach his potential, he needs to show night in and night out consistency. I'd also like to see him make a bigger impact defensively. He has so many tools and untapped potential. For a team considering him, can they find a way to unlock everything he brings to the table? When his offense isn't there, can he find other ways to impact the game?
Other THW Draft Profiles:
Serron Noel – NHL Draft Projection
Noel is a strong first-round candidate given his NHL frame and overall skill set. Questions about his skating were answered when he finished first at the Top Prospects Combine for the 30M skate. Most in the industry have him as a mid to late first rounder. He checks in at 25th on my personal list.
Quotables
"I'm a big fan and I'll tell you why. Watch the Generals play and count the number of prime time scoring chances this guy creates, or is on the receiving end of. If he was able to finish off even half of those scoring chances, he'd be top 20 in scoring (easily). But the coordination, focus, and finishing ability just aren't quite polished yet as he learns to utilize his size advantage. As he gets stronger, will we see those components to his game improve? I think it's very likely. Maybe there is a slight risk that he's another Colton Gillies type. But there's also a chance that he develops into a top notch power forward who can take over games. The risk/reward is worth it IMO, especially with him being ranked in the mid/late first round right now." –Brock Otten/OHL Prospects
"Often the knock on a 17-year-old that is 6-5 and over 200 pounds is their skating. That is not the case with Noel as he has developed his skating stride quickly and has a powerful stride that propels him with tremendous velocity, agility and grace. Noel placed first at the CHL Top Prospects Scouting Combine in On-Ice Testing for 30M Forward Skate. In combination to his skating and size, Noel also possess soft hands and good hand-eye coordination making him a dangerous offensive player. Despite his size and strength, he is not an overly aggressive or physical player as he is working at defining himself as a skill player rather than a tough guy." – Peter Harling/Dobber Prospects
"Well, at 6'5" and tipping the scales at just a hair above 200 pounds, he has NHL size. He's improved his skating so much, that it is very noticeable. He moves so well for a player of his size. His long strides allow him to put separation between himself and an opponent. He has the agility of a much smaller player. Combined with his stickhandling abilities, he can beat defenders one-on-one. In fact, Noel has been known to go on end-to-end rushes and when he does, he brings Generals' fans to the edge of their seats." – Dominic Tiano/OHL Writers
Strengths
NHL size & strength
Great shot
Good hands
Hard worker
Under Construction (Improvements to Make)
Consistency
Defense
Needs to generate more offense
NHL Potential
Noel has top-line upside assuming he can find consistency in his game. He brings an intriguing skill set to go with his frame. He could become of the premier power forwards with proper development.
Risk-Reward Analysis
Risk – 4,5/5, Reward – 4.5/5
Fantasy Hockey Potential
Offence – 8/10, Defence – 6.5/10
Awards/Achievements
Noel was the top pick in the CCHL Bantam Protected Draft in 2015. He was then selected by the Oshawa Generals 25th overall in the 2016 OHL Priority Selection. He won a gold medal for Team Canada at the Ivan Hlinka Tournament.
Interview/Profile Links
Videos
https://www.youtube.com/watch?v=6U4Z1fiMVWY