Ryan Merkley
2017-18 Team: Guelph Storm (#6)
Date of Birth: August 14, 2000
Place of Birth: Oakville, ON
Ht: 5'11" Wt: 170 lbs
Shoots: Right
Position: D
NHL Draft Eligibility: 2018 first-year eligible
Rankings
NHL Central Scouting Mid-Term: 21st
Future Considerations: 18th
McKeen's Hockey: 25th
The Guelph Storm owned the coveted first overall pick in the 2016 OHL Priority Selection. There was no question who they would take with that pick. After scoring 44 points in 33 games for the Toronto Jr. Canadiens and being named the GTHL Player of the Year, Ryan Merkley was the obvious choice. The Storm had an elite offensive defenseman to build around.
Merkley's first two seasons in Guelph has been anything but easy for his team. Although he's put up elite numbers in his 16 and 17 year old seasons, his team missed the playoffs the first year and was ousted by the Kitchener Rangers in six games this season. Just look at these insane numbers. Keep in mind he's a defenseman. In 2016-17, he had 12-43-55 as a 16 year old. He followed that up with a line of 13-54-67 in 63 games. This is easily NHL lottery pick territory.
RELATED: THW's 2018 Draft Guide
But there are two sides to this story. While the offensive is undeniable, Merkley's defense is well, a work in progress. Although there were pockets of bright spots there, there is a long way to go in that department. Whether he made a bad pinch or a poor pass, errors of this kind were all too common. That would go to explain his -70 rating career to date. Talk about polar opposites in one player.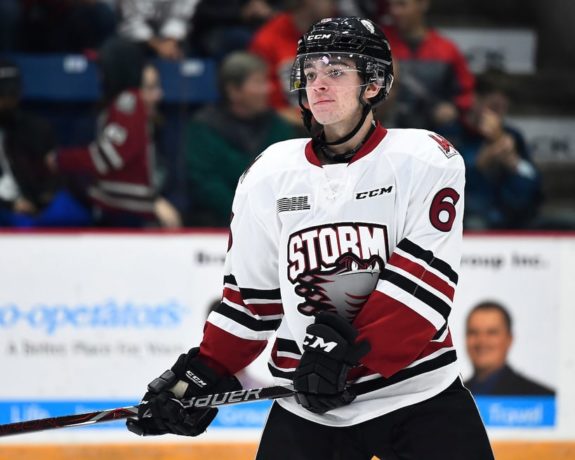 The other concern brought up throughout the industry is questions about Merkley's character. When things don't go his way, he's been seen clearly frustrated. He got suspended by the OHL for taking a baseball swing at an opponent with his stick. He got three games for that mighty slash. There's also been talk about how he handles himself off the ice.
So the main question here is where will Merkley go on draft night? Here's what you have to ask yourself. Will he correct his glaring issues? If so, how soon will it happen? Then at what point are you willing to take his offensive upside given the other issues? I have personally spoken to Merkley twice this season, once at the beginning and then again at the end of the regular season. In my experience, he was personable and pleasant to talk to. He didn't dodge any questions. He somehow wasn't named one of the best offensive defensemen in the Western Conference by the coaches. I asked him his thoughts. He just smiled at me. I then replied that's more motivation for you, isn't it? He smiled and nodded his head at me. He knows what's going on.
As for where I have him, I have him at the end of the first round. At some point, you can't let his offensive upside fall too far. I believe he'll eventually figure the other things out. Whoever drafts him will get an instant offensive and power play boost. Just be prepared for the other stuff he brings at this time.
Other THW Draft Profiles:
Ryan Merkley – NHL Draft Projection
You're guess is really as good as mine at this point. We know the good is very good. We also know the questions are real and concerning. His range is wide as a result. Merkley can go anywhere from the middle of the first to anywhere in round two. I personally have him as a late first rounder for two reasons. First, offensive talents like him on the blue line don't come around very often. Second, I believe he'll eventually get through the challenges. There just comes a point where he's worth the risk and the reward is great.
Quotables
"Roving playmaker from the blueline with excellent speed and a superior understanding of his responsibilites as a jump-starter and attacker. Merkley is pure offense in every sense of the term, and it seems as everything he does with the puck has a cherry on top. He is a commanding presence who carries the puck as well as he dishes it out, and you can always count on him to find the open man, especially back-door and off the rush. Merkley has a quick first step, but he also shifts speeds to routinely catch opponents flat footed. It's hard to see Guelph's attack survive without him, as it relies heavily on his quick, crisp breakout passes that trap the most aggressive of forecheckers. He owns a hard, accurate shot with a big wind-up, Merkley gets enough mustard on long-distance wristers to force goalies to lose control of rebounds." – Steve Kournianos/The Draft Analyst
"Merkley is an exceptional skater with an explosive first step acceleration, high end top gear and shifty lateral agility. Merkley sees the ice offensively very well, is an exceptional puck distributor and generates offensive transition as good as any defenseman in his draft class. The concerns with Merkley are he is undersized and struggles with physical battles against bigger stronger opposition. But the main concern is his inability to defend effectively, his reads in the defensive zone are weak, and he chases the play out of position. When he has the puck on his stick, he is an elite player, but when the other team has possession he becomes a liability. The question is can he continue to develop his defensive game and evolve similarly to Samuel Girard, or will he fail to establish an adequate defensive skill set and cap out in the AHL like Anthony DeAngelo?" – Peter Harling/Dobber Prospects
"Merkley is a phenomenal skater with excellent speed. He's strong on his edges with an excellent ability to change direction in a split second. He can beat most players north-south and east-west. He's also an excellent passer who excels at making quick, accurate short passes or long stretch passes out of his zone. This makes Merkley very good at clearing the d-zone, but it is not always picture perfect. He's sometimes caught forcing the play, one that is not always there. He is still prone to turning over the puck, but there have been improvements in that area. A season ago, you could attribute it to playing on the Western Conference's last place team and trying to do it all himself. He's a very smart hockey player so he should be able to get that out of his game." – Dominic Tiano/OHL Writers
"Every draft seems to have one of these right?   A guy who has limitless potential, and talent but also the ability to deliver self inflicted wounds. Merkley is the easiest guy to break down in terms of strengths and weaknesses. The skating and the offensive ingenuity are without question elite and he can QB a PP.  The defensive disasters and mercurial temperament are also obvious. He's caught up ice at times, and makes some baffling decisions. Plus, there's the fact he played Paul Bunyon and took a whack at someone and got a three game suspension. The comparable? There's a little Tony DeAngelo in him, a 1st round draftee but on his third team already." – Steve Clark/Niagara Ice Dogs Play-by-Play
Strengths
Excellent in transition
Great passer
Excellent vision
Elite offensive instincts
Under Construction (Improvements to Make)
Overall defense
Decision making
Needs strength
NHL Potential
If he figures it out, he has the potential to be an elite offensive defenseman at the next level. While I don't think he's a franchise guy, Merkley is just a step or two below given the skill he does bring. He will solidify someone's power play at an elite level.
Risk-Reward Analysis
Risk – 5/5, Reward – 5/5
Fantasy Hockey Potential
Offence – 9.5/10, Defence – 4/10
Awards/Achievements
Merkley was the first overall pick of the 2016 OHL Priority Selection. He was named to the All-Rookie team in 2016-17. He led rookie scoring in assists and points which led him to winning the Emms Family Award for rookie of the year. He won a gold medal at the Ivan Hlinka tournament in 2017-18.
Interview/Profile Links
Videos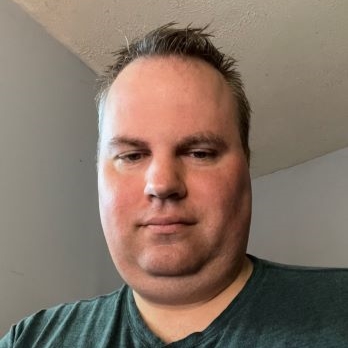 I am a fully credentialed writer who covers the Columbus Blue Jackets, Cleveland Monsters and Erie Otters as well as the Ontario Hockey League and NHL Draft. The 2022-23 season will mark nine seasons with the Hockey Writers. I am also the site's Credentials Manager. Please take note of the updated Twitter handle: @mark_scheig.