Mississauga-born Ryan Merkley has been an interesting player to watch throughout his short career in the Ontario Hockey League (OHL). He captained the Greater Toronto Hockey League's (GTHL) Toronto Jr. Canadiens the year prior to being selected in the OHL draft. That season, he was named GTHL Player of the Year as a defenseman. It's an honour to win it as a forward but is more difficult to win as a defenseman and ultimately more rewarding.
Dave Dave D'Ammizio, Toronto Jr. Canadiens head coach told Scott Wheeler in his post in The AthleticNHL, "He was head and shoulders above everybody else at that level. His skill level, his skating, his puck control and his vision as a defenseman, you're not blessed to coach too many of those types of players." (from "Meet Ryan Merkley, the 2018 NHL draft's most polarizing prospect", The AthleticNHL – 01/25/18).
Heading into the OHL draft, Merkley, widely considered a game-changing d-man, was the consensus number one pick. Fortunately, the Guelph Storm earned the first overall pick (by unfortunately finishing last) and drafted Merkley, who has been a star for them in his first two seasons.
Rookie 2016-17 Season
Merkley burst onto the OHL scene with 12 goals and 43 assists for a total of 55 points in his rookie season with the Storm. He proved he was the real deal by standing out during each shift and was awarded the OHL Rookie of the Year, only the second Storm player to ever win the award. He led all OHL rookies in points and was in the top-ten in scoring among defensemen. You never know how these players are going to turn out when they're drafted to junior but his first season was one to remember.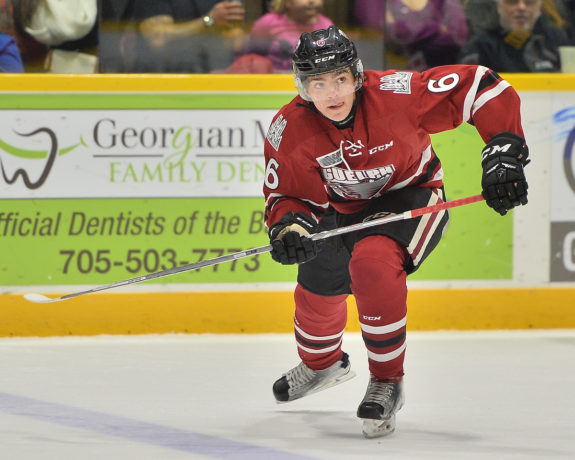 The 2016-17 season was a tough one for the Storm, who finished with a losing record and missed the playoffs. The team only scored 202 goals total and Merkley was a part of 55 of them, more than one-quarter of their total goals, an impressive feat for a rookie making his way in a competitive league.
While his plus-minus rating was alarming at minus-41, he has always been an offensive defenseman. Like other offensive d-men, he sometimes gets stuck deep in the offensive zone trying to make a play. He knew coming into this season that he would have to tighten up his defense if he wanted to be a first-round pick in the NHL Entry Draft and the ability to pick and choose his spots will come with experience. Overall, he had a season to remember for the Storm and quickly proved his worth to scouts.
Merkley's Sophomore 2017-18 Season
Coming into this season, Merkley had solidified his place on the scouting charts but knew he needed to elevate his game. One thing that has really stood out this season is his improved decision-making. At times last season, he looked timid and at others he was reckless. He pinched when he should have backed off and sometimes tried to force plays that weren't there. Head coach George Burnett seems to have helped Merkley simplify his game this season.
Merkley matched his career-high in goals with 12 and set new career highs in both assists and points with 44 and 56 respectively. He has been a much better team player this season and has made the players around him better. He has benefited from playing alongside team captain Garrett McFadden who compliment each other's playing styles very well. McFadden knows Merkley has an offensive gift and will often let him join the rush while he is more reserved to cover up in preparation for a counter rush from the opposition.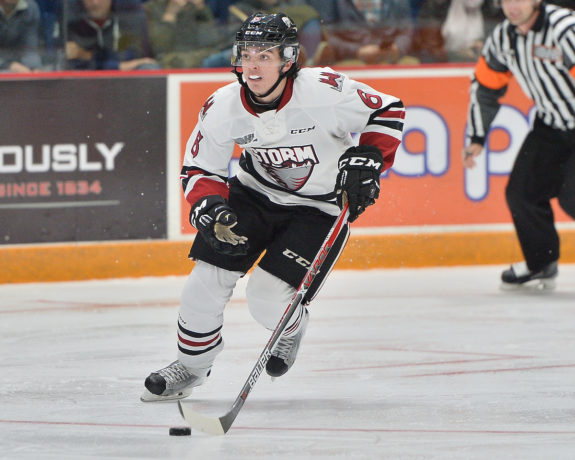 Merkley was selected to represent team Cherry in the 2018 Sherwin-Williams CHL/NHL Top Prospects Game. He played well against the top competition and chipped in with an assist. He kept his game quiet and picked his spots to showcase his skill. For the most part, he maintained good positioning and boxed opposing players out where necessary.
He has shown great vision, making smart passes and firing the puck when the time calls for it. He has also looked more confident on the defensive side of the ice forcing players to the outside which can be attributed to the mutual trust with linemate, McFadden. He also draws additional coverage which opens up other players on the ice.
The Storm are making a playoff run this year and Merkley's contributions can't be overlooked, but he will have to keep up the hard work if he wants to finish the season strong and help his team in their quest.
Merkley's Scouting Report
Merkley is described as an undersized defenseman with tremendous offensive prowess. He can skate with the best of them, forwards and backwards, which is useful on the rush and when trying to get back into the defensive zone. He keeps his head up and uses his stick well to poke-check the puck away from opponents.
He can step up to seal off the opposing player when the situation calls for it but will never be a big hitter. He passes the puck very well but sometimes tries to make the extra pass when he should put the puck on net. His shot is average and will need some work in order to make a smooth transition to the NHL.
Merkley will need to get better in his man-to-man coverage especially in front of the net as he'll be up against tougher competition and bigger players when he graduates to the professional rankings. He is a strong quarterback on the power play which will be key to the team that drafts him. If Merkley can pull all of the pieces together he has the potential to turn into a top-four defenseman as a Kris Letang/Ryan Ellis type of player.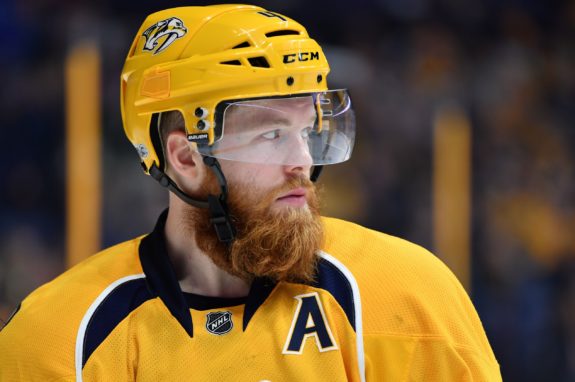 If Merkley finishes this season off strong, I believe he will be selected between 10th and 13th overall in the coming NHL Entry Draft. Whether he is selected earlier or later will depend on the needs of the teams drafting. I've had the pleasure of watching this kid play in Guelph throughout the season and believe he is going to be a stud hockey player.