It appears as though the New Year has brought far more than simply a change of the calendar.
All throughout the month of January, prospects of the 2018 NHL Draft continued to strengthen their respective cases for selection. In fact, a number of which did wonders to improve their personal draft stock, consistently playing at a high-level while earning a wealth of points and accolades in the process.
Highlighting this crop of top performers were the likes of Filip Zadina, Barrett Hayton, and Serron Noel, as all of which took massive steps with respect to their personal development and are deserving of greater attention.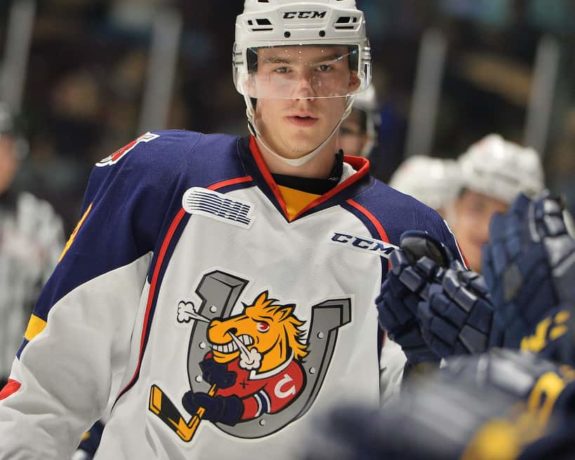 Conversely, January was also an extremely trying month. Heading into the second half of what is a long and stressful draft season, a handful of prospects slipped and tumbled since we last convened, and have seen their places within the draft ranking affected as a result. Although they certainly remain quality assets, players such Joe Veleno, Ty Smith, and Jared McIsaac will need to show much more if they wish to be considered elite talents within this year's class.
Now, as always, let's dive deep into this month's ranking.
A few key highlights of February's edition includes a new name at second overall, three players whose play has continued to impress, and a prospect who is battling to live up to his 'exceptional' potential.
A New Number Two
Filip Zadina
As the 2018 NHL Draft's most complete player outside of Rasmus Dahlin, Filip Zadina has continued to take major steps in his development. So much so, in fact, that Zadina has now leapfrogged Andrei Svechnikov and firmly planted himself as the second-best prospect ahead of the coming draft.
How did he do it?
Well, firstly, Zadina shot the lights out in the 2018 WJC with Team Czech Republic, netting seven impressive goals in seven contests. Then, at the CHL/NHL Top Prospects Game, Zadina tallied another two goals and dominated his opposition from buzzer to buzzer. Finally, in his third Quebec Major Junior Hockey League game of February, Zadina recorded a four-goal game.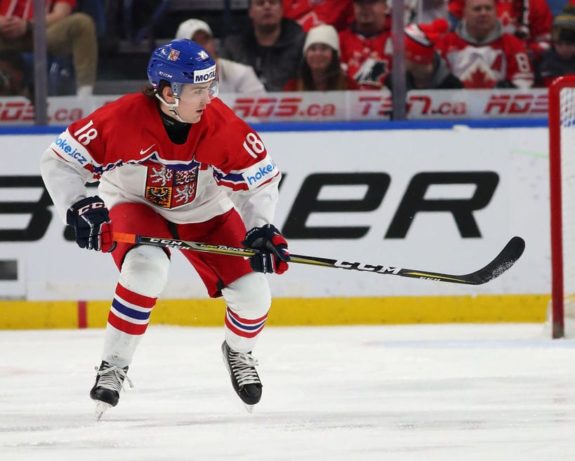 In reality, there isn't much Zadina can't do.
As a terrific skater who owns an electrifying shot, Zadina is a natural offensive threat who generates scoring chances with both ease and regularity. Persistent in his efforts, Zadina's potent play and composed nature have, deservingly, drawn comparisons to former first overall selection Nico Hischier. Blessed with silky mitts and the innate ability to bulge the twine, Zadina's comprehensive attack and sound two-way game are combining to make him a dynamic force of superstar potential at the NHL-level.
Three Men Making Waves
Barrett Hayton
Although he was a relative unknown prior to the 2017-18 season, Barrett Hayton has steadily rocketed up respective draft rankings. Once viewed as a likely second-round pick in the 2018 NHL Draft, Hayton's consistent play with the Sault Ste. Marie Greyhounds of the Ontario Hockey League could lead to his name being called in the top-10.
So, which of Hayton's specific traits have caught the eyes of many?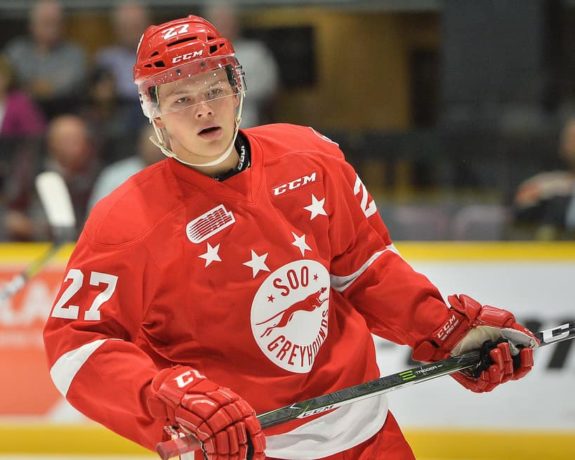 Well, the most notable of which is surely Hayton's intelligence on the ice. Always positioned in order to support his teammates, Hayton boasts great vision and the ability to understand and react to plays before they develop. Strong on the puck, capable of protecting it, and clever in his decision making, Hayton's ability to both pass and shoot the puck combine to make him a persistent offensive threat. When paired with his ample defensive play, Hayton and his overall game have drawn comparisons to Patrice Bergeron.
A true sleeper pick despite his clear skill and value, don't be surprised if Hayton continues to climb the draft board. For now, he sits at 11th overall in my ranking, up a whopping 16 places from January.
Noah Dobson
Also enjoying a substantial leap in February was Noah Dobson, a gifted two-way defender currently plying his trade with the Acadie-Bathurst Titan of the QMJHL.
Blessed with great size and plenty of room to grow, Dobson is a player who will only become more dominant as he strengthens his slender 6-foot-3, 180-pound frame. A two-way defender who thrives at both ends of the ice, Dobson pairs excellent skating and vision with intelligent on-ice instincts — traits which allow him to support and lead his teammates at both ends of the ice.
Good luck to @_ND53 in the #SWTP Game tonight! // Bonne chance à Noah Dobson dans la match des Meilleurs Espoirs ce soir!

📺 @Sportsnet & @TVASports pic.twitter.com/v1rRzb7YG7

— Acadie-Bathurst Titan (@ABTitan) January 25, 2018
Willing and capable of mixing it up physically, Dobson has all the makings of a future top-pairing defender at the NHL-level and has continued to prove exactly such. Constantly rising within draft rankings, many believe that Dobson could play himself into the top-five overall in 2018, much like Miro Heiskanen did with the Dallas Stars in the 2017 NHL Draft.
Serron Noel
If you're a fan of the inspired play of Wayne Simmonds and Patric Hornqvist, then odds are you will love Serron Noel, who plays an eerily similar and highly effective game.
An intimidating force on the ice given his towering 6-foot-5 frame, Noel weighs in at 200-pounds and knows how to use his size to his advantage. Capable of protecting the puck with ease before passing the puck to a teammate or blasting the puck on net, Noel can beat you in a number of ways and is consistent in doing so. Boasting a quality shot, Noel can fire the puck into the net or, instead, deflect a puck en route to the goal owing to his soft hands and substantial net-front presence.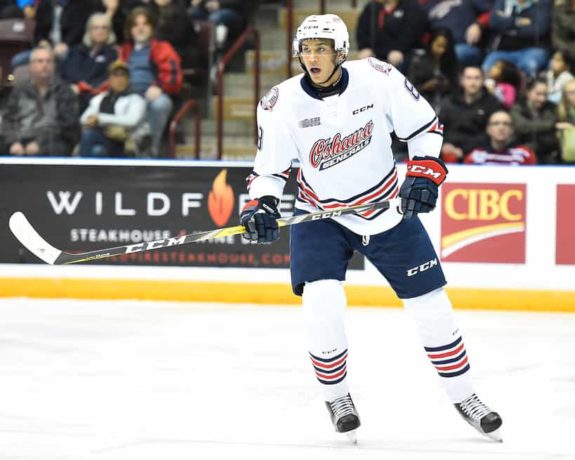 Like Dobson, Noel will continue to mature physically and, in doing so, become even more difficult to contain. For Noel, his physicality will give him an edge when he makes the jump to the professional level, as his ability to knock opponents off of the puck alongside his natural offensive skills will pair nicely against stern competition.
Not So Exceptional?
Joseph Veleno
Granted expectational status by Hockey Canada prior to the 2015-16 QMJHL season, many believed that Joseph Veleno would develop into surefire first line centre at the NHL-level. However, to date, Veleno has failed to justify his early entry into the 'Q', as despite consistent play at both ends of the ice, Veleno has underwhelmed scouts in his draft season.
As a terrific skater who sees the ice well and boasts fantastic vision, Veleno has developed into an excellent playmaker whose feet seemingly fail to cease. Further, as a solid centre of significant size, Veleno is a powerful train when in motion and has the ability to battle his way to the goal regardless of his opposition.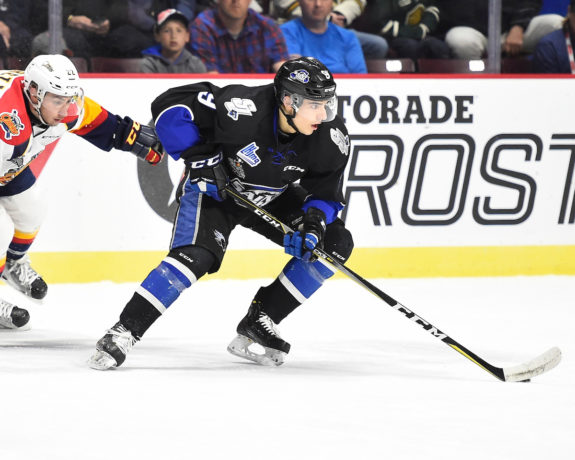 While he will undoubtedly be made a first-round pick come the 2018 NHL Draft, it is safe to say that much more was expected from Veleno given his exceptional status. Although he could very well develop into a top-six player at the NHL-level, Veleno will need to work on his shot and offensive consistency if he wishes to classify himself as elite and become a true force against intimidating competition.
The Ranking: February Edition
Here it is, February's NHL Draft Ranking.
As always, feel free to comment your thoughts in the comments section below, as differing opinions are not only welcomed but encouraged.
As you will see, February's Ranking reflects the great deal of influence which the 2018 WJC and CHL/NHL Top Prospects Game had on the perception of this year's players. While an excellent showing at these events did wonders for some players, it has also increased the scrutiny of others who blatantly struggled against the best competition which this age group has to offer.
Lastly, you will notice that the "+/-" column has made its return to this month's ranking. This information is provided in order to illustrate how each and every ranked player has shifted in comparison to their standing within January's Ranking.
Rank

+

/

–

Player
Position

Current Team

1

–

Rasmus Dahlin

D

Frölunda HC (SHL)

2

+1

Filip Zadina

LW

Halifax Mooseheads (QMJHL)

3

-1

Andrei Svechnikov

RW

Barrie Colts (OHL)

4

–

Adam Boqvist

D

Brynäs IF J20

5

+4

Brady Tkachuk

C/LW

Boston University (NCAA)

6

-1

Quinn Hughes

D

University of Michigan (NCAA)

7

+6

Evan Bouchard

D

London Knights (OHL)

8

-1

Oliver Wahlstrom

C/RW

U.S. National U18 Team (USDP)

9

+12

Noah Dobson

D

Acadie-Bathurst Titan (QMJHL)

10

+5

Ryan Merkley

D

Guelph Storm (OHL)

11

+16

Barrett Hayton

C

Sault Ste. Marie Greyhounds (OHL)

12

-4

Rasmus Kupari

C

Kärpät (Liiga)

13

-2

Bode Wilde

D

U.S. National U18 Team (USDP)

14

-8

Joe Veleno

C

Drummondville Voltigeurs (QMJHL)

15

-5

Ryan McLeod

C

Mississauga Steelheads (OHL)

16

–

Joel Farabee

LW

U.S. National U18 Team (USDP)

17

+14

Serron Noel

RW

Oshawa Generals (OHL)

18

-6

Jared McIsaac

D

Halifax Mooseheads (QMJHL)

19

+3

Jesperi Kotkaniemi

C

Assät (Liiga)

20

–

Benoit-Olivier Groulx

C

Halifax Mooseheads (QMJHL)

21

-4

Ty Smith

D

Spokane Chiefs (WHL)

22

-3

Jett Woo

D

Moose Jaw Warriors (WHL)

23

–

Akil Thomas

C

Niagara IceDogs (OHL)

24

+6

Grigori Denisenko

LW

Loko Yaroslavl (MHL)

25

–

Mattias Samuelsson

D

U.S. National U18 Team (USDP)

26

–

Isac Lundeström

C/LW

Luleå HF (SHL)

27

-13

Allan McShane

C

Oshawa Generals (OHL)

28

NR

Aidan Dudas

C

Owen Sound Attack (OHL)

29

–

Jacob Olofsson

C

Timrå IK (Allsvenskan)

30

-6

Calen Addison

D

Lethbridge Hurricanes (WHL)

31

-13

Jack McBain

C

Toronto Jr. Canadiens (OJHL)