A Russian, American, and Canadian all walk into an ice rink…and begin to speak Russian with each other. It may sound like the preface to a bad bar joke, but this is actually merely a routine scenario for Gera Poddubnyi, Ivan Lodnia and Maxim Golod of the Erie Otters.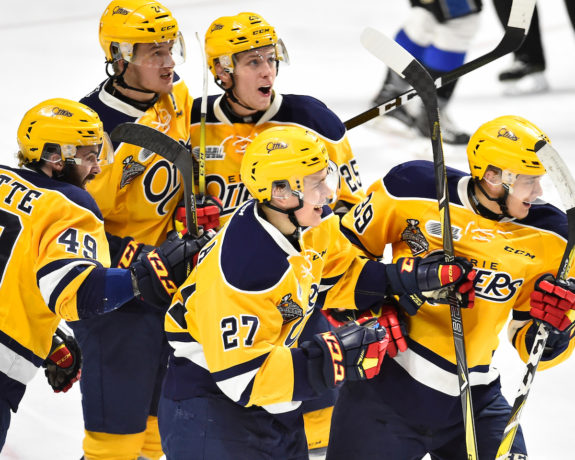 Gera Poddubnyi
Gera Poddubnyi was born in the closed town of Sarov, Russia, the former Soviet Union's epicenter for nuclear research. "There's one hockey team, one soccer team, and that's about it," he remarks on his hometown. The Sarov hockey team is in the VHL, which Gera describes as being "like the AHL of the NHL," in that it is a farm team to the highest level of professional hockey in Russia, the KHL.
"I came [to the U.S.] when I was 14–I'd just turned 14–and I came that September to play and go to school." Gera played hockey for the Jr. Flyers in Philadelphia for three seasons, and attended Bishop Shanahan High School, where he learned English. He maintains that the move to Philly when he was young was a major factor in adjusting to playing here, in the OHL. "I think it was huge, because obviously the hockey is very different, the rink is a lot smaller, all the guys play differently, and it helped me getting here." There are some major differences between the European and North American circuit when it comes to hockey that take some time to get used to after becoming accustomed to one particular style.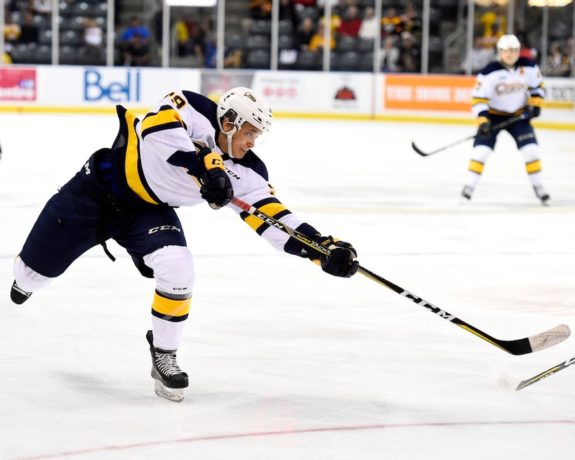 Gera singles out some of the major differences that he encountered when he arrived in Philadelphia after having learned the game of hockey in Sarov: "The rink is smaller, obviously, so you have less time with the puck. It's a lot more physical. I think it's faster, too, [with] more shots. You've kind of got to keep it simple."
Russia is a long flight from Erie, so Gera doesn't get to travel home to see his family very often. "I was there for Christmas, but before that I wasn't home for like a year and a half. So from the time I came to now, I think I've been home four times in total."
His parents were with him in Philly for some time back in 2016, but they have not as of yet been able to make the trip to Erie to see their son play for the Otters.
"Hopefully they can come still and watch me play [in Erie]," Gera quietly contemplated out loud before joining the rest of his teammates on the ice for their morning practice.
Ivan Lodnia
Ivan Lodnia was born in Los Angeles, California to Ukrainian immigrants, a similar scenario to teammate Maxim Golod. He grew up speaking Russian with his family and English with many of his friends in LA. The Lodnias moved here from Kiev, the heart of Ukraine, about 25 years ago, which explains why they speak Russian and not Ukrainian: "Back then everything was one together, so they just spoke Russian," pre-dissolution of the USSR.
Lodnia and Golod have been on a line centered by Poddubnyi recently that has come to be known as The Russian Line, for obvious reasons. The Otters' original top line was top-heavy pre-trade deadline, with Lodnia centering star wingers Taylor Raddysh and Kyle Maksimovich. Although the Otters lost some of their time-proven high-end talent to the trade deadline in January, head coach Hartsburg is now showcasing some of this young team's depth that had gone previously unnoticed, spreading out the scoring over multiple lines instead of relying on a singular stacked top line. The Russian Line is one manifestation of this strategy.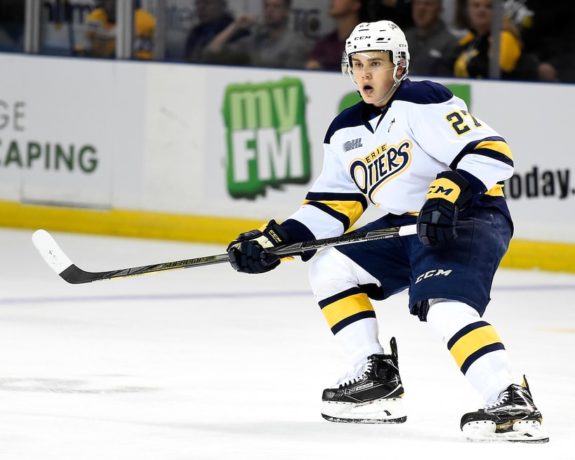 Lodnia maintains that "every guy is really good on our team, so every line you have chemistry with," but the Russian Line seems to be clicking on the ice and beginning to produce some measurable results. Lodnia has now passed previous team points leader Kyle Maksimovich in the standings with 53 points on the season. Both Golod and Poddubnyi have had a goal in the last four games since the creation of the Russian Line, and Lodnia has had two assists thus far. The Otters are coming off back-to-back road wins, an area that they had previously struggled with this season, having only won two total away games prior to Feb. 1. They have now doubled that figure with wins in North Bay and Sudbury.
Maxim Golod
Rookie Maxim Golod moved into Taylor Raddysh's spot on the first line while he was playing for Team Canada in this year's World Junior Tournament in Buffalo, NY. Of course, Raddysh was traded to the Soo Greyhounds immediately following the conclusion of the tournament and subsequent lifting of the OHL trade freeze, so his interim position had the potential to become permanent.
Coach Hartsburg moved Golod around a lot before he landed on the Russian Line, and there will indubitably be many more iterations of lines before the season is up. That being said, Golod's relatively consistent point production no matter what line he is on is a testament to not only his versatility as an individual player, but also Lodnia's statement about the ease of fostering chemistry amongst all sorts of different line combinations on this up-and-coming Otters team.
Golod's parents immigrated to Canada from a city in Russia not that far from Poddubnyi's hometown of Sarov. Golod was born in Concord, Ontario, but Russian is still his first language. He added English and French to his repertoire as a product of growing up in Canada, for the trifecta. Although Poddubnyi allegedly says that Lodnia has a "bit of an accent" compared to them when speaking Russian, communication between the linemates is still smooth and seamless.
Forward @max_golod represents the Otters on @NHLCentralScout mid-term rankings as the 118th North American skater. Story here:https://t.co/8YqXslszMu

📷: @TheRealMMPLLC pic.twitter.com/LEP6QNBV90

— Erie 🦦🦦🦦 (@ErieOtters) January 22, 2018
Golod really enjoys playing on a line with two other Russian-speakers and even maintains that it adds an extra layer of strategy to the drawing board for games.
"We get to communicate in a different language and none of the other guys know what we're going to do, whether it's off the faceoff or just calling for the puck," Golod says of playing against opposing non-Russian speaking players. "We talk off the draw [in Russian] so the other guys don't even know what we're doing sometimes."
It's rather remarkable how Golod's trilingualism is able to help overcome the language barrier between the Otters, and simultaneously weaponize that same innate barrier that exists when it comes to playing opposing teams.
NHL Central Scouting has Max Golod on their radar already, listing him as the 118th North American Skater in the 2018 NHL Central Scouting Midterm Rankings. The future of the Otters is bright, with draft picks restocked and rookies ready to make an impact in the coming seasons.
Erie/Pittsburgh, PA | Erie Otters; Junior Hockey | Editor-in-Chief of The Grizzled Vet | Formerly: University of Pittsburgh D1 Hockey Journalist