The Erie Otters of the OHL have had some barriers to overcome recently, losing much of their high-scoring star power from seasons past, but the language barrier has not been one of them. This is thanks in part to Otters rookie Maxim Golod, who is excelling in his multifaceted role with the team. He has already notched nine points in 12 games in his first season in the OHL. His skills are translating on the ice, but how about his translating skills off the ice?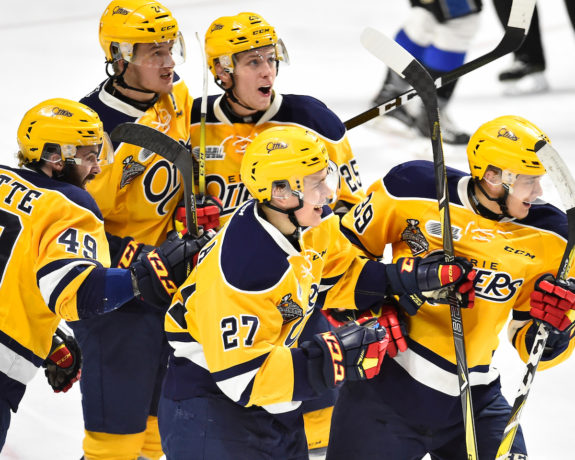 Related: Best Online Resources for OHL Fans
Multilingualism on Ice
The Otters have four non-native English speakers on the team this year. I had the opportunity to chat with Golod about one of his off-ice skills: multilingualism.
Max can speak three languages, fluently. As the son of Russian emigrants, Russian is his first language, although he also picked up English by default having been raised in Canada. He later learned French at school in his Canadian hometown, for the trifecta. When asked what his favorite language of the three is, Golod replied with only the faintest of accents, "Probably Russian because I grew up speaking that language, but now it's English since I speak it the most."
His parents are bilingual, speaking Russian and English, but they wanted Max to learn Canada's second official language as well. "My parents put me into a French immersion school, so I went to French immersion from grade one up to grade eleven and I just stopped this year."
Being trilingual, Golod is a member of an exclusive club that comprises just 13% of the world's population. When I told him that fact, he just remarked "Wow," and unostentatiously shrugged those accolades off. When pressed, he said, "I guess it feels pretty good that I'm part of such a select few." Perhaps it's not as impressive as the even smaller fraction of the world's population that can say they play in the OHL.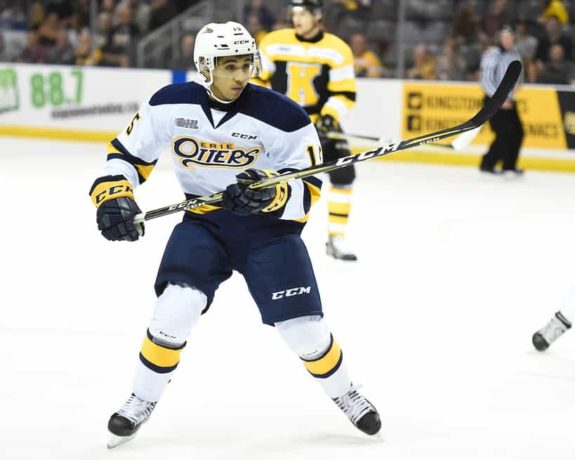 The Otters' 1st round Import selection from 2017, Stephane Patry, speaks French, hailing from Geneva, Switzerland. Golod was one of the only players on the team that could fluently communicate with Patry when he first arrived in Erie this year. Patry is swiftly learning English, and Golod is helping him, serving as the unofficial team translator for the Otters.
He is pleased with Patry's progress, stating that he is "getting a lot better at English. I think he understands more each and every day and I just try to help him out when I can, but also try not to help him out too much so he can learn as much as possible."
Team Translator
Golod will continue to help "Steph" (Patry) with his English, while still being able to speak to fellow Russian teammate Gera Poddubnyi in his native tongue. Poddubnyi's English is very good, although he has a very thick Russian accent, but his progress in just one year's time is extraordinary.
Golod attributes it to the fact that "G" (Gera) played in America with the Philadelphia Junior Flyers before he was selected in the first round by the Otters in the 2016 CHL Import Draft. Golod says he rarely needs to help Poddubnyi with translating words as "his English is really good."
As 'team translator,' Max covers "just the basics," and claims that he does not have any interesting stories of things he's had to translate… yet. However, as is usually the case amongst adolescent boys, "some guys are curious about some of the swear words in other languages."
Knowing multiple languages can yield some advantages on the ice as well. Golod tells me that it helps him effectively and efficiently communicate with all of his teammates during games, where fast-paced decisions need to be made and there is no room for miscommunication. Additionally, he muses, "I guess I could chirp some of the other Europeans on the other teams in other languages."
The Russian Connection
Being of Russian descent, Golod says he has varying degrees of connection with many of the other Russian players in the OHL. "I know a bunch of the [Russian] guys, like when we played Barrie I talked to a couple of the guys, like [Kirill] Nizhnikov and [Andrei] Svechnikov," whom he knows personally.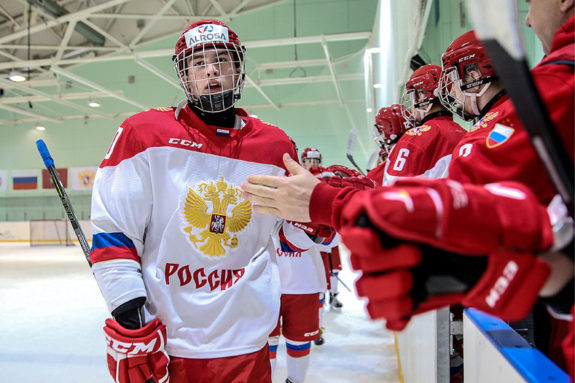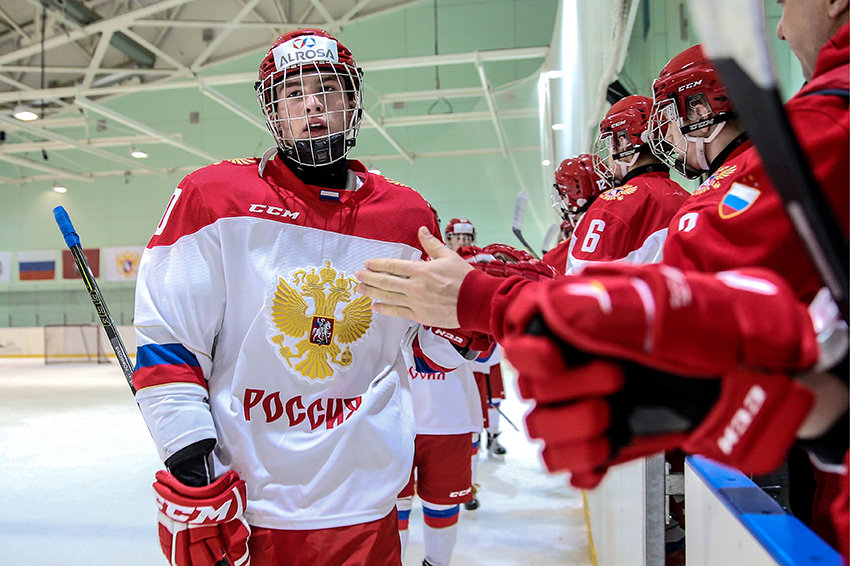 "One of them lives actually pretty close to me. He played for a team in the same league as me, and we're sort of family friends. The other one I practiced with a couple of times and we met that way." There will indubitably be more Russian players that Golod meets during his time in the OHL, some that he may even know of already. "The Russian community is pretty tight, so everyone's heard of each other before."
Related: OHL Power Rankings: Sarnia Playing With Stingers Out
Going Forward
Golod was playing on a line centered by Gera Poddubnyi with Taylor Raddysh on the opposite wing earlier in the season before Poddubnyi sustained an upper-body injury in the October 14 game against Niagara. Golod has since been playing on Alex Gritz's line with Cade Robinson, where he picked up two assists against Owen Sound. The line has averaged over three points per game in the past five matchups, each player with over a point per game.
Golod scored his first OHL goal against the Guelph Storm on October 28, a game in which he had three points. The Golod-Gritz-Robinson line has been very hot lately and has remained intact following the return of Poddubnyi.
Erie/Pittsburgh, PA | Erie Otters; Junior Hockey | Editor-in-Chief of The Grizzled Vet | Formerly: University of Pittsburgh D1 Hockey Journalist