Three Detroit Red Wings prospects from the 2016 draft were hot commodities during junior hockey trade deadlines last month, which could be a big step in the organization's rebuild.
Heading into action Feb. 7, with 30 games remaining, Detroit sits eight points out of a playoff spot with four teams in the way of the second wild-card spot. Not an impossible feat, but certainly an improbable one.
The future is now in Detroit, as evidenced by a breakout from Dylan Larkin, strong growth from Andreas Athanasiou, flashes of dominance from Anthony Mantha and the surprising play of Tyler Bertuzzi, all under the age of 24.
But there are still many holes in Detroit's game; most particularly a lack of grit and an aging, unsteady blue line. General manager Ken Holland has gone heavy on defense, size and grit in the past few drafts and some of his most recent picks are showing promise in those departments.
Last month, a trio of 2016 selections drafted to fill the aforementioned voids in Detroit was traded to playoff-bound teams in their respective junior leagues. Since being acquired, they've been more than just depth players.
Dennis Cholowski
2016 1st Round, No. 20 Overall
In 2016, the Detroit Red Wings moved back four spots to dump the remaining year of Pavel Datsyuk's contract in Arizona. They would select Dennis Cholowski, a left-shooting defenseman who was compared to Scott Niedermayer for his effortless skating and two-way ability.
The British Columbia native was set to join St. Cloud State in the fall, where a routine of skating and weight room time could help him develop and grow his smaller frame. His freshman season didn't go as well as hoped with just one goal and 12 points in 36 games. A minus-9 rating didn't help his argument as sound defensive presence, either.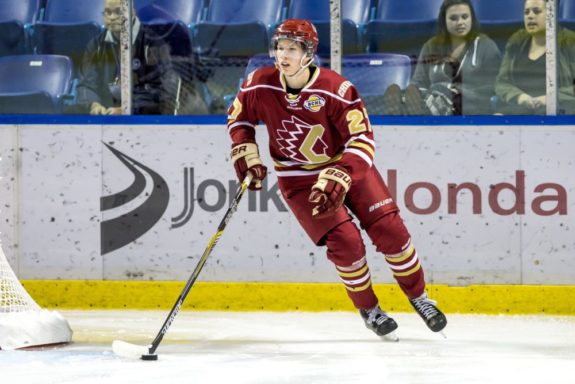 But the organization saw something and consequently signed him to a contract, moving his talent into the Western Hockey League (WHL) with the Prince George Cougars. The 19-year-old earned an assistant captain letter in his first season with the club and posted 13 goals and 39 points in 37 games with a plus-9 rating.
Cholowski was moved from the bottom-dwelling Cougars to the Portland Winterhawks, who currently sit second in the U.S. Division.
"We're extremely excited to add Dennis to our lineup" general manager and head coach Mike Johnston told Winterhawks.com following the trade. "It's always been our philosophy to have transitional defensemen on our backend and he fits in perfectly with our style of play."
Since the trade, Cholowski has contributed 11 assists in 13 games as the Winterhawks look to make noise in the playoffs. Postseason experience goes a long way for young players as Cholowski certainly eyes the next step in 2018-19.
Givani Smith
2016 2nd Round, No. 42 Overall
Listed at 6-foot-2, 210-pounds, Smith was the first of two second-round picks for the Red Wings in 2016 and has continued to improve in his fourth Ontario Hockey League (OHL) season. The physical winger models his game after Philadelphia Flyers forward Wayne Simmonds, who he trained with in the summer of 2016.
"He's a tank out there," Simmonds told Ryan Kennedy of The Hockey News. "He skates well, he shoots well, he thinks the game the right way. Detroit got a great pick there in the second round. He's sure of himself but not cocky. That's good for a young kid."
.@STARSMENSHOPS #GameSummary: Givani Smith's 🔥🔥🔥 play continued on Tuesday night, as the @DetroitRedWings prospect scored once in regulation and potted the shootout winner as the #OHLRangers rallied to defeat the @GoLondonKnights, 3-2. #KITvsLDN

👉: https://t.co/sgdD4FAkp6 pic.twitter.com/vBhiIcEiku

— Kitchener Rangers (@OHLRangers) January 24, 2018
Smith shined on an abysmal Guelph Storm team in 2015-16 with 23 goals and 42 points in 65 games. He wasn't the most prolific scorer, but he stuck out for his grit, determination and growing offense. In his first season post-draft, he added three goals and two points in one fewer game and raised his minus-27 rating to a modest minus-9 on a slightly improved team.
Smith missed a large chunk of this season with a high-ankle sprain but posted eight goals and 11 points in 19 games before being dealt to the Kitchener Rangers. He has chipped in six goals and nine points in 12 games for the Rangers with a plus-8 rating.
His style is usually one that translates well to postseason hockey, where intensity, speed, and physicality ramp up. In Kitchener, which sits atop its division and third overall, he's eyeing the first playoff chance of his junior career and a solid showing could land him a spot with the AHL's Grand Rapids Griffins in 2018-19, if not the Red Wings.
Jordan Sambrook
2016, 5th round, No. 157 Overall
Sambrook has molded himself into what every NHL organization hopes for from a fifth-round pick. He's not the biggest guy (6-foot-2, 187-pounds) or the most offensively gifted, but he's been a steady blueliner for the OHL's Erie Otters over the past three seasons and a large part of the dynasty they were building.
Sambrook has been a reliable defenseman during his time in juniors and has often been tasked with shutting down the other team's top guys, which he has done consistently well. He has accumulated a plus-76 rating over 178 OHL games.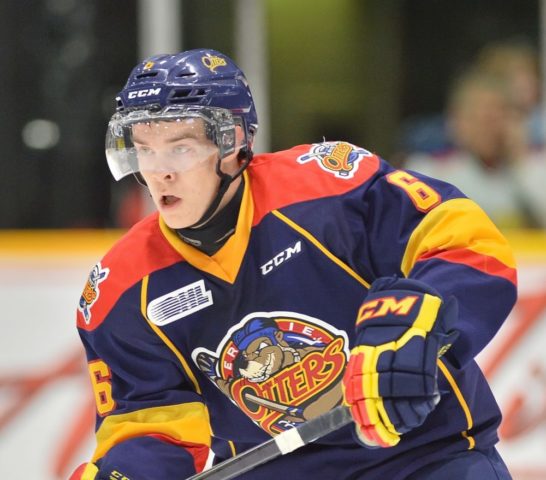 That's not to say Sambrook can't add to the offense. Last season he tallied 15 goals and 40 points in 61 games for the Otters before adding another five goals and ten points in 22 playoff games before Erie lost in the Memorial Cup finals.
Erie took an expected step back this season and in a move for the future, they dealt Sambrook to the Sault Ste. Marie Greyhounds, who sit atop the Western Conference. Since the trade, the Markham, Ontario native has two goals and six points in 12 games.
His winning pedigree, reliable defense and ability to eat minutes will go a long way for the Greyhounds as they aim for the J. Ross Robertson Cup as the OHL's top team and perhaps the Memorial Cup Sambrook missed out on last season.
I offer opinions and insight on the Detroit Red Wings organization and its prospects.