Too often do we generalize our vision of a heralded leader in sport. Not to mention in everyday life. More often than not, team captains are spoken of as if they are perpetually wizened and grizzled. Maybe some gray hairs, or some wrinkles around the eyes. We envision that they come from a long line of ups and downs, and yet have managed to survive. By forging through the challenges they have repeatedly encountered across years at time, they have come to present day and are something to be revered.
Perhaps some captains are indeed like that. They have garnered their knowledge through trials and tribulations. It takes time and is a long process. But not all leaders or captains are cut from a fabric such as that.
There is another type of leader. One whose understanding of the ebb and flow of the game, as well as the give and take of life, is developed from an earlier age. Their qualities are innate and likely woven into their DNA. Young leaders are every bit as inspiring because we know that they will only further hone their skills with the passing of time. We get excited over what greatness they will accomplish as their journey goes along.
Case in point is Sweden's Sabina Küller. She is a member of the Swedish women's ice hockey team that will start competition Feb. 10 at the 2018 PyeongChang Winter Games. This will be Küller's first Olympics, but certainly will not be her last. At just 23 years of age, she is also team captain for her club, AIK, in Sweden's SDHL (Svenska damhockeyligan).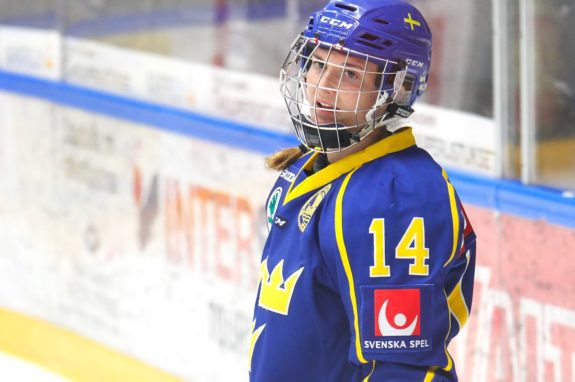 THW had the opportunity to catch up with Küller before the Games of PyeongChang got underway.
The Humble Leader for Her Team
"Yes, I've been captain for almost three years now," Küller said about her captaincy of AIK. "I am very honored and humbled to have been given that responsibility. I try to always think of the team's best. Team-first at all times."
In the past two seasons with AIK, Küller and her teammates have finished roughly in the middle of the pack for the league's standings. In 36 games during the 2016-17 season, AIK finished with a record of 16-16-3-1 to place the team fifth overall. During the current 2017-18 season they are presently in sitting in the seventh spot with nine wins, 19 losses, and four overtime losses. It is within seasons of struggle that the right captain is needed most of all. They have to wear and own a galvanizing spirit, as well as a prevailing calm, in the same way that they don the 'C' upon their chest.
Vi kan med glädje meddela att OS-Truppen är uttagen! Fem AIK-spelare representerar Sverige i Sydkorea 2018.

Grattis och Lycka till
Emmy Alasalmi, Minatsu Murase, Lisa Johansson, Sabina Kűller och Sara Hjalmarsson! pic.twitter.com/hnklVzvwMS

— AIK Hockey Dam (@AIKHockeyDam) January 12, 2018
Küller would go on to say, "I have a way of thinking where I can't demand or require that everyone in the team has to do anything if I don't do it myself first. If I don't do the hard work, then I can't demand anyone else to do it—I think that would make me a hypocrite. So I always try to play the best that I have to offer for the day, so that I can expect the same from my teammates. I have a very sacrificing-way of playing. Hard work pays off and I never quit. I think that rubs off on my teammates and I hope they follow."
With a mindset such as that, it begs for her teammates to cry out "Oh captain, my captain!" and follow as Küller leads.
AIK's Sacrifice and Spirit Embodied by Küller
Küller has played with AIK's top team since the 2009-10 season. Arguably her finest season came in 2014-15 when she set career highs in assists (16) and points (21) in 28 games. When you hear Küller speak about her hockey club, you can immediately appreciate how esteemed it is within her heart.
"AIK is a big club—not just for the hockey—there are so many sports in the organization," she explained. "It is so big here in Sweden. Probably the biggest, if you ask me. Either you love it or you hate it—no in-between. That is the thing I love about (AIK), because even if you hate it, the emotions are so high from both sides."
In Küller 's 220 career SDHL games she has scored 30 goals and 60 assists for 90 points. In addition to her sustained leadership, Küller is also well known for her size and strength. At 5-feet-9 inches and close to 160 pounds, it is hard to miss her on the ice. She is incredibly strong and has not shied away from physical play. Within her 220 games with AIK, Küller has racked up 184 penalty minutes. Her career plus-nine is decent too.
"The hockey in AIK has been good," Küller said. "We are focused on the physical strength and we work hard on team spirit. All for one. Sacrifice. We put our time and effort there, and the rest just comes naturally. I love the rink. It is not a fancy one, but it has so many years on its back. I love the feeling of home I get whenever I go down to practice.
Life in Norrtälje
In that respect, Küller is a bit of an old soul. She possesses an appreciation of the history of AIK and her home rink. She is proud of her home and her upbringing. Küller goes into great depth when explaining what life in Norrtälje is like. It is pleasing to know her thoughts, and you can feel a sense of being there yourself. Yet another aspect of her captain-like cerebral abilities—when Küller speaks you want to listen and take in every word.
"Yes, exactly, I'm from Norrtälje," she told THW. "It is a little town about one hour from Stockholm. It is a lovely town—I'm so in love with it. Probably since my whole family still lives there. But I still get a calming feeling, a feeling of home as soon as I get to spend some time in Norrtälje."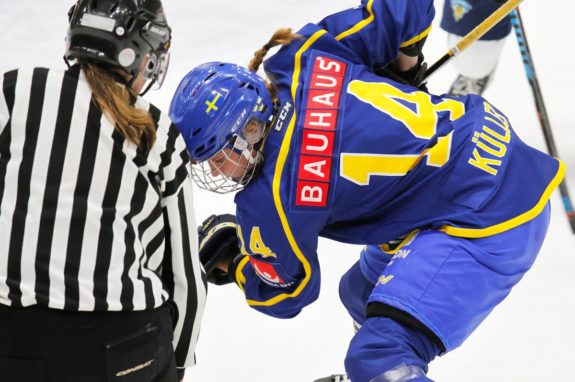 Over 17,000 people live in Küller's hometown. It is along the eastern coast of Sweden and the town's history goes back to the early 1200s. If you ever visited, you would want Küller to be your tour guide. You would likely fall in love with Norrtälje as well.
"Norrtälje is a small town that has everything, is how I usually describe it," Küller went on to explain. "It has the shopping, the nature, the suburban lifestyle, farming and also a lovely archipelago. I don't know how more to describe it, but it is just a town that has it all, and I will end up back there someday."
Beginning Hockey and Küller's Youth
You have to wonder if Küller as a little girl led the other kids by example when she played the game as a child. Sometimes it is not just being the kid who leads the charge, while the other kids rally. Rather, Küller seemed more like a glue that bonded she and her teammates together. She would initially fall in love with game by following in her brother Adam's footsteps. It was Küller's father who was her teacher.
"I started playing hockey as soon as I could stand on a pair of skates," she recalled, "so probably at age three or something. It was my father who got me into playing hockey. He is so interested in sports that I played a bunch of other sports as well, but hockey was the most fun. So I ended up doing only that in the end. My older brother was playing hockey before me, and he was the one I always looked up to. So if he was playing, I wanted to."
It was during those younger years that Küller became tightly knit with the boys and girls whom she played hockey with. Having a true passion for hockey and genuine skill, it would not be long until she would be found and brought to one of hockey's meccas.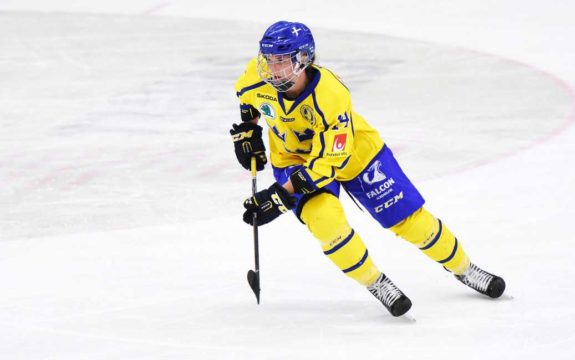 "I was pretty lucky with my hockey," Küller stated. "I played most of my younger days with boys and two other girls, so we stuck together. Then when I was nine a coach from AIK in Solna, Stockholm came looking for young girls that were interested in playing for a girls hockey team. For me it sounded so good, and I was very exited. My parents drove me into Stockholm to try this out, and now 14 years later I'm still in Solna, Stockholm playing hockey for AIK, and I love it there."
It is reassuring when a person of such good character as Küller has found a place for herself. She knows where she belongs, and she knows where is home. One has to love those (rarer these days) times of good things happening to good people.
Accomplishments in Sweden and Abroad
Speaking of good things happening to good people, during the 2012-13 SDHL season Küller helped lead AIK to the league championship and come away victorious in the process. This particular squad for AIK had an immense amount talent and firepower in the likes of Fanny Rask, Line Bialik Øien, Emmy Alasalmi and Lisa Johansson. Many of them still play together with AIK, and will be playing together in PyeongChang. Küller herself played 28 regular season games during the championship season and had three goals and four assists. She played in all three of AIK's playoff games as well and scored a goal.
The year prior, Küller was also part of a bronze medal victory for Sweden at the 2012 IIHF Women's U18 World Championships in the Czech Republic. In six tournament games she would have a lone goal. Some of her same AIK teammates (Alasalmi, Michelle Löwenhielm) were part of this U18 team too.
Damkronornas trupp i #PyeongChang2018@carlsson23 @anniesvedin @Emiliaandersson @emmanordin_ @udenjohansson @erikagrahm @fannyrask @Holsson20 @MajaNylen @marialindh13 @pernillawinberg @Rebbanst @sabinakuller @saragrahn25 @SHjalmarsson25 @SarahBerglind https://t.co/9mbVCiA61O pic.twitter.com/R9i1oiPtxC

— Swedish Olympic Team (@SWEOlympic) January 12, 2018
"The one (accomplishment) I'm most proud of is the Swedish championship," Küller shared. "When we took home the gold in 2012-13. But I also hold the bronze I took with our junior Swedish team close to my heart. Also a gold junior Olympic medal. Those are the moments that I'm most proud of because of how hard we fought for it. Nothing comes easy. Every day was a battle, and we made it anyhow. We found a way to beat all the problems that came at us."
There is everything to like and respect about Küller. She is down-to-earth and she appreciates a hard day's work. It is part of the reason why she has made these successes. It is also partially why she will be vying for an Olympic medal over the next number of days.
Küller's First Olympics and What They Mean to Her
Küller admits that she did not have a hockey hero, per say. Besides looking up to her brother though, she does have a fellow countryman whom she has long admired.
"I have always had a good eye for Niklas Kronwall, who plays for the Detroit Red Wings," she told us. "He is a team player that never backs down from anything. I admire that. But I have not really had an idol or anything growing up."
It just so happens that Kronwall is a member of the "Triple Gold Club"—he has won a Stanley Cup, a World Championship gold medal, and an Olympic gold medal. Kronwall has played in three Olympics, including the 2006, 2010, and 2014 Winter Games. Perhaps Küller could someday win a variation of her own "triple gold." She has the SDHL gold already and will soon have a shot at Olympic gold in PyeongChang. A gold at a Women's Worlds would not be out of the question either.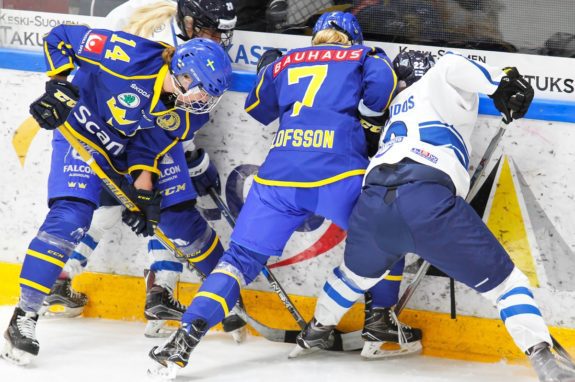 "I'm so excited," Küller said with a wide smile. "It will be the biggest tournament for me yet, and I'm hopeful and eager to play. I try to not get into the whole Olympic feeling. I think it will only get to your head in a bad way. So when playing, I will try to think of it as any other game, just to keep the nerves down. Then I can reflect on it after. But it is awesome to be around so many great athletes. It is a special way to live, and everybody here knows that. You feel kind if united."
Küller is as intelligent of an athlete as she is endearing. It is truly fascinating to listen to how she thinks and feels about competition. Her approach is impeccable. There is an art to it almost, and she is very much an artist who comes across as an athlete's athlete.
Sweden's Chances to Medal
There is no doubt that Sweden has one of the better rosters for capturing an Olympic medal. The Swedes are a wonderful blend of talent—the goaltending, the scoring, the size and strength, defensive play—they have it all. While Küller may not be called upon for goal-scoring, it is that hockey mind of hers and innate leadership that will be most integral for Sweden. Her size, determination, and strength are glorious bonuses to have as well. Küller is an essential ingredient for her team to taste victory.
"The team we have right now is just the best," she said. "We have a great chemistry and really like each other. There are many of us that have played with each other for some years now, and we know what to expect out of everybody."
Her teammates certainly know what they can expect from Sabina Küller. Of any player on Sweden's roster, she may very well be the best at bringing it to the table. We are talking about character. It has been touched upon in every aspect of this article. Küller is cut from the finest cloth of character in terms of how she treats and supports her teammates, approaches her opponents, acknowledges her past, thinks of her future, and what she expects of herself as a hockey player and a person.
Küller leaves us with these parting words:
"The most important thing I have learned from playing hockey is probably respect. How to give respect to everything and everyone. Respect has to be earned."
There is no question that Küller has earned every ounce of it. By the time PyeongChang is over, there will be millions whose respect she will have garnered as well. Deservedly so.
General Manager of the Buffalo Beauts (NWHL). Hockey history writer "The Hockey Writers". Credentialed media for the NHL Combine and 2018 IIHF World Junior Championships in Buffalo, NY, USA. Born and raised in Buffalo, NY. Lifelong hockey fan for over 40 years. Proponent of the women's game.