Akil Thomas
2017-18 Team: Niagara IceDogs (#44)
Date of Birth: January 2, 2000
Place of Birth: Brandon, FL
Ht: 5'11" Wt: 170 lbs
Shoots: Right
Position: C
NHL Draft Eligibility: 2018 first-year eligible
Rankings
Akil Thomas is a well-traveled young man. Just consider for a second where all he's been so far in his upbringing. He was born in Toronto. But then he's been to Mississippi, Michigan, Oklahoma and Florida at different points. At age 10, Thomas returned to Toronto after his father retired. It was then that he realized he was pursuing his dream of playing hockey.
Thomas has shined throughout his career to date. Starting with the Toronto Marlboros, he posted 72 points in 56 games. The Niagara IceDogs took notice and selected him 12th overall at the 2016 OHL Priority Selection. Being a rookie and adapting to a new league didn't slow him down one bit.
RELATED: THW's 2018 Draft Guide
Thomas shined by posting a line of 21-27-48 as a rookie. He was named to the OHL First All-Rookie Team that season. The others named to that team were Jacob Ingham, Ryan Merkley, Eemeli Rasanen, Allan McShane and Linus Nyman. That's pretty good company. As a follow-up, Thomas posted the best numbers in the OHL for first-time draft eligibles this season with a line of 22-59-81 while playing in all 68 games. He also added 5-6-11 in 10 playoff games. He served as an alternate captain in 2017-18.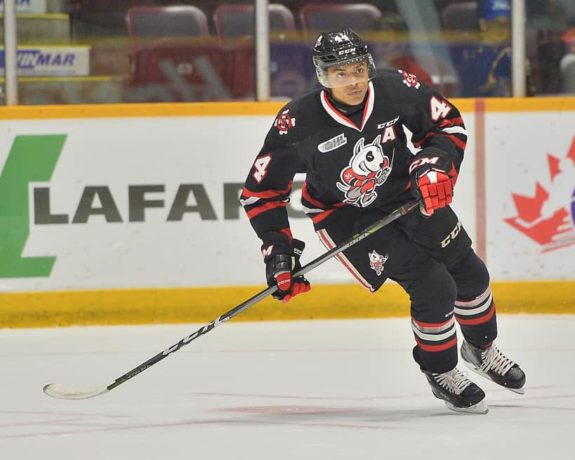 So what do we get in Thomas? We have one of the best overall playmakers in the draft. He uses his combination of skating and soft hands to make the right play. He's willing to shoot from anywhere on the ice. He's more willing to dish the puck to teammates and isn't afraid to drive the net when the opportunity is there.
What stands out about Thomas is his leadership and work ethic. He is a tireless worker who is always striving to get better at both ends of the ice. In live viewings of him, he was out in all situations, including power play, penalty kill and end of game. He can effectively play both as a center and on the wing. He also handles everything like he's 2-3 years older. He's just 18, but you'd think he's 20 or 21 based on his play and the way he handles himself. Not many players wear a letter in their draft season. That tells you everything you need to know about Thomas as a person.
Questions with Thomas start with his size. He's 5-foot-11 and around 170 pounds. Is he a center at the next level? Would he be able to keep up with bigger, stronger and faster players? Thomas is also an effective defender because he understands positioning well. But given the size concerns, I'd like to see him win more battles for pucks. He's not afraid to challenge bigger players but when games grind to a halt on the wall, he's at a disadvantage. How much can he fill out? This is a big summer for him to add muscle and size to his frame. If he fills out, his upside is tremendous.
Other THW Draft Profiles:
Akil Thomas – NHL Draft Projection
Thomas projects as a mid-late first round pick given what all he brings to the table. He plays in all situations and the stage isn't too big for him. Most in the industry have him between picks 20-31. I have him slightly higher than that at number 17 overall. Teams are going to love his work ethic.
Quotables
"Thomas is a quick, game-breaking offensive talent…skating ability is top-notch; the acceleration and top-end speed he can generate from his first few steps allows him to beat defenders around the edge and pounce on loose pucks…his ability to carry and control the puck at top speed is impressive…his puck control also can lead to some eye-popping moves, and he dominates one-on-one situations with a combination of skating, awareness and stickhandling ability…for a smaller player, he's also quite good at protecting the puck; his patience and vision with the puck…intense and relentless around the net…a magnet on the puck…a very deadly shot with firecracker release…not currently strong enough to be a presence in board battles, but he's not afraid to go after bigger players in the corner and initiate contact on the forecheck either…he needs to be more dedicated in his own end, as he often springs the zone and hopes for a Hail Mary pass instead of coming down into his zone to support his defenders…has the potential to become the complete offensive package in the NHL. "-Future Considerations
"A thick two-way center with a deadly shot and high compete level who also can play the wing, Thomas led all OHL draft-eligible forwards in scoring with 80 points in 68 games. He is used in all situations, but he is most dangerous on the power play thanks to his keen vision and ability to pump shots through traffic. There a few players in his draft class who offer coaches the kind of versatility Thomas provides — he is used to take big draws, kill off an important penalty or run the offense from inside the zone during late/close situations" –Steve Kournianos/The Draft Analyst
"Thomas possesses excellent puck handling skills, vision and passing abilities. He's also a very good skater with very good speed and works his edges extremely well. When combined, he is difficult to contain in the o-zone, making him one of the better playmakers in the draft class. "-Dominic Tiano/OHL Writers
Strengths
Good skater
Extremely agile
Excellent decision-maker
Effective in all situations
Under Construction (Improvements to Make)
Size & Strength
Physical play
NHL Potential
The question I have with Thomas is if he's a center or winger at the next level. He played both positions this season with the IceDogs and was extremely effective at both. His upside is a top-six center if he fills out. On the low end, he's a middle-six winger who can produce a ton of offense. A safe floor and a high ceiling means good potential at the next level.
Risk-Reward Analysis
Risk – 3.5/5, Reward – 4.5/5
Fantasy Hockey Potential
Offence – 8/10, Defence – 6/10
Awards/Achievements
Thomas won both an OHL Cup silver medal and an OHL Gold Cup championship in 2015-16. He was named to the OHL First All-Rookie Team in 2016-17. He was also a part of Team Canada who won gold at the Ivan Hlinka in 2017-18.
Interview/Profile Links
Videos
https://www.youtube.com/watch?v=X70v-XI49Uw