The Columbus Blue Jackets and Washington Capitals return to the ice Sunday night to play Game 2 of their first round series at Capital One Arena. They are the last series to play their Game 2 after having two off days after Game 1. The game can be viewed in the local markets on Fox Sports Ohio in Columbus, NBC Sports Washington in DC and on CNBC nationwide. Puck drop is set for just after 7:30 P.M.
What are we watching for in Game 2? Here are the three things we will have our eyes on tonight. The Blue Jackets are looking to go up 2-0 in a series for the first time in franchise history.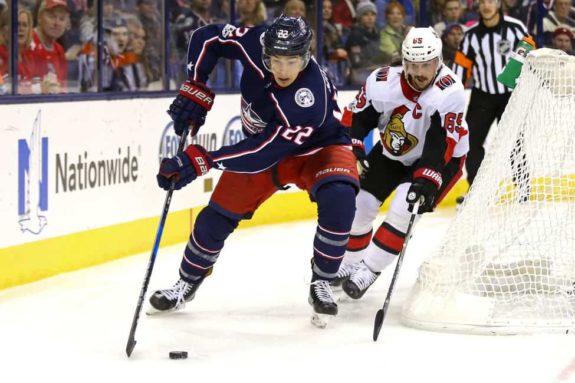 Impact of Lineup Changes
Both the Blue Jackets and Capitals should have different lineups when the puck drops. Capitals' coach Barry Trotz spoke Sunday morning and confirmed that Jakub Vrana is a scratch for Game 2. He was the odd-man out with center Jay Beagle returning to the lineup.
The Capitals will have their full compliment of centers back as a result. Beagle returns to the lineup after missing time because of an upper-body injury. He is expected to center the fourth line between Chandler Stephenson and Alex Chiasson. In the recent regular season series, the Capitals' bottom-six has produced against the Blue Jackets. We'll see if Beagle gives them a spark. The rest of their lineup remains the same with Philipp Grubauer back in net and Michal Kempny expected to play after being hit by Josh Anderson in Game 1.
Caps lines:

Ovechkin-Kuznetsov-Wilson
Burakovsky-Backstrom-Oshie
Connolly-Eller-DSP
Stephenson-Beagle-Chiasson

Kempny-Carlson
Orlov-Niskanen
Orpik-Jerabek

Out: Vrana, Gersich, Boyd, Pinho, Djoos, Bowey

— Isabelle Khurshudyan (@ikhurshudyan) April 15, 2018
As for the Blue Jackets, Alexander Wennberg is listed as doubtful after being hit by Tom Wilson. The full lineup won't be known until closer to game time, but if Wennberg is out as expected, Sonny Milano is expected to draw in. That will shakeup the center position.
Pierre-Luc Dubois will still center the top line. Then you could see a combination of Nick Foligno, Mark Letestu, Brandon Dubinsky or even Boone Jenner slot into the middle. Coach John Tortorella will address the media just after 6:00 P.M. eastern and we'll see if he addresses the lineup then. No other changes are expected. Sergei Bobrovsky should start again in net.
Discipline Anyone?
Game 1 was penalty filled. Josh Anderson got a game misconduct for his hit on Kempny. Wennberg was knocked out by Wilson. There were numerous other penalties called. Special teams had a major hand in the way the game played out.
Evgeny Kuznetsov scored twice during the major power play. Thomas Vanek and Seth Jones each scored power-play goals for the Blue Jackets. The simple question is, which team will stay out of the box tonight? Both power plays are good enough to win games on their own. Considering how desperate the Capitals will be tonight, if the Blue Jackets hope to steal both games in Washington, they must stay out of the box.
Good period for #CBJ. Solid at even strength, Bob with some key saves. Just need to stay out of penalty box.

— Tom Reed (@treed1919) April 13, 2018
Virtual Must-Win for the Capitals
There is still a long way to go in this series, but if the Capitals lose Sunday night, they'll travel to Columbus down 2-0 and could start thinking back to past playoff failures.
The Blue Jackets gained a bunch of confidence after coming back from down 2-0 in Game 1. They own home-ice advantage in the series. The Capitals need to do whatever it takes to make sure the series is tied going to Columbus. This means their best players have to step up.
This starts with Alexander Ovechkin. He was relatively quiet on Thursday night. He knows he must play better and generate more offense at even strength for the Capitals to even the series. Expect his line with Kuznetsov and Wilson to play with a purpose Sunday night. If the Blue Jackets can slow them down again, the Capitals will have a huge hill to climb.
Game 3 of this series takes place Tuesday night at Nationwide Arena in Columbus.