With the playoffs underway across hockey there are a few prospects from the New Jersey Devils still alive in pursuit of a championship, but with their AHL affiliate, Binghamton Devils just completing their season most of the future Devils will be now entering their offseason programs. 
For the second part of this update we will look at how the forwards in the pipeline did this season, and in part one we looked at the defenders and goaltenders. *Currently still active in this second group is Marian Studenic. All stats are through April 20.
Forwards
Joey Anderson (University of Minnesota-Duluth), acquired in the 2016 NHL Draft (3rd Round/73 Overall):
Perhaps the prospect with the biggest upside in the Devils organization, Anderson signed his pro contract on April 15 forgoing his final two years at the collegiate level. He was a member of the 2018 NCAA champions a year after finishing as a runner-up and was captain of Team USA at the 2018 World Junior Championships (Bronze Medal/7 points in 7 games). In two years with the Bulldogs, Anderson had 64 points (23g-41a) in 75 games.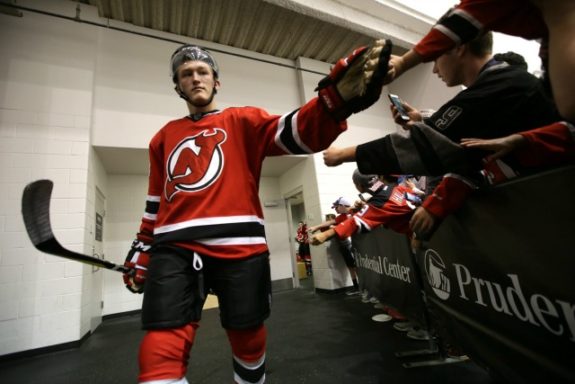 Nathan Bastian (Binghamton), acquired in the 2016 NHL Draft (2nd Round/41 Overall):
Bastian's first season as a pro was filled with ups and downs as he adjusted from the OHL to the AHL game. He had two multi-point games, including a two-goal game (both in the first period) against Syracuse and finished with 18 points (10g-8a) in 68 games. His first-period penalty shot goal in the first ever Binghamton Devils game was the eventual game-winner of a 2-1 win against Bridgeport.
Christoph Bertschy (Binghamton), acquired from Minnesota in a trade for Viktor Loov in February 2018:
Following the late-season trade from Iowa Bertschy really fit in well with Binghamton and put up 18 points (6g-12a) in 26 games after 17 points (8g-9a) in 45 games with the Wild's AHL affiliate. The 24-year old Swiss forward had six multi-point games with the Devils, highlighted by a three-point game (1g-2a) in a 5-1 rout of Belleville.
Jesper Boqvist (Brynas IF), acquired in the 2017 NHL Draft (2nd Round/36 Overall):
After missing three months with a broken wrist Boqvist racked up 13 points (3g-10a) over 23 games in the SHL. He had a nice showing at New Jersey's prospect and development camp this past July and another strong showing could do him well heading into next season.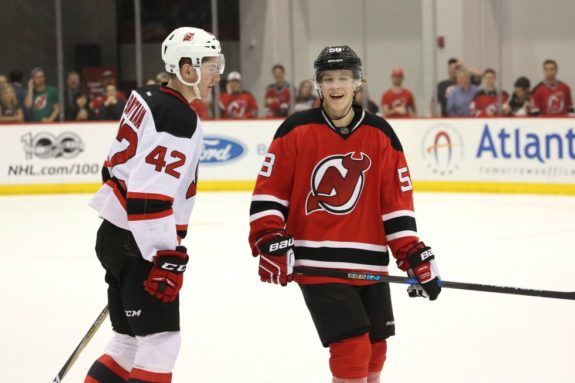 Brandon Gignac (Binghamton), acquired in the 2016 NHL Draft (3rd Round/80 Overall):
After back-to-back 60-point seasons in the QMJHL Gignac had three points (2g-1a) with Binghamton before suffering a season-ending injury (torn ACL right knee) in December.
Michael Latta (Binghamton), acquired from Arizona for Ryan Kujawinski in December 2017:
Now with his sixth AHL team, Latta had a phenomenal start with Binghamton after the mid-December trade with goals in his first two games and points in his first four (2g-3a). Overall he had 19 points (5g-14a) in 40 games with the Devils after just eight points (2g-6a) with Tuscon.
Nick Lappin (Binghamton/New Jersey), signed as an undrafted free agent in March 2016:
Lappin has done nothing but score since the Devils signed him as a free agent after his career at Brown University. He followed up his 29 points (14g-15a) with Albany last season by netting 53 points (31g-22a) with Bingo this season and he led the AHL Devils in goals, game-winning goals (6), and shots on goal (197). His six GWGs were good for ninth in the league. Last season he played in 43 NHL games (4g-3a) and with a relatively healthy (and deep) team in New Jersey this season Lappin only saw action in six NHL games this season (one goal). He should be in the mix for a spot in the bottom-six at the NHL level next season.
Michael McLeod (Mississauga/Binghamton), acquired in the 2016 NHL Draft (1st Round/12 Overall):
McLeod was injured late in the preseason with New Jersey and was sent back to his OHL team once he was all healed up. Although he didn't put up points for the Steelheads like he did a season prior, McLeod still averaged over a point a game with 44 points (16g-28a) in 38 games; he also had ten points (6g-4a) in six playoff games. He saw action with Binghamton (six games) at the end of the season and recorded his first pro point, an assist on a goal by Bastian against Hartford.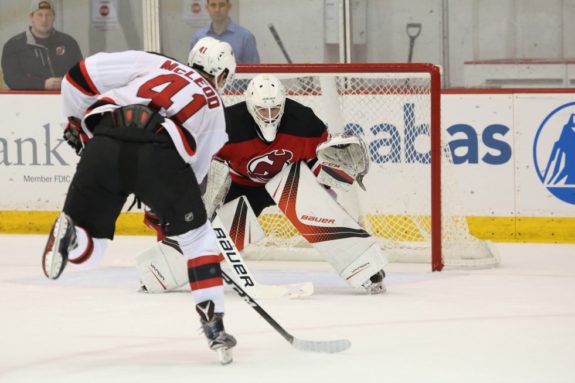 John Quenneville (Binghamton/New Jersey), acquired in the 2014 NHL Draft (1st Round/30 Overall):
For a second straight season in the AHL Quenneville recorded a 14-goal season, but his season was filled with various injuries and he was constantly in and out of the lineup; three of his goals came in the second game of the season at Laval. He still finished with 34 points in 43 games and earned a brief recall to the NHL (two games, no points). This will be a big summer and training camp for Quenneville who may be falling down the organizational depth chart.
Kevin Rooney (Binghamton/New Jersey), signed as an undrafted free agent in July 2016:
Like Quenneville, Rooney also finished with the same 34 points (14g-20a), but unlike Quenneville, the Providence alum wasn't a first-round pick. He was often used as a second or third-line center, always on the penalty kill, and showed he has a bit of a scoring touch, finishing tied for fifth on the team in points. Rooney's four shorthanded goals were good for third in the AHL this season and he was recalled for one NHL game this season (January 25 vs. Nashville).
Brett Seney (Merrimack College/Binghamton), acquired in the 2015 NHL Draft (6th Round/157 Overall):
After four solid seasons at Merrimack (115 points in 139 games), Seney continued that success at the AHL level with one point in eight of his twelve games (3g-5a) with Binghamton, including a game-winning goal at Syracuse. All three of his tallies came via the power play, and the 5'9" forward played a chippy game throughout, never backing down from any opponent. 
Blake Speers (Binghamton), acquired in the 2015 NHL Draft (3rd Round/67 Overall):
After having a phenomenal training camp and starting the 2016-17 season with the New Jersey Devils for three games Speers has been unable to find his way back to the NHL level. This season, his first as a pro, he put up 19 points (12g-7a) and starting heating up at the end of the season when Bingo had a more healthy, and talented lineup – Speers had 7 points (5g-2a) over the final eight games.
Marian Studenic (Hamilton Bulldogs), acquired in the 2017 NHL Draft (5th Round/145 Overall):
The Slovakian sniper improved his game by 18 points from last season (30 points) to this season (48 points) with Hamilton in the OHL. The Bulldogs are still alive in the OHL postseason and Studenic has been a big reason why with 10 points (2g-8a) in 12 games. The Devils may have found a gem with this right-winger who was a late round pick last June.
2nd goal of the game for @Studa_19 pic.twitter.com/T8uIZuEJTc

— Hamilton Bulldogs (@BulldogsOHL) April 12, 2018
Aarne Talvitie (Espoo Blues U20), acquired in the 2017 NHL Draft (6th Round/160 Overall):
Just like Studenic, Talvitie is another late round pick that saw a huge increase in his point production after being drafted by the New Jersey Devils. The Finn was the captain of his squad and led them with 58 points (34g-24a) in 41 games; he is committed to playing at Penn State University next season. Last season he had 37 points in 46 games for the Blues.
Fabian Zetterlund (Farjestad BK), acquired in the 2017 NHL Draft (3rd Round/63 Overall):
Zetterlund's best hockey of the season came when he was wearing a Team Sweden jersey as he had eleven points (7g-4a) in 15 games during international play. With Farjestad he only had seven points (3g-4a) in 35 SHL games.