Calen Addison
2017-18 Team: Lethbridge Hurricanes (#2)
Date of Birth: April 11, 2000
Place of Birth: Brandon, Manitoba
Ht: 5'10" Wt: 179 lbs
Shoots: Right
Position: Defenseman
NHL Draft Eligibility: 2018 first-year eligible

Rankings
The 2018 NHL Draft looks to be very defenseman-heavy at the higher end. Because of that, it's completely possible for some very good prospects to fall through the cracks a bit because they can't entirely match up with the upper-echelon players at their position. Within the broader 2018 draft class but even just within the Western Hockey League's prospects Lethbridge Hurricanes blueliner Calen Addison isn't quite as highly-touted as fellow WHLer Ty Smith. But when you dig into Addison's game and what makes him tick, he could be a very nice consolation prize for a team that picks late in the first round (or early in the second).
Addison will probably be compared to Smith by a lot of teams, if only because they play the same position and were drafted first and second in the 2015 WHL Bantam Draft – Addison went second. Addison's a little bit shorter than Smith but built a bit thicker. He's a right shot while Smith is a leftie. Smith is a bit more of a gambler in terms of jumping into the rush and having to scramble back when things go the other way, while Addison is a bit more risk averse and plays arguably a "safer" style of game with the puck. Smith may have slightly better hockey sense and a higher ceiling, but Addison's situational awareness – particularly in gauging how teams are structuring their rush and looking for holes – is very good.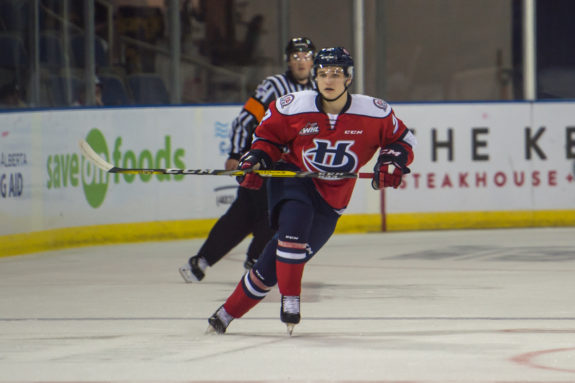 There's something both encouraging and puzzling about Addison's offensive growth over the past two seasons. He went from nine goals scored as a rookie to 11 this season and jumped from 24 assists as a rookie to 54 this season, and that's with the Hurricanes scoring 40 fewer goals than a year before. But his even strength scoring jumped from 21 points to 28 this season, suggesting that a lot of his offensive production was dependent on the power play. That said, the gap in even strength and power play production may be part of Addison's maturation process – he's cautious with the puck at even strength (perhaps too much so), but he's become more aggressive with his passing and movement on the power play where there's extra time and space. Given some time, perhaps that aggression may find its way into his even strength play.
Related: THW's 2018 NHL Draft Guide
Addison's not the belle of the 2018 NHL Draft ball as far as defensive prospects go, and that's fine. He's still a promising young player with a ton of potential and a high ceiling if he can continue to add to his offensive repertoire.
Calen Addison – NHL Draft Projection
Addison could go as early as the late first round, or he could potentially drop into the early-to-mid second round. A lot of it depends how defender-rich the teams selecting in those spots are, and whether they might have selected a blueliner with an earlier pick.
Quotables
Calen Addison is such a superlative skater, it's truly a treat to watch. Generates so much speed in his transitions. His balance transfer is impeccable. #2018NHLDraft @FCHockey

— Donesh Mazloum (@DMaz16) March 14, 2018
"Small in size but big at heart and work ethic. Good defensive defenceman and holds his line and defends well against the oncoming rush. Takes his time with the puck and evaluates all situations and almost always makes the right play. Likes to use the entire ice to his advantage and makes good outlet passes to the forwards on the fly. Efficient skater who is well balanced on his feet and makes good transitions from what looks like effortless skating to acceleration very quickly. Is always in good position defensively and will go into the corners and battle with much bigger guys. Plays the power play and is developing into a reliable offensive defenceman." – Marshall MacKinder, Hockey Now
"The right shot defenseman oozes hockey sense, is a precision passer and has a decent shot, but excels at creating transition offence and distributing the puck. Skating is an asset as he moves quickly, has good mobility and agility and strong edges. Addison is smart on both sides of the puck, is positionally sound and is not shy about playing physically, albeit his effectiveness is limited even at the junior level due to his size." – Peter Harling, Dobber Prospects
Strengths
Good offensive vision
Effective passer
Great skater
Strong shot from the point
Under Construction (Improvements to Make)
He's not big and he'll need to bulk up to withstand NHL physicality
Needs to keep working on his situational awareness without the puck
He's a bit too reliant on the time and space of the power play for offensive production
Other 2018 NHL Draft Profiles
NHL Potential
Addison projects as a second pairing two-way defender who makes his offensive hay on the power play. Stylistically he has some similarities to Mathew Dumba.
Risk-Reward Analysis
Risk – 1/5, Reward – 3.5/5
Fantasy Hockey Potential
Offense 8/10, Defense 8/10
Awards/Achievements
Addison represented Canada at the Under-17 Hockey Challenge and the Ivan Hlinka Memorial Tournament. He captured silver at the Under-17s and gold at the Hlinkas.
Interview/Profile Links
Videos