As far as the Western Hockey League is concerned, the 2018 NHL Draft class is defenseman-heavy at the high end. The only A-rated WHL player on the Central Scouting early season "Watch List" is Spokane blueliner Ty Smith, and three of the five B-rated WHLers (Lethbridge's Calen Addison, Red Deer's Alexander Alexeyev and Moose Jaw's Jett Woo) are defenders.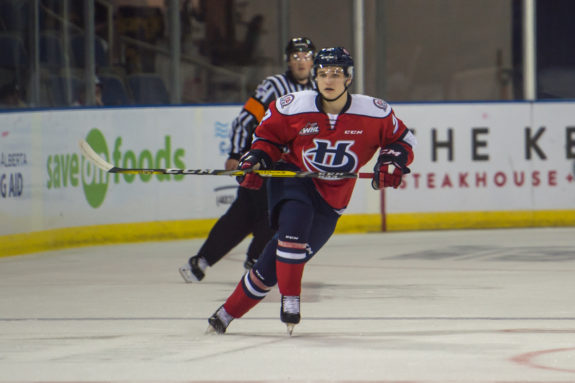 While Smith is arguably very close to being the proverbial total package blueliner, capable of high-end play in all three zones, Addison has been eating up minutes for the Hurricanes and rapidly improving.
Parallel Paths
Addison and Smith have a ton of interesting similarities. They were born a month apart in early 2000: Smith in Lloydminster, Alberta and Addison in Brandon, Manitoba. Smith was the first selection in the 2015 WHL Bantam Draft, while Addison went second overall. Smith debuted in the Dub on January 13, 2016 and had a two-point game, while Addison debuted exactly one month later (and had zero points).
The duo each became WHL regulars as 16-year-olds and were able to produce significant offense. Smith had five goals and 32 points in 66 games, while Addison had nine goals and 33 points in 63 games – he also played 13 games in the WHL playoffs. Both players represented Canada on Team Black at the Under-17 Hockey Challenge and played in the Ivan Hlinka Tournament. Smith played on Canada's Under-18 World Championship team, which Addison didn't play in because Lethbridge made the playoffs.
Different Strengths
While the two players come from relatively similar backgrounds, Smith is considered a higher-end prospect because Smith is already more well-rounded than Addison and probably has a higher ceiling overall.
There's a reason Ty Smith is the consensus top prospect in the WHL. Completely dictating the play. Elite awareness. Never a wasted moment.

— Donesh Mazloum (@DMaz16) October 23, 2017
A left shot player, Smith is simply good everywhere on the ice. His best attributes are his vision and hockey sense, in the sense that he seemingly has an idea where every player is on the ice (for both teams) and anticipates player movements and tendencies rather well. As a result, he's rarely caught out of position and he is able to elevate the play of his teammates due to his strong situational awareness. It also helps that he's a strong passer and skater, which contribute to making him a very dynamic player. Through the first 13 games of the 2017-18 campaign, Smith generated 15 points.
According to his coach, Brent Kisio, the right-shooting Addison's offensive game is his bread and butter and he has worked hard to use those strengths to improve his game away from the puck: "[Last year] he was an offensive guy that was learning to play the defensive side of the game. He's in our top four now, so he has to be a defensive guy for us as well this year."
Kisio also praised Addison's poise with the puck and his ability to make the game look easy at times. As a rookie, Addison at times seemed a bit hesitant to  try to create offense – opting to make shorter, safer plays rather than rolling the dice with a pass up the middle or jumping into the rush. So far this season, he seems more comfortable in the defensive zone and while he still relies on safer plays with the puck in his own end he seems better at picking his spots in terms of jumping into the rush. Through the first 10 games of the season, Addison amassed 12 points.
Smith is definitely the more well-rounded and dynamic of the two players, but Addison is beginning to close the gap a little bit. They'll meet once in the regular season on November 10 in Lethbridge.