The beginning of a new season is also the beginning of a new draft year. A whole crop of new up-and-coming hockey players with dreams of National Hockey League stardom are now in their first year of eligibility of the annual entry draft. Only a few will actually be selected. Here are 22 Western Hockey League players to watch for the upcoming NHL Draft – one from each team.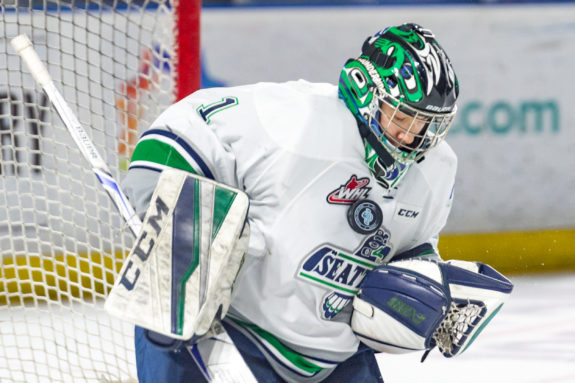 Brandon: Cole Reinhardt
A standout with the Airdrie Xtreme Bantam and AC Avalanche Minor Midget teams as a youngster, Reinhardt is a left wing with good size and the ability to score consistently no matter what level he's playing in – a sign he can adapt to changing circumstances and tougher opposition. After putting up seven points in 61 games last year as a WHL rookie, he already has three goals in his first four games in 2017-18. A ninth round pick in the 2015 Bantam Draft, he's a bit of a dark horse prospect for the 2018 NHL Draft but his early offensive outburst likely has him on the NHL radar.
Calgary: Tristen Nielsen
A product of the Calgary-area Edge School, Nielsen is a bit undersized (at 5'11" and 181 pounds) but that hasn't stopped this center in bantam or midget. He has seven points in 49 games as a rookie with the Hitmen in 2016-17 and the hope is he'll be a big part of the offense for a very young Hitmen club. He'll be given a ton of high-quality ice-time by new coach Dallas Ferguson.
Edmonton: Andrei Pavlenko
This Belarusian winger came over in the recent CHL Import Draft after spending time in the secondary Belarus junior league. He has a big frame that can probably pack on a lot more muscle and he's already had some offensive success in his first few weeks of Canadian major-junior. If he can adapt to the style of play, his size gives him a major advantage.
Everett: Riley Sutter
The son of longtime NHLer Ron Sutter and part of the vaunted Sutter family dynasty, Riley is a big-bodied winger (6'2″, 201) who's already had a lot of offensive success in the WHL. He had 39 points in 67 games last season. The knock on him may be his age, as an October 1999 birthday he's one of the older players in the 2018 draft class and he may be a bit closer to his developmental ceiling than his contemporaries. That said, his age and ability to impact a game with his physical play should keep him firmly on the draft radar.
Kamloops: Luke Zazula
A Delta Academy alumnus, the biggest knock on Zazula is his size. Just 5'8″ and 165 pounds, he's very small for a defender and will probably remain so even barring any late growth spurts. He's been successful in the WHL, posting 16 points in 54 games last season, but his stature will definitely hinder his draft prospects.
Kelowna: Kyle Topping
A productive bantam and midget scorer, Topping is an older prospect (a November birthday) and isn't huge (5'11", 185 pounds), but his solid scoring numbers as a rookie on a good Kelowna Rockets team probably will get him a lot of looks from scouts. Teams are always looking for right-shooting centers and Topping is one of the better ones in his WHL age group.
Kootenay: Keenan Taphorn
Twin brother of fellow ICE forward Kayden Taphorn, Keenan has been a productive point-producer in midget and bantam. A right shot and a big body (6'1″), this Saskatchewan product will probably be on the radar as long as his offense doesn't dry up during the season.
Lethbridge: Calen Addison

One of Team Canada's bright lights at the Ivan Hlinka tournament in August, Addison's a Brandon Wheat Kings bantam and midget product that has turned into a pretty fine WHL defenseman. He's not huge at 5'10" and 179 pounds, but he moves the puck well and is the type of mobile defender that fits the current NHL style.
Medicine Hat: Ryan Chyzowski
A Kamloops product, Chyzowski made the leap from midget to the WHL last season and looked pretty good for his hometown players, putting up a dozen points as a rookie. A smart left-shooting winger, he has a frame that can fill out a bit and plays a good all-around game. There's nothing flashy about him, but he's quietly effective.
Moose Jaw: Jett Woo
Arguably the best name in the entire draft class – from any league – Woo is basically a unicorn. He's a right shot defenseman who can put up points and defends well. He's got great size, with a 6'0″, 205 pound frame, and he can maneuver around the ice effectively despite being a big kid. He's also a July birthday, meaning he's one of the youngest players in the 2018 class. He's a strong contender to go in the first round. (Teammate Luka Burzan is also a very strong prospect, just slightly edged out here by Woo.)
Portland: Ilijah Colina
This British Columbia kid leapt right into the WHL after a very successful prior season in midget. He was quietly effective for the Winterhawks with a dozen points and has already had some production this season. The downside to him is his size at 5'9″, 170 pounds, but if his offensive numbers stay strong he might open some eyes in the scouting community.
Prince Albert: Cole Fonstad
While a bit of a smallish forward at 5'10" and 160 pounds, this Saskatchewan product put up excellent numbers in bantam and less showy numbers in midget, but managed to put together a rock-solid performance as a WHL rookie with the Raiders. A left shot center with good hockey sense, Fonstad may be bumping up against the limitations of his size but he's managed to use his skills to adapt to the WHL game effectively.
Prince George: Jackson Leppard
Leppard is another player who scouts see a lot of potential in, but whose WHL debut wasn't exactly amazing. A beast of a player in bantam and midget, he's the type of player that relies on his size (6'2″, 194 pounds) to get himself in advantageous positions. Playing against a higher level of competition in the WHL, he only had four points and at times struggled to adjust. If he can figure out how to use his size more effectively at this level, though, the points may come pouring in.
Red Deer: Alexander Alexeyev
An Import Draft selection from 2016, Alexeyev had a few growing pains but ultimately adjusted to the WHL fairly effectively with 21 points in 41 games. A native of St. Petersburg, Russia, he's an older prospect (a November birthday) but has size (6'3″, 190 pounds) and good instincts. If he can stay healthy, he should be in good shape draft-wise.
Regina: Bryan Lockner
Originally from Colorado, Lockner was a bit of a raw bantam product but turned a lot of heads as a WHL rookie last season. He had 13 points in 62 games, but used his size and frame very effectively. If he continues to adapt and develop, he could become a dark horse draft prospect this year. If his development stalls a bit, teams might still like him in later rounds because of his size.
Saskatoon: Chase Wouters
One of the more under-the-radar WHLers in this draft class, Wouters has everything but size – and that might not even be much of an issue. A smart 200-foot player, Wouters has managed to take what made him a very strong bantam and midget player and ported them over to the WHL – he had 21 points in 54 games as a rookie. If he can improve his offensive production, he should be in good shape in the eyes of NHL teams.
Seattle: Carl Stankowski
Stankowski was arguably the story of the 2017 WHL playoffs. Jumping in when Thunderbirds starter Rylan Toth went down with injury in March, Stankowski was Seattle's best player and carried them to a championship. The argument against him is both size and sample size; he's about the same size as Zach Sawchenko, who was never drafted, and he's only played 27 WHL games ever. He was tremendous in bantam and midget, but he'll need to play well once he returns from off-season surgery in November in order to cement his draft status.
Spokane: Ty Smith
Smith is a player that scouts are already pretty excited about. While not a huge kid (5'10", 174 pounds), this Lloydminster product has put up strong offensive numbers… from the blueline. He was very good for Team Canada at the Ivan Hlinka tournament (wearing an A) and had 32 points in the WHL as a rookie last season. He's arguably the personification of the style of play NHL teams want from their young defenders. He could go early in the first round this year.
Swift Current: Riley Stotts
A product of the Winnipeg minor hockey system, Stotts has quietly become a very promising young WHL player. After producing well over a point per game in bantam and midget, he had 16 points with the Broncos as a rookie. He plays a smart, no-frills game. He's not huge, but his 6'0″ frame could fill out a bit as he gets older.
Tri-City: Roman Kalinichenko
The Americans' selection in the 2017 Bantam Draft, Kalinichenko played with CSKA Moskva and is a bit of a project. He's quite young (a July birthday) and has a big, skinny frame (6'2″, 183 pounds), but he'll need some time to adjust to the WHL game before it's clear what his developmental ceiling could be in North America.
Vancouver: Tyler Popowich
Popowich is an interesting case. He's a big body at 6'4″ and 200 pounds and scored a ton in midget and bantam with the Okanagan Hockey Academy. He was decent in his rookie WHL season with nine points, but given his success in earlier levels owed a lot to his size, he might need to unpack some of his skill game if he's going to progress to high levels of hockey. He's got a ton of potential, though.
Victoria: Eric Florchuk
An alumnus of his hometown Fort Saskatchewan Rangers, Florchuk was a strong scorer in bantam and midget and had a fairly successful transition to the WHL last season. Nine points as a rookie wasn't amazing production, but Florchuk seemed to figure out the style of play during his season. He's reportedly looked very good in his first few games of this season and seems on his way to living up to being a first round Bantam Draft selection. He's a bit of an under-the-radar prospect, but there aren't many holes in his game.