The Stanley Cup Playoffs are in full swing, with excellent competition dominating the airwaves and thoughts of passionate hockey fans throughout the world.
And, while this action is incredible to watch and is the sole outcome of the NHL's long and arduous regular season, the annual postseason casts a long and rather unfortunate shadow over the quickly approaching NHL Draft and its wealth of immensely talented young prospects.
However, with such incredibly skilled players set to enter the league, the 2018 NHL Draft has continued to demand attention. Fortunately, the event received a spark when the NHL Draft Lottery was completed on Apr. 28 — a process which awarded the Buffalo Sabres with the first overall selection while promoting both the Carolina Hurricanes and Montreal Canadiens within the draft order.
So, who will be the first three players selected this year, and how have other prospects manipulated their personal stocks since we last convened?
Let's dive into May's Draft Ranking.
Sabres Herding Stars
Yes, he'll be made the first overall pick in the 2018 NHL Draft.
And yes, he'll likely be a member of the Sabres for the duration of his NHL-career.
However, what exactly does Rasmus Dahlin possess which separates him so definitively from his competition?
Well, in addition to his powerful skating, puck-strength, and natural two-way abilities, Dahlin is overwhelmingly creative when the puck is on his stick. Unlike most, Dahlin boasts an unwavering confidence which allows him to take jaw-dropping yet calculated risks on the ice. Fortunately for Dahlin, these risks lead to the creation of excellent scoring chances with remarkable frequency and stand as a glaring indication of his ultimate potential at the NHL-level.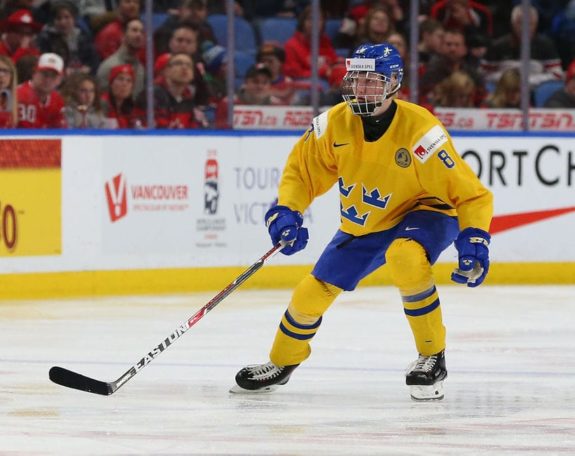 As a future member of the Sabres, Dahlin will stand as a solid pillar within what is a slowly strengthening Buffalo organization. Although he will surely endure his fair share of hardships, Dahlin and his presence will be crucial to the Sabres' success, and especially so if they wish to become a legitimate Eastern Conference contender in the near future.
Storm Brewing in Carolina?
When the Carolina Hurricanes jumped from 11th to second-overall in the 2018 NHL Draft order, it put the stagnant franchise in position to select a potentially game-changing prospect.
Long desperate for elite offensive talent, the Hurricanes' sudden surge has put them in play for one of Andrei Svechnikov or Filip Zadina, although the former appears to be the more likely choice of the two. As a strong skater who plays a sound professional style, Svechnikov should be able to transition to the NHL-level as early as next season, as his bludgeoning frame and endless skill-set will surely pry open a place within the Hurricanes' roster.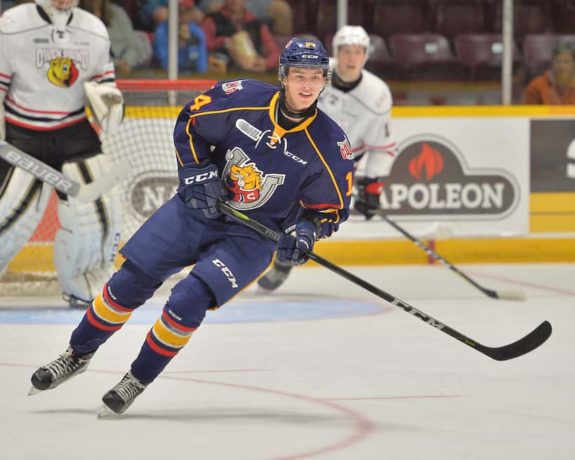 Further, given Carolina's weakness at right-wing, Svechnikov could very well claim a place on the team's first-line.
With the likes of Jeff Skinner and Sebastian Aho relied upon by the Hurricanes far too heavily to produce offence, the addition of Svechnikov will immediately add greater depth and skill to the organization's steadily improving young roster — if they decide to select the native of Barnaul, Russia, that is.
Plugging Edmonton's Oil Leak
Although a long shot, adding Adam Boqvist could be the boost the Edmonton Oilers desperately need on defence.
Long lacking a dynamic defender and power play quarterback, nabbing Boqvist with the 10th overall selection in the 2018 NHL Draft would add immense skill and creativity to an overly direct Oilers roster. As a terrific skater, Boqvist can meander through opposing defenders in order to generate lethal scoring opportunities as well as move the puck to his teammates with remarkable force and consistency.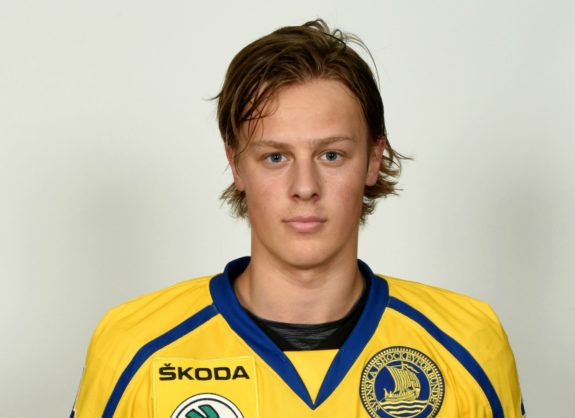 However, Boqvist is much more than simply an elite offensive defenceman.
Boasting a quick and active stick and the ability to read the play as it develops before reacting accordingly, Boqvist stays one step ahead of his competition and, as a result, can diffuse attacks devised by his opposition with regularity. Although he would do well to strengthen his slender 5-foot-10 frame ahead of his NHL-debut, Boqvist stands as an incredibly promising defender and one who has drawn comparisons to Kris Letang of the Pittsburgh Penguins.
Who is Jesperi Kotkaniemi?
Jesperi Kotkaniemi was ranked as the 22nd-best player in my January Draft Rankings.
Now, he sits as the 13th-best prospect available, and deservedly so.
What makes Kotkaniemi such as valuable young player and prospect is his proven ability to play an incredibly successful professional game. In fact, in his 51 games played with Ässät this season, Kotkaniemi put forth 10 goals and 29 points — a whopping offensive total for a player just 17 years-old. Contributing to Kotkaniemi's success this year was his strong frame, as the youngster already stands 6-foot-2 and 190-pounds.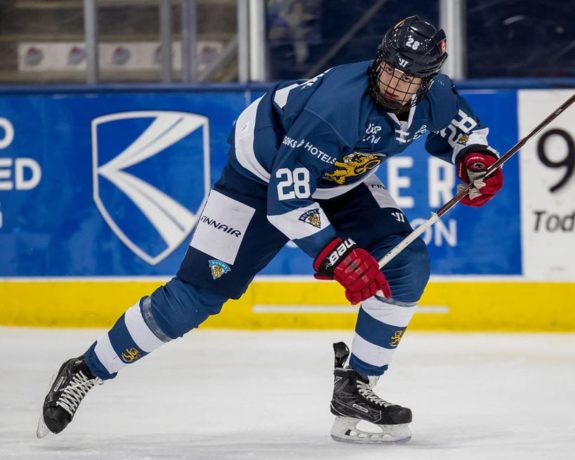 Having drawn comparisons to Anze Kopitar of the Los Angeles Kings, Kotkaniemi's well-rounded game and tantalizing talent should combine to allow for his ascension to the NHL-level sooner rather than later. Although adapting to the North American game could pose a threat to Kotkaniemi's development, his maturity and blatant skill should allow for a seamless transition.
Come draft day, don't be surprised if you hear Kotkaniemi's name called much earlier than anticipated.
Related: NHL Draft Guide | 2018 Edition
The Ranking: May's Top-31
It's hard to believe that the 2018 NHL Draft is less than two months away.
With that being said, a great deal of time does remain for each and every prospect to state their respective cases to prospective NHL organizations. And, although the regular season has concluded for most, the postseason represents an excellent opportunity for prospects to prove themselves as elite players and legitimate NHL talents.
So, although movement within rankings will become increasingly difficult as we approach the Draft, it does remain possible through excellent play and consistent performance — as you will see in some cases below.
Recent Draft Rankings:
| | | | | |
| --- | --- | --- | --- | --- |
| Rank | +/- | Player | Position | Team |
| 1 | – | Rasmus Dahlin | D | Frolunda HC (SHL) |
| 2 | +1 | Andrei Svechnikov | RW | Barrie Colts (OHL) |
| 3 | -1 | Filip Zadina | LW | Halifax Mooseheads (QMJHL) |
| 4 | +1 | Evan Bouchard | D | London Knights (OHL) |
| 5 | +1 | Brady Tkachuk | C/LW | Boston University (NCAA) |
| 6 | -2 | Adam Boqvist | D | Brynas IF (SHL) |
| 7 | – | Quinn Hughes | D | University of Michigan (NCAA) |
| 8 | +1 | Noah Dobson | D | Acadie-Bathurst Titan (QMJHL) |
| 9 | +1 | Oliver Wahlstrom | C/RW | U.S. National U18 Team (USDP) |
| 10 | -1 | Barrett Hayton | C | Sault Ste. Marie Greyhounds (OHL) |
| 11 | +1 | Joe Veleno | C | Drummondville Voltigeurs (QMJHL) |
| 12 | +1 | Bode Wilde | D | U.S. National U18 Team (USDP) |
| 13 | +11 | Jesperi Kotkaniemi | C | Ässät (Liiga) |
| 14 | +1 | Rasmus Kupari | LW | Karpat (Liiga) |
| 15 | +1 | Joel Farabee | LW | U.S. National U18 Team (USDP) |
| 16 | -2 | Grigori Denisenko | RW | Loko Yaroslavl (MHL) |
| 17 | – | Serron Noel | RW | Oshawa Generals (OHL) |
| 18 | – | Akil Thomas | C | Niagara IceDogs (OHL) |
| 19 | -8 | Ryan Merkley | D | Guelph Storm (OHL) |
| 20 | -1 | Jared McIsaac | D | Halifax Mooseheads (QMJHL) |
| 21 | -1 | Ty Smith | D | Spokane Chiefs (WHL) |
| 22 | -1 | Ryan McLeod | C | Mississauga Steelheads (OHL) |
| 23 | -1 | Jett Woo | D | Moose Jaw Warriors (WHL) |
| 24 | -1 | Benoit-Olivier Groulx | C | Halifax Mooseheads (QMJHL) |
| 25 | +2 | Mattias Samuelsson | D | U.S. National U18 Team (USDP) |
| 26 | – | Isac Lundestrom | C/LW | Lulea HF (SHL) |
| 27 | -2 | Allan McShane | C | Oshawa Generals (OHL) |
| 28 | – | Aidan Dudas | C | Owen Sound Attack (OHL) |
| 29 | – | Jacob Olofsson | C | Timra IK (Allsvenskan) |
| 30 | – | Filip Hallander | C/W | Timra IK (Allsvenskan) |
| 31 | – | Jonatan Berggren | LW | Skelleftea AIK (SHL) |
Brett Slawson is a four-year veteran of The Hockey Writers who covers the Toronto Maple Leafs, NHL prospects, and the OHL's Mississauga Steelheads.
Contact Brett on Twitter @brettslawson92, or by email at brett_slawson@hotmail.com.