Oliver Wahlstrom
2017-18 Team: U.S. Under-18 National Team (#39)
Date of Birth: June 13, 2000
Place of Birth: Yarmouth, ME
Ht: 6'1" Wt: 205 lbs
Shoots: Right
Position: C/RW
NHL Draft Eligibility: 2018 first-year eligible
Rankings
When you attend high school at Shattuck St. Mary's in Minnesota, chances are good that you are a really good hockey player with a bright future. Speaking of bright futures, that's what Oliver Wahlstrom has at the next level.
Wahlstrom is a duel citizen of both Sweden and the United States. His father Joakim played hockey in the Swedish Elite league after playing hockey at the University of Maine. But it was what Wahlstrom did as a nine-year old that got him early national attention.
RELATED: THW's 2018 Draft Guide
While at a mini one-on-one competition at Boston's TD Garden, Wahlstrom scored one of the prettiest shootout goals you will ever see. He put the puck on his stick, did a spin and whipped the puck lacrosse style into the net. This goal went viral in the earlier days of social media. Both ESPN and CBS had him on national television as a result.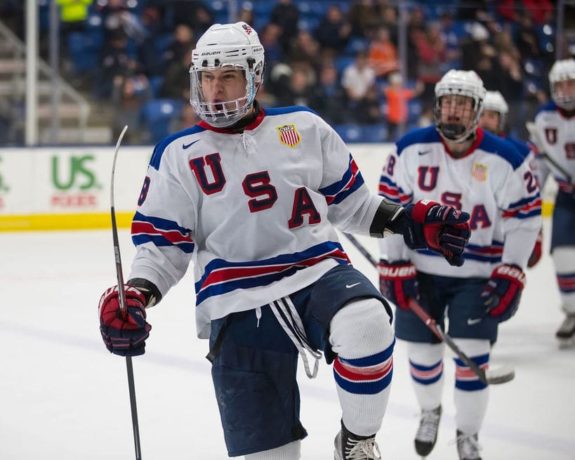 So what do we get in Wahlstrom today? Just like that insane goal, we have a player who is an offensive threat every time he steps on the ice. Whether it's a heavy shot from just about anywhere on the ice to precision passing, he uses his smarts to create plays. He's also a great skater who is a load to handle at top speed. In my mind, Wahlstrom is the most natural goal scorer available in this draft with the exception of Andrei Svechnikov and Filip Zadina.
I have two questions about Wahlstrom. He is listed as both a center and a winger. I'm not sure I see him as a natural center. If he can improve playing center, he's even more valuable. And in the times I have viewed him in a game, when things weren't going well, his compete level dropped. I'd like to see him develop a consistent habit of effort especially when the competition gets tougher. Considering he is a Harvard commit, I can only imagine his smarts and work ethic will help him get through those concerns.
Other THW Draft Profiles:
Oliver Wahlstrom – NHL Draft Projection
The question with Wahlstrom is has he done enough to go in the top-five. Depending on who you ask, some have him as a better option than Brady Tkachuk who is in most consensus top fives. He's right there. I have him as my sixth-overall skater.
Quotables
"Wahlstrom is a flashy puck wizard who creates offensive chances almost casually…can dance around the ice with the puck on a string, making filthy dekes…he moves around the ice with an effortless, yet powerful, stride that generates plenty of speed…starts and stops on the puck…impressive lateral quickness for his size make him elusive…possesses strong instincts and vision on the ice…makes some skilled passes that put his teammates in prime scoring opportunities, sometimes to their surprise…patient with the puck…loves to shoot the puck and has a rifle of a shot with a surprisingly tricky release…strong on his feet and willing to play in greasy areas of the ice…can be a load to handle when he gets moving…can be relentless in his offensive efforts…protects the puck well using his reach and body position…physical game is there in flashes…when he is engaged he is tenacious and viscous on the forecheck and relentless in his puck pursuit…has some impressive offensive upside at the next level but needs to show he wants it before he'll reach it." -Future Considerations
"Wahlstrom is a dominant power winger with elite puck skills, highlighted by a devastatingly accurate shot. He is one of the top goal scorers available for the draft, but he does far more than simply fill the back of the net. Not only is Wahlstrom Team USA's top-line right wing, but he is also a key cog in both the power play and the penalty kill. Although it seems like he never turns down the opportunity to crank one towards the cage, he is blessed with an acute sense to quickly identify a defender's intentions, then exploit the tiniest of windows and turn a seemingly harmless 1-on-1 into a clear dash for the cage. Wahlstrom has very good speed with an above-average first step. And although he is no straight-line road-runner, his footwork, balance and lateral skating ability are all excellent, and he uses a keen understanding of play development to get the extra step or two he needs to create plenty of space between the opponent and him." –Steve Kournianos/The Draft Analyst
"Wahlstrom has done nothing but improve his draft stock this season. The dynamic winger currently leads the U18 USNTDP in nearly every statistical category by producing 40 goals, 83 points and 243 shots on goal in just 54 games. Wahstrom is big, strong, lethal from the circles down and loves driving into the dirty areas to finish a play. His chemistry with fellow 2018 draft-eligible prospect, Joel Farabee and 2019 uber prospect, Jack Hughes has been incredible. Wahlstrom appears destined for a top 10 selection this June and could force his way into the top five."-Cam Robinson/Dobber Prospects
Strengths
Excellent shot
Good skater
Good size and strength
Elite decision-maker
Under Construction (Improvements to Make)
Consistent effort
Overall play as a center
NHL Potential
Wahlstrom has the potential to become an elite power forward in the league. His overall combination of size and skill makes him one of the more appealing options. He has a lot of Mikko Rantanen in him. If he reaches that potential, you have a potential 80-point scorer playing on your top line.
Risk-Reward Analysis
Risk – 3/5, Reward – 4.5/5
Fantasy Hockey Potential
Offence – 9/10, Defence – 7/10
Awards/Achievements
Wahlstrom was part of the team that won a gold medal at the U18 World Junior Championship. He also won a gold medal at the Youth Olympic Games in 2016.
Interview/Profile Links
Videos