The United States has been a hotbed for goal scoring forwards the past three NHL Entry Drafts, with the likes of Buffalo Sabres center Jack Eichel, Toronto Maple Leafs center Auston Matthews, and Vancouver Canucks winger Brock Boeser making immediate NHL impacts. Oliver Wahlstrom could be next in line.
American/Swedish Hockey Prodigy
Wahlstrom, an assistant captain on the U18 USA Hockey National Team Development Program (USNTDP), has displayed elite puck handling skills throughout his minor hockey career and has developed into a gifted goal scorer. Through 44 games, he currently leads the U18 team with 35 goals, 31 assists and 62 points. He is currently ranked the eighth-best skater available in the 2018 NHL Entry Draft according to ISS Hockey's Top-31.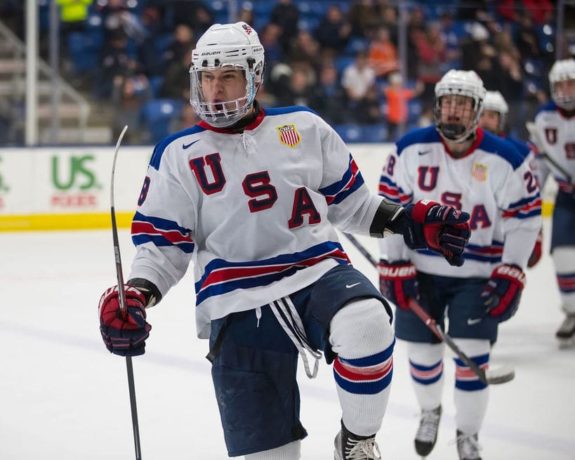 Wahlstrom is a dual-citizen of America and Sweden. He played with the Sweden Selects U13 in 2013 and the Sweden Selects U15 team in 2015. Wahlstrom continued to show off his incredible scoring touch during those tournaments, netting 19 goals over 16 games.
Readers may also remember Wahlstrom from an October 2009 Youtube video that went viral. At nine years old,  Wahlstrom participated in the 'mini one-on-one' shootout challenge at TD Garden in Boston, MA and pulled off a miraculous move.
Flourishing at Prep School and Nationally
Now 17, Wahlstrom is already built to withstand the daunting 82-game NHL season. Standing at 6-foot-1 and 205 pounds, he creates open space in the offensive zone. Take his impeccable hockey sense, lightning quick release and hard shot and you have a bonafide goal scorer.
When he was 15 years old, Wahlstrom attended the prestigious Shattuck St. Mary's Prep School and immediately showcased his elite offensive upside, playing in 65 games and scoring an absurd 68 goals while adding 46 assists. The following season, Wahlstrom moved up with his Shattuck St. Mary's Prep School Bantam team to Midget, but showed signs of regression, struggling to produce points at the same clip he did a year ago. Through 43 games played, Wahlstrom tallied 26 goals and 26 assists.
During the 2016-17 season, shortly after Wahlstrom turned 16, he joined the illustrious USNTDP in the USHL. Playing in 29 games, Wahlstrom posted a lowly nine points. However, he was called up to play in the World Junior Championship U17 and U18 Men's National Team. Despite failing to tickle the twine and only dishing out one assist for Team USA at the U17 WJC, Wahlstrom elevated his game for Team USA U18, sniping four goals over seven games against players a year or two older.
It didn't take Wahlstrom long to climb the depth chart at the start of the 2017-18 season. He has skated in 17 games In the USHL with the USNTDP Juniors, netting 17 goals and added 11 assists. Wahlstrom is dominating the USDP, leading the team in goals (35), assists (31) and points (66). He has also been lethal on the extra man advantage, leading the team in goals with eight goals on the PP.
Wahlstrom's Scouting Report
As aforementioned, Wahlstrom can score from almost anywhere on the ice. He has the strength to get into the dirty areas to score goals as well as quick hands to fool a goaltender in close. He has all the tools and intangibles to become an elite goal scorer in the NHL.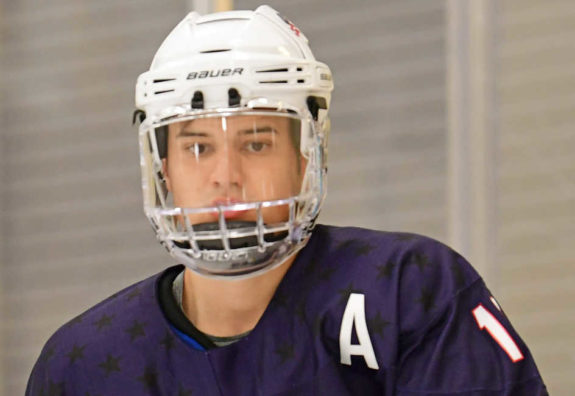 Only two players in the 2018 draft class can be considered on the same elite skill and goal scoring level as the Yarmouth, ME native. Halifax Mooseheads winger and native of the Czech Republic Filip Zadina and Barrie Colts winger Andrei Svechnikov are the only forwards that have the elite scoring upside, netting 39 and 31 goals respectively.
Both wingers from the CHL are projected to be top-three draft picks in 2018. Keep a close eye on Wahlstrom as his season continues. He's improving his all-around game and is given a plethora of ice-time each night and could climb his way to be selected with one of the first three picks in this upcoming draft.
Currently, Wahlstrom has been skating on a line with fellow American's Joel Farabee and the sensational 16-year-old prospect Jack Hughes. The trio has developed instant chemistry as the team's top scoring line. Wahlstrom already knows what it takes to win a championship – he has been a part of a championship-winning team, which should increase his draft stock come closer to June.
Wahlstrom has committed to Harvard University this fall and it will be intriguing to monitor his development over the next few months. If he continues to flourish as a point producer, Wahlstrom may find himself in an NHL jersey sooner rather than later and become yet another success story for the USNTDP.
Former Daily Fantasy Sports Editor at theScore and current NHL Prospects and Fantasy Hockey author for The Hockey Writers. I'm real and I hope my followers are too!