Jett Woo
2017-18 Team: Moose Jaw Warriors (#4)
Date of Birth: July 27, 2000
Place of Birth: Winnipeg, Manitoba
Ht: 6'o" Wt: 205 lbs
Shoots: Right
Position: Defenseman
NHL Draft Eligibility: 2018 first-year eligible

Rankings
Jett Woo might have the coolest-sounding name in the entire 2018 NHL Draft class. But his name isn't the only exciting thing about him. Stuck a bit in the shadow of some of the more high-end finesse defenders available from the Western Hockey League (and elsewhere) in this year's draft, Woo has put together a couple very effective seasons and become a very important piece of the Moose Jaw Warriors' success.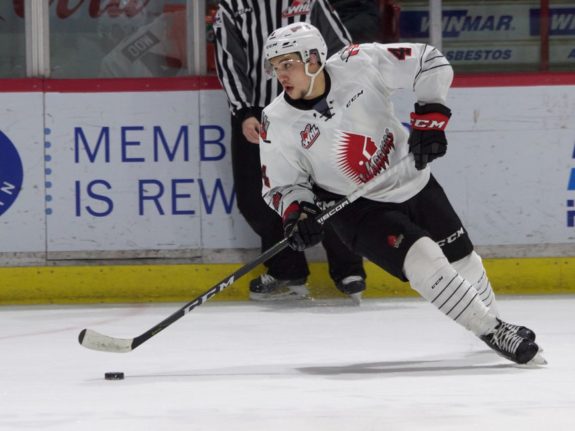 The key thing to remember about Woo is that he's probably not destined to be a high-octane offensive player. But if you want a meat-and-potatoes defender displaying some old school physical play and some offensive upside, Woo has those attributes in spades. He's already arguably got an NHL body, tipping the scales at just over 200 pounds and playing a brand of hockey that wouldn't look out of place in the professional ranks.
Physicality can be dangerous in junior, as there's sometimes a size disparity involved and hitters often show some poor judgment in terms of timing which can lead to penalties or odd-man rushes going the other way. Woo's avoided taking penalties through a combination of judgment and deceptive speed; he's not a world-class skater, but he's got the wheels and awareness to know when to pinch for a hit or offensive chance and to know when to scramble back.
He memorably blew up an opposing player with a big hit during the Hockey Canada selection camp for the Ivan Hlinka Memorial Tournament and it gave his side a lot of jump. Often with the Warriors, his hitting has led to scrums and gotten his opponents off their game. When he's "on," Woo can help his team in a lot of different ways.
Related: THW's 2018 NHL Draft Guide
Offensively, Woo's a bit understated because of his tendency to err on the side of caution with the puck. In 2017-18 he nearly doubled his points-per-game and goal production from his rookie season. He's more of a puck distributor than a shooter, but his shot is accurate and rapid enough that he could stand to use it more; he started to do that this season, which explains his offensive uptick.
The big challenge for Woo may be making the case to scouts that he's not an injury risk after missing 28 games this season with some upper-body issues. His situation somewhat recalls Tyler Benson's in 2016, as Benson toppled from a probable early first round selection into the second round due to fragility concerns. Woo's injuries haven't been quite as bad as Benson's were, but his draft stock may slide somewhat in Dallas if there are team worries about his durability.
Woo isn't a perfect defenseman and he was injured for a good chunk of his draft year, but there are a lot of things to like about his game. He's physical and loves to hit, but picks his spots well and generally doesn't take a lot of penalties. He's defensively oriented, but has a good eye for puck distribution. He's a passer primarily, but has a very effective shot from the point. Most appealingly, he plays a pro-style game already and probably won't need to change a whole lot to succeed at higher levels – though he'll probably have to rein in his love of big hits when he's playing against grown men. He's one of many appealing secondary defensive prospects in the 2018 class.
Jett Woo – NHL Draft Projection
Woo is likely to go somewhere between the late first round and the early second round. Much of the variability depends on when and where other comparable blueliners go.
Quotables
"He's a point-a-game player now, runs the first power-play unit and plays with a lot more poise and patience with the puck… He's not likely a power play guy in the NHL, but more of a two-way guy who can bring a physical element with enough skill to contribute." – John Williams, NHL Central Scouting Service
"Projecting what Woo will become has been problematic for scouts all season long and him missing the better part of a month to injury has not helped. At his best Woo is an agitator whose physical play forces you to be aware when he's on the ice. He has big character and compete, but just where does his offensive upside project?" – Sam Cosentino, Sportsnet
"Woo not only owns one of the best names in hockey, he is a really good hockey player too. A physically strong and intimidating presence on the blue line which is surprising for a kid so young to have that type of confidence so early. Will hit opponents with clean, brushing body checks at any given opportunity and loves that aspect of the game. Almost always comes away with the puck coming out of the corners. Gets good looks in the passing lanes and moves the puck effectively out of the D zone. Power play QB and is intelligent and patient in the offensive zone. Strong skater who has a very active stick and can break up plays in the neutral zone and quickly transition to offence. Tough to beat and waits for the offensive player to make a move and he adjusts his coverage well on the fly." – Marshall MacKinder, Hockey Now
Strengths
Good hockey sense and vision
Anticipates offensive rushes well
Good skater with effective lateral movement
Uses his size well and picks his spots to avoid penalties
Under Construction (Improvements to Make)
He'll need to continue to bulk up to withstand NHL physicality
A bit too reliant on the extra space of the power play for offensive production
He'll need to adjust his judgement on when to try a big hit at the NHL level
Founded or not, his injuries might lead to fragility concerns
Other 2018 NHL Draft Profiles
NHL Potential
Woo projects as a second pairing two-way defender. He may have limited offensive upside at the NHL level, but he'll be relied upon for his physical play and defensive acumen. He projects as a slightly smaller Travis Hamonic.
Risk-Reward Analysis
Risk – 1/5, Reward – 3.5/5
Fantasy Hockey Potential
Offense 7.5/10, Defense 8.5/10
Awards/Achievements
Woo represented Canada at the Under-17 Hockey Challenge, the Under-18 World Championship and the Ivan Hlinka Memorial Tournament. He won gold at the Hlinkas and was named to the tournament all-star team at the Under-17s.
Interview/Profile Links
Videos
Ryan Pike has covered the Calgary Flames and the NHL Draft extensively since 2010 as a Senior Writer for The Hockey Writers and Senior Contributing Editor of FlamesNation.ca. A member of the Professional Hockey Writers Association, he lives in Calgary.