Finishing at the bottom of the NHL guarantees nothing given the draft lottery system, which will reward the winning team with Rasmus Dahlin this June.
If you haven't heard by now, Dahlin is the unanimous first overall pick. The full-package Swedish defenseman has yielded comparisons to Nicklas Lidstrom and Erik Karlsson, among many others. While he has also been heralded as his own type of player, the expectation is that Dahlin will be the defensive equivalent of Connor McDavid.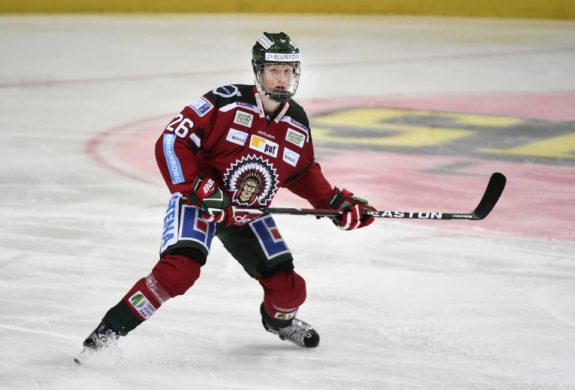 As a two-way defenseman dominant on both sides of the puck, the 17-year-old has shown the ability to play in every situation and would immediately improve any team tenfold. The draft lottery gives every non-playoff team the chance to win the first overall selection on April 28 in Toronto, but not every team is deserving of Dahlin's game.
Here are 7 teams that do not deserve to get the first overall pick to select Dahlin.
Chicago Blackhawks
The savvy finagling of the salary cap finally caught up to Chicago this season as it sits at the bottom of the Central Division. Opposing fans are enjoying the once-enviable team's downfall with an aging core and massive contracts in tow.
Related: Fixing the Blackhawks: 5-Step Offseason Plan
Teams just don't deserve to go from winning three Stanley Cups in six years to having one bad season to suddenly winning the draft lottery and next NHL defensive superstar. It would be like an answer to general manager Stan Bowman's prayers after countless surprising trades, salary shedding and a Marian Hossa skin condition kept the team's needle pointing toward 'contender.'
But luck seems to have run out in Chicago, as the Blackhawks have not won a playoff series since 2015. Dahlin would ultimately throw the Blackhawks' Stanley Cup window wide open again, which is too simple of a fix for the work any other GM would have to put in.
Dallas Stars
Dallas was a winner in the draft lottery system last April when it shot up four spots to draft third overall and take defenseman Miro Heiskanen, who was widely projected as the best defenseman in the draft.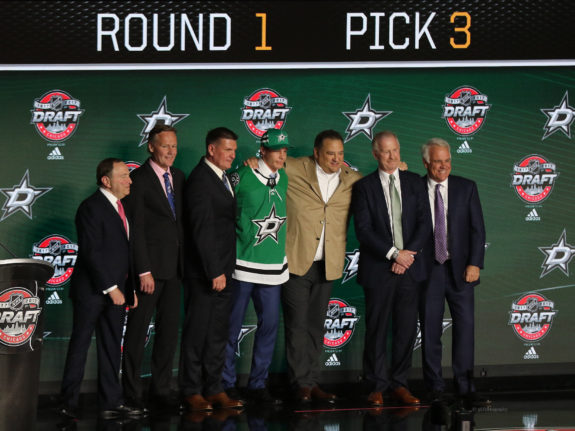 The Stars already have John Klingberg and high defensive prospects including former first-rounders Heiskanen, Julius Honka, Riley Tufte, and Jason Dickinson—who are all under the age of 23. With one of the most productive top lines in the NHL in Tyler Seguin, Jamie Benn, and Alexander Radulov, Dahlin's offense would help the Stars outscore any deficit, any game.
Landing him would allow GM Jim Nill to ship off any defensive prospect to address other team needs, as Klingberg, Heiskanen, and Dahlin would patrol the blue line for years to come. Trading such prospects needs to be harder than just being able to rely on having the league's best defenseman after more good luck.
Detroit Red Wings
The Red Wings, the once-model franchise of the NHL, have had GM Ken Holland make bad financial decisions since the introduction of the salary cap ahead of the 2005-06 season. The Red Wings have been without a legitimate top defenseman since the retirement of Lidstrom in 2012, but not entirely due to the lack of trying.
Related: 3 Potential Red Wings Draft Strategies
Nonetheless, Holland has put the Red Wings organization in salary cap purgatory as he has continued to try and make the playoffs with a mediocre team. He's done so by handing out massive contracts in both salary and term, which has jammed up the incoming youth.
Some will label the Red Wings as one team that is truly deserving of Dahlin, but drafting him would be like rewarding Holland for his careless neglect of the team's true current state. Holland's desperation to keep the playoff streak going in recent years shouldn't be rewarded with the top prize.
Edmonton Oilers
Perhaps the least deserving team on the list, the annually bad Oilers put together a fantastic season in 2016-17, going 47-26-9 for 103 points as the second-best team in the Pacific Division. They carried their winning into the playoffs, where they lost to the Anaheim Ducks in seven games in the second round.
Fast-forward to now and the Oilers sit at 34-40-6, as McDavid's second-straight 100-point season appears to be for nothing. With Edmonton having the first overall pick in 2010 (Taylor Hall), 2011 (Ryan Nugent-Hopkins), 2012 (Nail Yakupov) and 2015 (McDavid), that should have been enough to lift any team into annual contention.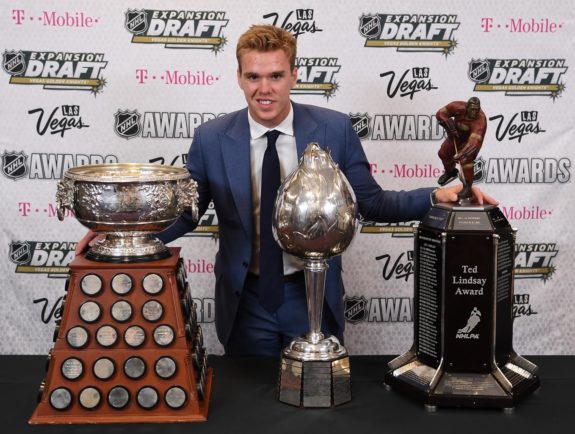 While he didn't join Edmonton until 2015, the fact that G.M. Peter Chiarelli has traded away Hart Trophy candidate Hall and Jordan Eberle for non-comparable players. His problems don't deserve to be answered with Dahlin and no team should be able to play McDavid and Dahlin together.
Montreal Canadiens
With slow starts from Carey Price and Max Pacioretty, followed by an injury to top defenseman Shea Weber—which would eventually end his season prematurely—the Canadiens dug themselves a hole early on in 2017-18.
Be it former coach Michel Therrien or current coach Claude Julien, the coaching staff has repeatedly held natural center Alex Galchenyuk back from his potential. All the while the team has experimented with winger Jonathan Drouin in the middle (it hasn't worked) and asked too many character guys to play above their ability.
Related: Canadiens Potential Draft Strategies
GM Marc Bergevin has been active on the trade front, which has worked for the likes of David Poile and Jim Rutherford, but not so the same extent in Montreal. Nabbing Dahlin after trading P.K. Subban for Weber in 2016 and then moving high-end defensive prospect Mikhail Sergachev for Drouin is too easy for the mess Bergevin has created in Montreal.
New York Islanders
Pending unrestricted free agent John Tavares has said he wants to play for a team that is doing everything it can to win. GM Garth Snow's complete neglect to change a team that unraveled likely means Tavares is on his way to the open market this July. Even with the play of some young players like rookie Mathew Barzal, the loss of Tavares won't be easy to offset.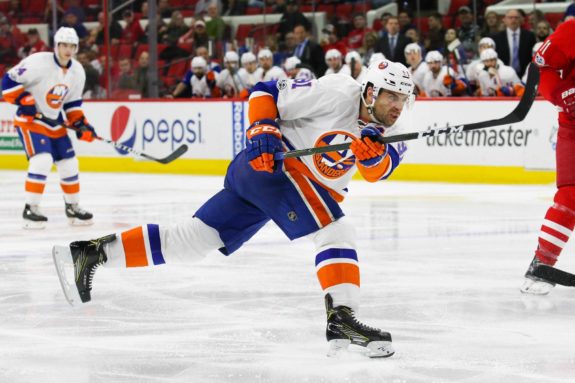 Snow has stood idly by as forwards Matt Moulson, Kyle Okposo and Frans Nielsen have walked in free agency in recent years. Snow could still pull off a rare sign-and-trade and get something for the center that may demand more than $10 million annually.
Snow's lack of effort to keep the superstar in New York shouldn't be rewarded with Dahlin. Even if that's the case, the organization's trend points to just allowing Dahlin to walk away when he's eligible for free agency.
Ottawa Senators
Just one goal shy from a trip to the Stanley Cup Final in 2017, Ottawa has experienced a lost season as seats lie empty and the on-ice product has taken a step back. Trade chatter has consumed the Senators all season as the team's finances have dwindled.
All the while, Erik Karlsson has been the consummate professional, from losing long-time defensive partner Marc Methot in the expansion draft to taking rumors in stride. Rather than simply go through the motions for a team that lost more key pieces at the trade deadline, Karlsson continued to lay his body on the line.
Already having a franchise defenseman in Karlsson, adding Dahlin would make the blue line impressively skilled. But with the seeming willingness to put Karlsson on the block, GM Pierre Dorion shouldn't be so willing to move his team captain who has dedicated nine years of his life to the organization.
The updated draft lottery odds and a draft simulator can be found here and can make the workday fly by.