As the New York Rangers have trended away from perennial playoff contenders to rebuilders this season, young players have been given more opportunities to take ownership of the franchise's success. With ex-captain Ryan McDonagh's departure, that hasn't been true of anyone more so than Brady Skjei.
Since McDonagh last played for the Rangers against Boston on Feb. 7, eight games before he was shipped to Tampa Bay at the trade deadline, the 23-year-old Skjei has been handed the reigns to the Rangers' blue line. However, be it nerves, poor team play during a rebuild, or simply a lack of surrounding talent, Skjei hasn't made it clear that he's a bonafide top defender.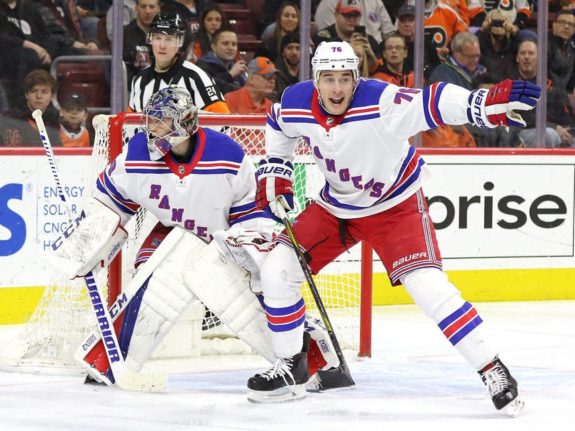 In fact, he's failed to elevate his game at all. As this season comes to a close and the Rangers move into offseason mode, it will be interesting to see how that might impact contract negotiations for the pending restricted free agent (RFA).
Market for Skjei's Next Contract Has a Foundation
Last year, the market was set for Skjei's next contract as defensemen Hampus Lindholm (age 22), Rasmus Ristolainen (21), Nikita Zaitsev (25), and Jaccob Slavin (23) all signed new contracts as RFAs. Given the performance of the three big-money youngsters, we have a clear picture of Skjei's contract ceiling.
Comparables
Jaccob Slavin #Canes 7 x $5.3M

Ristolainen BUF 6 x $5.4M
Zaitsev TOR 7 x $4.5M
Lindholm ANA 6 x $5.25Mhttps://t.co/CUOppnT462 pic.twitter.com/scYyUYAfuk

— CapFriendly (@CapFriendly) July 12, 2017
As Lindholm, Ristolainen, and Slavin all signed for an average annual value (AAV) of at least $5.25 million, there was a fear that Skjei would get an AAV even higher, as the Rangers would be buying more free-agent years and he was trending to have the same value. The idea of signing him to a, say, six-year, $31-million deal last summer seemed like it could have provided the same value that McDonagh's current contract has for the last four seasons. But, today, a number north of $5 million per year seems high.
Skjei's play puts him more in line with the contracts given to Zaitsev and Damon Severson. Zaitsev, who signed his seven-year deal at age 25 last summer, is only pacing 18 points while playing more than 22 minutes a night on an explosive Toronto team. Severson, in the first year of a six-year contract with an AAV of $4.2 million he signed as a 23-year-old, has just one less point than Skjei while playing more than a minute less per game.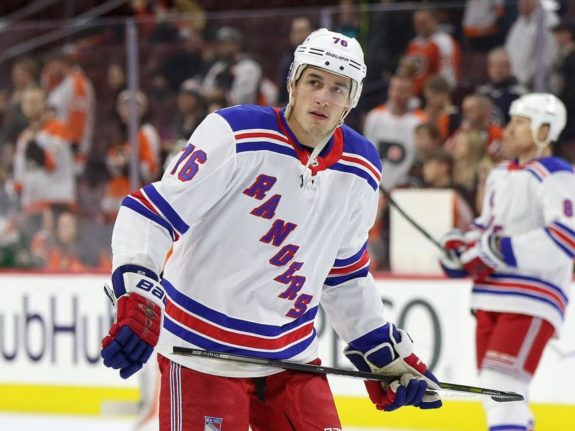 Had Skjei been able to build on last year's leading point production, then Shayne Gostisbehere's six-year, $27-million contract with a $4.5-million AAV would be a sound starting point. But now, as the Ghost has more than doubled Skjei's output, the Rangers defenseman's AAV might be pushed down. On the flip side, though, Zaitsev's lesser production could have the opposite effect.
Skjei Hasn't Taken the Next Step
Regardless of point production, team success, age at signing, or any number of the nuances that play into the terms of a contract, the biggest factor that makes the Ristolainen, Slavin, and Lindholm contracts Skjei's ceiling is the fact that, simply, he hasn't grown into a true number-one defenseman.
In fact, depending on the metrics you look at, he's gotten worse. For instance, where he was one of the elite five-on-five point producers among all defensemen and led all rookies with 32 last year, he's tied for 73rd in the league with just 18 this season. And, while his offensive zone start percentage has dropped from 58.8 to 55.8, his Corsi-for percentage has fallen from 50.6 to 47.2, suggesting that he's not a possession driver.
In a vacuum, on a team committed to rebuilding after coming a game short of the Eastern Conference Final last year, those numbers aren't too striking and could simply be attributed to a sophomore slump. But, unfortunately for Skjei, Neal Pionk has thrived. He has overtaken Skjei as the Rangers' top defenseman (though they've mostly been paired together) and seized his moment in a way that Skjei simply hasn't.
Through the first 10 games of Pionk's tenure, moving into March, Skjei was averaging 24:10 per game to Pionk's 21:03. But since March 1, Pionk is playing 23:08 per night while Skjei is earning 22:29. Some of that can be attributed to special teams, where Pionk is playing 38 seconds more per game on the power-play unit and 45 seconds more when down a man. To his credit, the rookie is producing – he has 11 points, with seven on the power play, in the 16 games he has played since March 1.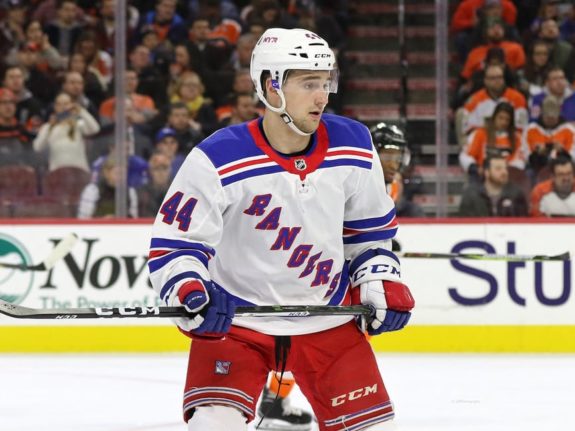 It would be unfair to say that Pionk has surpassed Skjei as the Rangers' top defensive prospect (if either still counts as such) in such a limited sample. Over time, perhaps the duo can be an effective top pair together. However, as Pionk has embraced the opportunity to play big minutes on a non-competitive roster, Skjei has failed to build on his sparkling rookie campaign when handed the reins. Against the Devils on Tuesday night, it was Marc Staal who started on Pionk's left, not Skjei.
Given the dichotomy between the two youngsters, we should consider the very real possibility that Skjei's ceiling isn't as high as we once thought, and he's better suited as a complementary defender, rather than a true number-one. When it comes to contract negotiations, Jeff Gorton will almost certainly try to leverage this. Yet estimating Skjei's next contract is a bit of a guessing game, even with all of the league-wide context. If Skjei does get a long-term extension, however, something around $4.5 million per year should work for both sides.
An Upstater and long-time Rangers follower, I've been writing about the Blueshirts off and on since college. My earliest memory is playing as the Rangers on NHL '95 for SNES, and, inconveniently, started watching as a kid right after the 1994 Cup. I look to find a balance between analytics and eyeballs, and wish it was easier to write about board play.