Since his potent 39-point rookie campaign, Brady Skjei has been, undoubtedly, the most untouchable New York Ranger. Regardless of New York's reported interest in Matt Duchene, Skjei has been a non-starter even though he's been the organization's most valuable trade chip. Now that Ryan McDonagh's been traded, he's not a prospect but the Rangers' top defenseman.
Is Brady Skjei a True Number One?
That's the question that general manager Jeff Gorton will have to answer to ensure the Rangers' rebuild is successful. In a small sample size after McDonagh suffered a hand injury in early February, Skjei has had nice moments but hasn't been consistent enough to lean on him all season and in the playoffs. He has just four assists and is a minus-9 while playing 23:16 per night without the former captain and, while poor team play has dragged his numbers down as it does even for premier defensemen, the numbers are disappointing for the soon-to-be 24-year-old.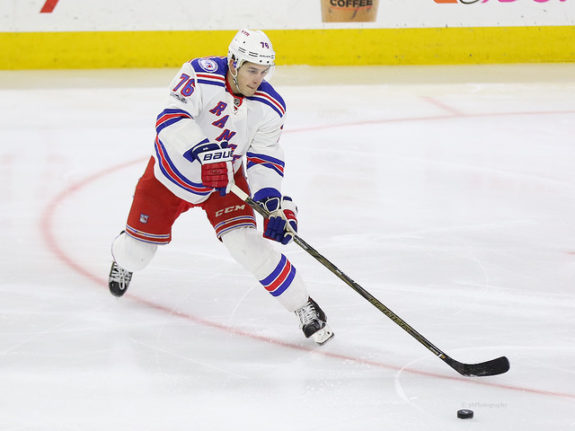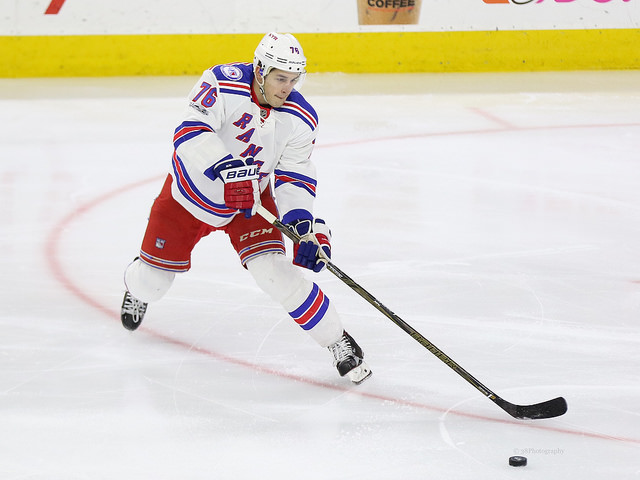 All told, Skjei has played like a supplemental defender capable of playing 20:00 a night and is better suited to the second pairing or as the running mate of an elite top defenseman. He's a step up from Marc Staal but a slight step down from McDonagh.
If Gorton and the rest of the Rangers brass recognize this and don't believe Skjei can develop into a more elite talent, then being open to moving him now while his value is high would be the smart play. That's particularly true if the recently acquired Libor Hajek and Yegor Rykov have similar upsides and can fill his role.
Can Rykov and Hajek Fill Skjei's Spot?
Despite being drafted later, both Rykov (132nd overall) and Hajek (37th overall) have blossomed into more highly regarded prospects than their draft status suggests, just as Skjei did. Both, additionally, project as top-four players but don't generally showcase the elite talent that can single-handedly carry a defense corps or alter the direction of a franchise. Consequently, with their ceilings capped but floors high, they may not only be adequate replacements for Skjei but upgrades.
Yegor Rykov is Polished but Unspectacular
Rykov has good size and is a strong skater and, though the KHL and NCAA don't directly compare, he has put up low offensive numbers similar to Skjei's before joining the NHL. He is, however, getting big minutes as a 20-year-old in a league that favors veteran players. He's played more games than any other player 20 or younger and has more assists (12) and points (14) than any other KHL defenseman in that same age group.
As Kevin Wickersham notes, Rykov's "a solid and cerebral two-way defenseman with a large frame that handles the puck well, who has improving defensive skills. He is adept at causing opponent turnovers, and while his positioning on the ice might benefit from some refining, he displays grit and heart by aggressively slowing down opponents any way he can."
Relative to his KHL peers, Rykov is a top-flite defenseman which bodes well to be successful in the NHL. But, big minutes without matching production in the KHL suggests that expecting more than a second-pair or complimentary player in the NHL would be misguided.
Libor Hajek is Not Just a Consolation Prize
The Rangers failed to acquire Mikhail Sergachev at the trade deadline but it's easy to see why Hajek is more than a second-rate acquisition. Sam Cosentino told Elliotte Friedman for 31 Thoughts that, "Hajek's game went to a new level at the 2018 World Juniors, where the Czech Republic reached the semi-finals for the first time in 12 years and has benefited by playing meaningful minutes since being acquired by Memorial Cup host Regina."
That sharp improvement and end-to-end abilities that rival Skjei's make it easy to see why Gorton coveted the 20-year-old Czech.
Hajek with an end-to-end carry and behind the back pass. He's been pretty good. Stood out more in the second. pic.twitter.com/Y7M0eggMwp

— Andrew Keenan (@andrewjkeenan) March 7, 2018
The youngster models his game after Tomas Kaberle, who, if you squint a bit, is a solid comparable for Skjei. In the same vein, they both have similar ceilings and Hajek could serve as a Skjei replacement.
How to Get the Right Return for Skjei?
Assuming that Skjei isn't a number one defenseman—shortsighted as that may be—and both Rykov and Hajek turn out to be strong but complimentary players, the Blueshirts will have with three strikingly similar left-handed defensemen. Moving forward, it would be prudent to flip one, namely Skjei, for an elite defender who can serve as the anchor for the group. Without speculating what kind of package it would take to make a move, there are two ways to get the strongest return for Skjei if the target is a defenseman.
First, and perhaps most practically, a trade package built with Skjei as a starter might convince the Ottawa Senators to move Erik Karlsson, as they were close to at the deadline, or the Los Angeles Kings to move Drew Doughty if they can't come to a contract agreement soon. It's rare that premiere talent, still in their prime, change jerseys but with Karlsson all but gone and Doughty playing on a team trending more towards the lottery than Stanley Cup contention, it's not inconceivable that one or both could move at next year's deadline.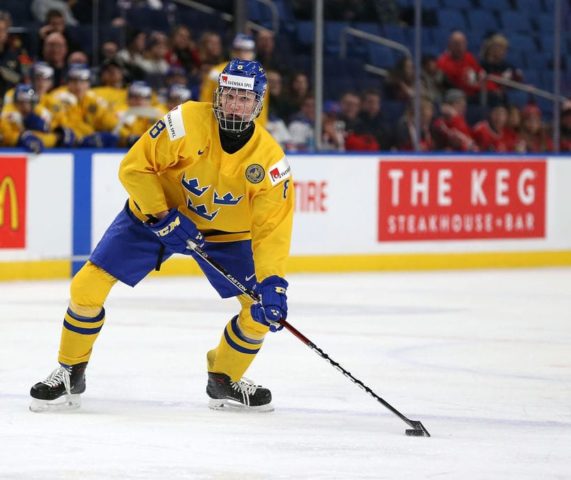 More excitingly, what if the Rangers could convince the "winner" of this year's draft lottery (and the rights to Swedish prodigy Rasmus Dahlin) to move back a spot or two. If, say, the Buffalo Sabres get the top selection, wouldn't they be better with a package of players in addition to another top-five pick? For the Rangers, couldn't Dahlin be an upgrade to Skjei and partner well with Rykov or Hajek for a decade, even if someone has to play on their off side?
There is no pressure to trade Skjei and we're probably two years, at least, from fully understanding what type of NHL players Rykov and Hajek are going to be. In all fairness, Skjei hasn't played enough games as a number one defenseman to draw concrete conclusions. But if projections on the youngsters are accurate and Skjei doesn't have another level to reach, then exploring the market and using the once-untouchable Skjei for an upgrade on defense would be the smart play.
An Upstater and long-time Rangers follower, I've been writing about the Blueshirts off and on since college. My earliest memory is playing as the Rangers on NHL '95 for SNES, and, inconveniently, started watching as a kid right after the 1994 Cup. I look to find a balance between analytics and eyeballs, and wish it was easier to write about board play.