The Montreal Canadiens have arguably one of the weakest prospect pools in the league. On the bright side, the 2018 NHL draft gives the Habs the chance to fix that. With a whopping 10 draft picks and the potential of a top five (or ten) selection, this is an opportunity to refill a prospect cupboard that isn't rife with elite talent. Some good pieces exist in the form of Ryan Poehling, Noah Juulsen and Nikita Scherbak but the Habs lack players with superstar potential. These are three potential scenarios the Habs could undertake at the upcoming draft. 
1. Using All 10 Draft Picks
Having 10 draft picks, especially ones in the first half of each round, helps immensely in finding NHL-calibre players. The 2018 draft looks more promising than 2017, and the Habs actually did well last year in what was considered a bit of a weaker year. In 2017, they picked a promising centre in Poehling and four new defence prospects. The four second picks for this year are huge as many excellent players emerge from the second round. With this many picks, surely Trevor Timmins and his scouting staff will find at least two good NHL players. 
The crown jewel of Montreal's 2018 draft class will no doubt be the player they pick first. Barring how they finish, and the results of the draft lottery, a pick between 5-10 is a pretty realistic scenario. As much as the word 'consensus' gets tossed around when it comes rankings, all it takes is for a team to like one player over another for a highly touted prospect to drop into the Habs lap.
In 2013, no one thought Seth Jones would go fourth after being touted as a number one all season long. Same with Cam Fowler in 2010, who seemed like a lock to go third but slid to 12th. Filip Forsberg went from potential top five to 11th.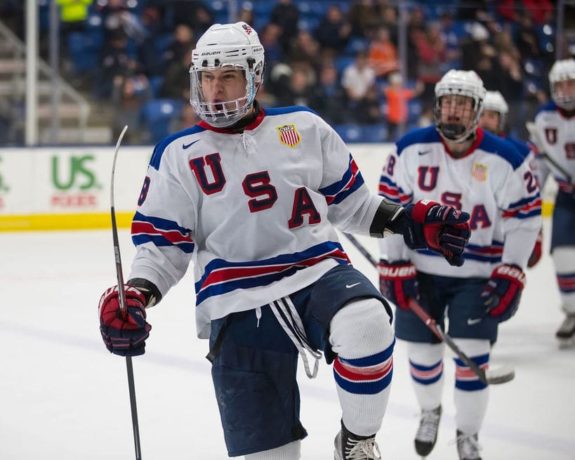 If the Habs, somehow, don't end up in the top five, players like defenceman Quinton Hughes and forward Oliver Wahlstrom are very talented prospects, if not a bit underrated this year behind some of the bigger names. Two defencemen in Evan Bouchard and Noah Dobson have had big rises in the rankings this year and have pushed themselves firmly in the top ten conversation.
2. Drafting for Need vs. Best Player Available
If the Habs were drafting for need, it would entail them using all ten picks on centres and/or defence. However, the draft is meant to find players for the future as opposed to right now.
The New York Islanders, in need of defence, used all of their draft picks in 2012 on defencemen. While only Adam Pelech is a full time NHLer, the best thing out of that class was that they used Griffin Reinhart (a bust at fourth overall) as the main piece to get the pick to select centre Mathew Barzal. The trade to get Barzal is already an incredible steal. While Montreal's depth at goalie and wing is good, passing on a player at either position if they are the superior player at that spot would be a mistake.
Defence and wingers make up the majority of top ten draft rankings, but there are two centres in particular looking to edge their way into the top ten. Montreal native Joseph Veleno was the first player in QMJHL history to receive exceptional status and has been steadily getting better. His game has really taken off this year, though, since being traded to Drummondville. He is one of the highest ranked centres in the draft. A strong playoffs for Veleno could launch him into the top ten.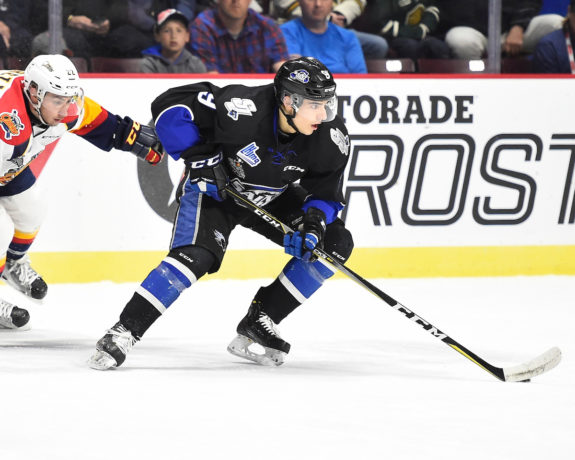 Another centre that has flown a little under the radar is Barrett Hayton, who has been playing for a dominant Sault Ste. Marie Greyounds team. A two-way centre, Hayton is playing limited minutes behind Morgan Frost, but a bigger role in the coming years will be crucial to him further developing his offensive game. Veleno and Hayton are good prospects and would fill a need for the Habs. However, if a superior prospect at the winger position is available instead, reaching for a need isn't always the best option.
3. Draft Picks as Trade Bait
With all the draft picks, the Habs could use them to their advantage in a trade, but it has to be the right one. Trading a player with an iffy contract along with a pick could entice a team to take a contract like Andrew Shaw's off the team's hands. Unless the team gets an outstanding offer, this year's first rounder shouldn't be on the table for a trade. Second round picks, in particular, are good currency as many solid players come from the second and teams are more likely to move them as opposed to first round picks.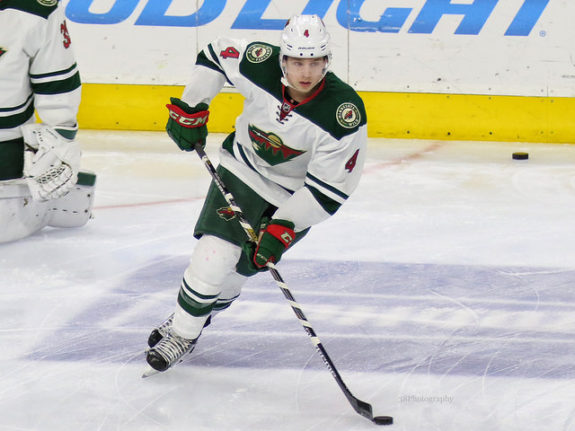 For the Habs, acquiring fourth line players for fourth round and beyond picks needs to stop. Using a fifth rounder to take a chance on a player like Mike Reilly makes sense because he is only 24, and helps fill the need for a skilled defenceman. However, using one on a player that is on the downside of his career (i.e. Steve Ott and Dwight King) is not good asset management. If a second rounder included in a deal is the difference between acquiring a good player versus a great one, it is a risk they have to take. 
An Opportunity That Can't Be Wasted
Owner Geoff Molson is giving general manager Marc Bergevin another chance to right the ship and Bergevin really needs to have an excellent off-season to avoid a repeat of this season. Morale amongst fans is low and they need something to look forward to again. A great draft class will help in restoring some hope and it's an opportunity Habs management can't waste. They need players who are younger, faster and more skilled and the draft is a great place to start.