That's exactly what Ryan O'Reilly – one of three members of the Buffalo Sabres' leadership group – had to say about their 3-0 shutout loss to the Montreal Canadiens Friday night. The team lost their third straight game, their second blanking in those games.
It's hard to tell which of O'Reilly's words stands out the most. The fact that he chose the word 'almost' or 'embarrassing.'
Ryan O'Reilly said after the game "It's almost embarrassing, we could've at least made a game of it." #Sabres @WKBW https://t.co/ML0dDmr98I pic.twitter.com/AMotANzqif

— Matthew Bové (@Matt_Bove) March 24, 2018
Almost
Using the adverb 'almost' suggests 'very nearly.' As in, their play may not have actually been embarrassing. That there was a question of whether or not it was or wasn't.
The faceoff specialist whiffed on an open net during a 5-on-3 power play when the team desperately needed a goal. "It's almost embarrassing. I had a chance there [to score] and missed it. It's disappointing. It was right there," said O'Reilly. "I had a couple chances to tap pucks in and didn't. Those were the sparks we needed. I need to be better. It's my fault."
O'Reilly is one of several players that is searching for answers, game after game, loss after loss. The post-game interviews are becoming all too predictable — having to respond to same thing over and over.  But this response came after game 74 of the season. He and the team should be well past the point of embarrassment. That came months ago.
Embarrassing
O'Reilly choosing the word embarrassing suggests he was actually confused, ashamed or uncomfortably self-conscious. Phew. That part makes complete sense. No one should have an ounce of pride in a dismal season, sporting a dreadful 23-39-12 record. As much as hockey is a sport, it's also a business. These players are paid to win and they're not doing it.
The lack of effort and hustle is evident most nights. It's the "cheat" to which rookie coach Phil Housley commonly refers.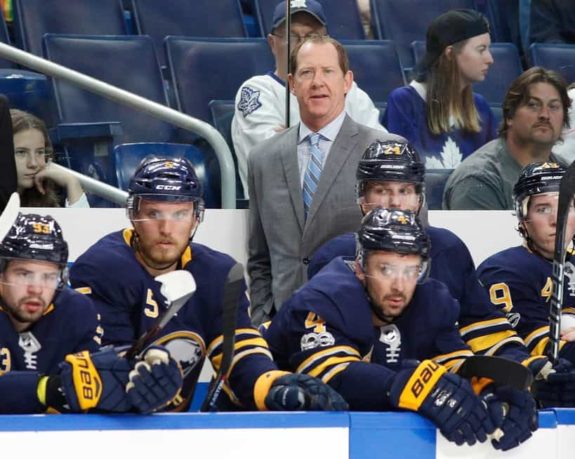 "Really solid first period. We stuck with the game plan," said Housley. "In the second period, we get away from it….we have good success and then we get away from it. We have a little bit of cheat in our game. We're forcing things that aren't there."
While the Sabres outplayed the Habs for stretches and outshot them handily, they failed to finish. At times, they looked scared. Other times, they didn't want to pay the price for getting in front of the net.
Live from New York, It's another Loss!
Saturday night, at New York City's famous Madison Square Garden. it was going to be the Sabres rebound game. It was going to be their chance to make a statement. And it almost felt that way through one period of play.
They tossed the kitchen sink at New York Rangers rookie goaltender Alexandar Georgiev in the first period. The Sabres held a 21-10 shots advantage and controlled much of the play but fell behind 2-0. After falling even further behind 5-0 nearing the end of the game, Sam Reinhart tipped Kyle Okposo's shot for his 20th goal of the season, ruining Georgiev's shutout bid with 4:34 to play.
The Sabres Excuse Machine Keeps Rolling
There's a special kind of stink going on in Buffalo this season. This is a brutally bad team, one of the worst collections of under-performing players the franchise has ever put on the ice. While the nightmare season is almost, mercilessly, over, the lack of accountability for poor play continues.
Friday's Excuses
After the Sabres Friday night loss to the Habs, Ryan O'Reilly said, "We definitely beat ourselves tonight. They didn't do anything special. We missed the chances, didn't handle the puck as good as we wanted to tonight. I think all the guys felt the same."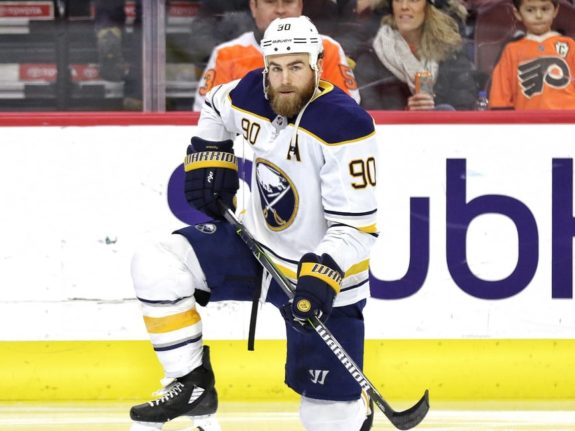 Housley was fuming after the game and called out his leaders group, consisting of O'Reilly, Jack Eichel and Kyle Okposo. "It's about time our leadership group stepped up and that wasn't the response I was looking for."
Saturday's Excuses
After the Sabres Saturday night loss to the Rangers, there was more frustration in the locker room.
"It was embarrassing tonight. We are just not playing hard. We have to respect. We need better. That's not good enough…we need to get better," said a rattled Marco Scandella.
"I get frustrated for not scoring, then I take that extra risk and then it's in the back of our net," said O'Reilly. "As a leader of the group, I can't be showing guys that. If we're turning pucks over. If we're getting beat. It shows guys that it's ok. But it's not. It's gotta start with us. I can't look at anyone else. I wasn't anywhere near where [my game] needed to be tonight."
And then there was Housley calling out the cheat again in his team's play, "All the things we did with the puck, we did really well. When we didn't have it, we didn't defend well. We lost coverage. Guys are beating us up the ice. It goes back to having that respect for our own net and our own goaltender. Keeping the puck out of our net. We didn't have that respect tonight."
It's like deja vu all over again.
Tough Times in Buffalo
Aside from being slow, this team looks lost. Their fragile mindset is on display after every miscue when their shoulders begin to sag. These players have had success at various levels of their careers. They've shown fire and a competitive spirit. But now, in the face of adversity, instead of getting angry, they're swimming in a pool of self-loathing pity, resigned to failure.
There seems to be little chemistry or spark to this team that's overloaded with fat, bad contracts. They don't score. They don't hit. They don't listen to their coach.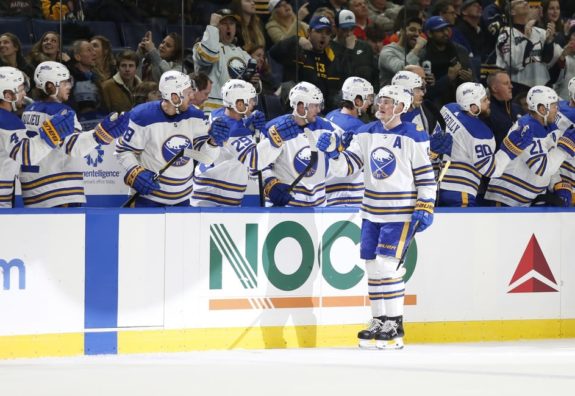 Sabres fans are outraged to the point of apathy. Season ticket holders aren't even bothering to go downtown. The cost of the tickets is low, but they can grab a cold beverage and forego parking fees while watching with equal excitement in the comfy confines of their own home. Yes, it's become that bad in Buffalo.
Buffalo and the greater Western New York community are usually among the top U.S. markets for all of hockey for viewership. Even when hockey is being played in another city, without the Sabres in the game, they're routinely third behind the cities with teams playing. In other words, it's a hockey-mad city. Interest hasn't fallen from a balcony, it's nose-dived from the stratosphere.
While a few prospects are on the horizon, so too is the challenge to shed the dead weight on the roster. Sabres fans are often addicted to hope. Nowadays, it's tough to be one. In fact, it's almost embarrassing.
Jeff has been covering the NHL for over a decade for various sites. He's been with The Hockey Writers as a lead Sabres writer three years, while also writing a satire column called "Off the Crossbar."