Buffalo Sabres head coach Phil Housley doesn't exactly have the fiery intensity or snarling bite of John Tortorella. He doesn't bark or snap at members of the media. At times he often comes across as pollyanna despite all of his team's losses.
That wasn't the case Wednesday night. After his last-place team dropped a 4-1 game to the Arizona Coyotes at KeyBank Center – a team only one point ahead of them in the standings – he was clearly ticked off.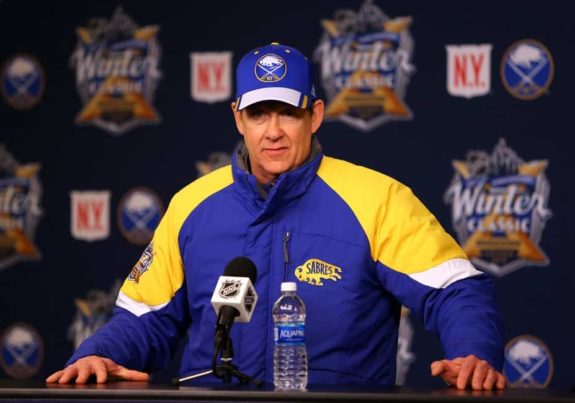 "You manage a schedule. You're trying to give your group the best energy. We didn't go on the ice [Tuesday]," said a ticked off Housley. "I didn't like the energy level or the response from our team."
Opportunity Lost
It was an opportunity to climb out of the league's basement. It was a chance to rebound from a tough 4-0 shutout loss to the Nashville Predators a few days earlier. It was, well… a typical disappointing performance from this year's squad that we've all seen far too frequently.
There was no compete. No battle. As Housley said, "This is game 73. That's the frustrating part."
The Sabres, down 2-1 after two periods of play, managed just six shots in the final frame and gave up two goals. Where was the fight? Where was the pride? The energy?
A frustrated Housley let loose after the game. "They outworked us in the third period," said the rookie coach. "I'm telling the group that we have 10 periods left to play in this building [this season], that's the frustrating part, because it's not the way we have played, it's not the response we're looking for. It's disappointing."
Coach Housley after 4-1 home loss: "Unacceptable."

More postgame reaction:
Guhle https://t.co/WNlcumljfu
Nolan https://t.co/VyrxdeFC0X
O'Reilly https://t.co/pKQhIUifrK pic.twitter.com/2TAUgTd9Td

— Buffalo Sabres (@BuffaloSabres) March 22, 2018
Power Outage
The game was basically lost by special teams. The Coyotes converted on two of their three chances, while the Sabres power play failed to score in any of their four chances. But to Housley, the team's 5-on-5 play was lacking. In a big way.
The team couldn't generate much. The stat sheet showed 24 blocked shots and 18 that missed the net. Other than the team's only goal, scored by Jordan Nolan, they weren't establishing a presence in front of Coyotes' netminder Antti Raanta.
At times, the Sabres have shown they're capable of competing with some of the best teams in the league. They've defeated the Boston Bruins and Tampa Bay Lightning twice each since the calendar flipped to 2018. The team has not been able to hold on to their successes after playing complete games and executing game plans, though. That point was not lost on Housley.
"That's just where we are as a group," said a defeated, yet teeming Housley. "We can't handle success. [This] was a very meaningful game in the respect that you're last place in the league. That's what's hard to swallow and it's just unacceptable."
Home Not Sweet Home
The Sabres have just three home games remaining in this long, dreary season. They host the Montreal Canadiens Friday night, the Detroit Red Wings next Thursday and the Ottawa Senators on April 4.
Housley hopes his team learned a lesson from it heading into Friday's visit by Montreal.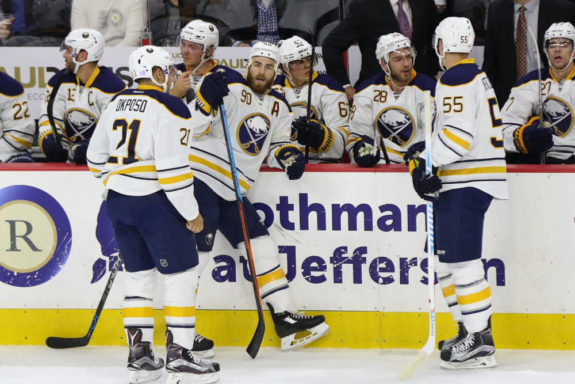 "You look at the body of work in our last 20 games I think we've moved in a good direction," said Housley, whose club is 9-9-2 in that stretch. "But it reminds us you have to come prepared to play whether you're playing the best team in the league or you're playing one of the lower teams in the league. It's tough to win in this league and you have to have to the same mindset. We didn't do what it was going to take to win."
Photo texted to me at 7pm from season ticket holder who has had his tix since 1970.
Seats still available in the 300s.#Buffalo#Sabres pic.twitter.com/H7pjHKDIKH

— Dan Meyer (@MeyersMusings) March 21, 2018
Many season ticket holders aren't even bothering to make the trip downtown. They're not wasting their time for a team that doesn't show the heart or effort that they demand.
Jack Eichel was honest, saying after the game, "I think [the fans] have a reason to be negative, what have we really put on the ice as a product for them this year? We don't score goals, we really haven't made coming to the game worthwhile, so can you blame them? No you can't."
The Sabres are just 11-22-5 at home this season (though one of those losses was at Citifield during the Winter Classic. It's the worst home record in the league. The 11 wins is tied with the 1971-72 team's franchise low mark.