The Calgary Flames came into the 2017-18 season with very high expectations. Thanks to a second half skid those expectations will not be met. For the second time in three seasons, the Flames will be spectators when the Stanley Cup playoffs begin.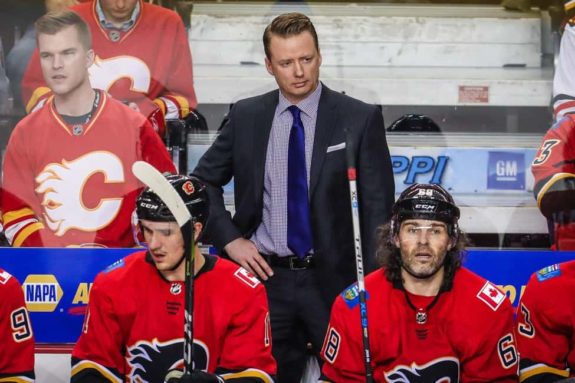 Here are the four primary reasons why the Flames will be idle after the regular season concludes on April 8.
Lack of Scoring Depth
The Flames have several forwards that can score with regularity. Johnny Gaudreau, Matthew Tkachuk and Micheal Ferland all have scored 20+ goals, while Sean Monahan has hit the 30-goal mark for the second time in his young career. Beyond that quartet, though, the offense dries up rather quickly. Mikael Backlund can put up numbers, but Michael Frolik is more of a defensive specialist at this point of his career.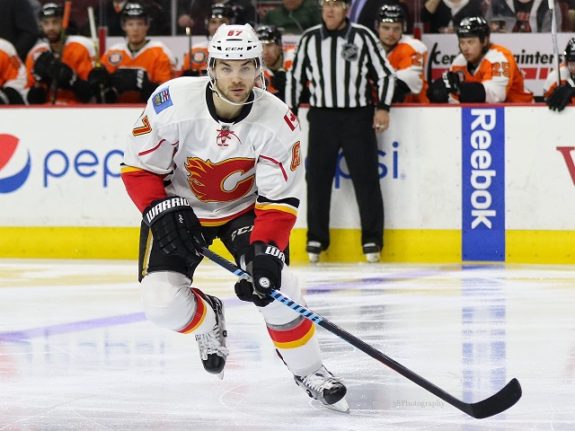 Once you get past that defined top six group, things get lean in a hurry. Mark Jankowski has emerged as a steady third line center, but his offensive game lacks finish. Sam Bennett has flash, but not consistency. Troy Brouwer's settled into a two-way role and doesn't generate much even strength scoring. Curtis Lazar and Garnet Hathaway lack much flash or consistency. The Flames didn't get a ton out of their secondary players offensively this season and it's made the team extremely top-heavy and easy to defend against.
Lack of Defensive Chemistry
Mark Giordano and Dougie Hamilton are a dynamite first pairing. They play against the NHL's best players and consistently produce offense – though Hamilton's a bit dodgy in the defensive zone sometimes. The Flames have struggled to become a team with two good pairings, first acquiring Hamilton at the 2015 Draft and then acquiring Travis Hamonic at the 2017 Draft to play with TJ Brodie. But Brodie's playing style doesn't mesh well with Hamonic's. Sportsnet's Elliotte Friedman described it like this: "Hamonic is structure, Brodie is a jazz virtuoso."
https://twitter.com/dellowhockey/status/977406706178318336
While the top pairing is great – and young Brett Kulak has meshed rather well with stay-at-home defender Michael Stone on the third pairing – the unevenness of the Brodie/Hamonic pairing has really done a number on the team's in-game momentum on several occasions. And while plus/minus isn't a perfect indicator of things, Brodie's minus-16 rating reflects the second pairing's defensive foibles. The Flames are still primarily a one-pairing team, and head into yet another off-season needing to fix their defensive balance.
Lack of Power Play Production
The Flames have four established goal scoring forwards, plus the likes of Norris contenders Giordano and Hamilton and Selke contender Backlund. In addition to all that offensive talent, Tkachuk and Gaudreau are among the NHL's best players at drawing penalties – likely via a combination of Tkachuk's agitation and Gaudreau's insane speed and skill. As a result, the Flames sit third in the NHL in terms of overall power play time.
But somehow the club is only 21st overall in goals scored on the power play, despite all their skill and opportunity. Even worse, the Flames' power play often stifles any momentum the team has built up at even strength. This power outage has earned head coach Glen Gulutzan and assistant coach Dave Cameron a lot of scorn from fans, who can't seem to fathom how a team with as many potent offensive weapons can be so impotent with a man advantage.
Inconsistent Goaltending
The Flames began the season with a strong starter in Mike Smith and a really shaky backup in Eddie Lack. They uncharacteristically made an early adjustment, booting Lack to the AHL (and later New Jersey) and promoting AHL standout David Rittich to the NHL level. The new tandem performed well until the Bye Week break and then they – like the rest of the team – seemed to fall completely apart in terms of their consistency.
Smith was 20-13-3 with a 2.46 goals against average (GAA) and .924 save percentage (SV%) before the break, but has gone 4-8-3 with a 3.16 GAA and .894 SV% since then.
Rittich was 4-1-1 with a 2.03 GAA and .932 SV% before the break, but has gone 4-5-2 with a 3.34 GAA and .892 SV% since then.
The tandem's numbers were bound to regress a bit as the season wore on and both dealt with the adjustments shooters were making to their tendencies, but nobody expected them to crash completely down to Earth.