Sam Bennett was a very good player in the Ontario Hockey League. In 2014, the Calgary Flames made him the highest-ever selection in franchise's history at the NHL Draft. Since then, Bennett has spent parts of three seasons (and two playoff runs) in the National Hockey League. His performance has been, for lack of a better term, a tad uneven.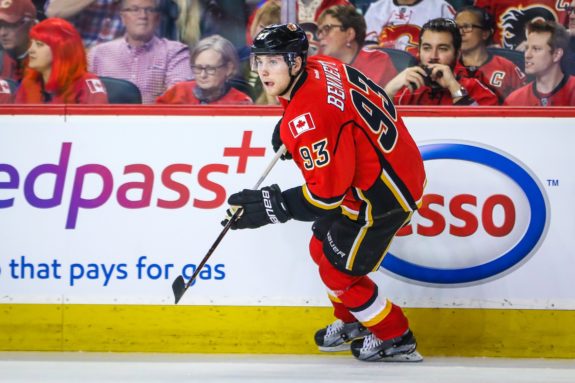 Promising Rookie Winger
After having the majority of his first post-draft season (2014-15) upended due to shoulder surgery, Bennett played 10 games in the Flames' playoff run that season on the wing. The following season, 2015-16, saw his internship on the flank continue as he played the majority of the year on the left side of Mikael Backlund and Michael Frolik on the team's shutdown line. While that trio was given a fair amount of strong offensive zone starts, beginning 55% of their shifts in the offensive end, they were regularly faced with the opposition's top two forward lines. (Stats via Corsica.Hockey.)
Bennett's rookie season on the wing saw him post fairly good possession stats (with a 48.9 Corsi For percentage and a positive Relative Corsi), he drew more penalties than he took, and he put up 35 points. For a junior scorer with a lot of promise, it was a great start.
Uneven Sophomore Center
In 2016-17, under new coach Glen Gulutzan, the Flames decided to move Bennett to center – the position he primarily played in junior with the OHL's Kingston Frontenacs. Instead of playing on the de facto second line with Backlund and Frolik, he's played on the third line with a mixture of players including Kris Versteeg, Troy Brouwer, Curtis Lazar and Micheal Ferland – no disrespect to those players, but a slight step down in quality.
In 89 games – the full 2016-17 season and 10% of the 2017-18 campaign – Bennett's results have cratered quite a bit despite getting similar deployments in terms of offensive zone starts and facing slightly weaker competition than he did as a winger. His possession numbers have dipped (his 48.1 Corsi For percentage is the lowest of the team's regular centers), he's taken more penalties than he's drawn, and his offensive numbers have stagnated – fourth line center Matt Stajan has scored as much at even strength as Bennett has with significantly less ice time.
The Breaking Point?
The opening few games of the 2017-18 season may represent a breaking point for Bennett as a pivot. Having just signed a new two-year contract after a protracted negotiation with Flames general manager Brad Treliving, his performance to begin the season cannot be what either side had hoped for.
He has zero points in the first eight games, the only player on the team who's played every game yet to his the scoresheet. He has factored into things in other ways, tied for the team lead in penalty minutes with Matthew Tkachuk (who has five points). Bennett has only five shots on goal: several teammates play less than him and have more shots, while two more teammates play less minutes and have as many shots. Only Tanner Glass and Lazar have comparably weak possession stats, and Bennett has played significantly more than that.
Glen Gulutzan predicted Sam Bennett would be the most improved player this season, not seeing it so far. 0 points, too many bad penalties.

— Glenn Campbell (@CTVGCampbell) October 20, 2017
Eight games doesn't make or break a season, but seen in the context of nearly 90 games of Bennett struggling to find his way as a center it's a horrible start. When the Flames had no heirs apparent to the third line center throne in the professional ranks, trying to develop Bennett as a center by hook or crook made a ton of sense. But the Flames have AHL standout Mark Jankowski waiting in the wings and other prospects in the pipeline, keeping Bennett at center at the expense of his long-term development is utter folly.
Bennett has shown to be a very effective NHL winger. He has shown to be an inadequate NHL center. Moving him to the wing and salvaging his season – and perhaps even his career – is the obvious choice to make.
Ryan Pike has covered the Calgary Flames and the NHL Draft extensively since 2010 as a Senior Writer for The Hockey Writers and Senior Contributing Editor of FlamesNation.ca. A member of the Professional Hockey Writers Association, he lives in Calgary.