In Nov. 2003, the Calgary Flames found goaltending stability when they traded a second round pick to the San Jose Sharks for Miikka Kiprusoff. The acquisition ended a decade of scrambling to find stable goaltending, and provided the Flames some strength in net that lasted until his retirement following the 2012-13 season. Since Kiprusoff's departure the Flames returned to scrambling to find adequate goaltending.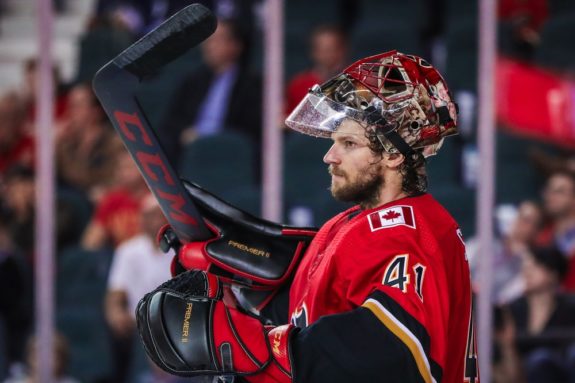 This past summer's trade with the Arizona Coyotes for Mike Smith may have been a gamble, but it's been a worthwhile one as the Flames finally have stable goaltending again.
Feaster: A Brief History of Scrambling
When Jay Feaster took over as Flames general manager in Dec. 2010, it's pretty clear that he began to plan for the future. With Kiprusoff already deep into his 30s and some cracks starting to show in his once-formidable facade, Feaster began to accumulate assets to give the Flames some options going forward.
In Mar. 2011, he signed European prospect Joni Ortio to an entry-level contract.
In Jan. 2012, he acquired KHL netminder Karri Ramo's rights from Montreal in the Mike Cammalleri trade.
In Feb. 2013, he claimed Joey MacDonald off waivers from Detroit.
In Apr. 2013, he acquired Swiss goalie Reto Berra's rights from St. Louis in the Jay Bouwmeester trade.
All four of these goaltenders were used in the first post-Kiprusoff season, and they were not particularly successful. Feaster was axed by new Flames hockey operations head Brian Burke mid-season and the Flames ended up with their lowest finish in the standings since their 1980 relocation from Atlanta. The shuffling in net continued from there.
Treliving: A Brief History of Upgrading
Once Brad Treliving became general manager, he went through almost yearly attempts to upgrade or solidify the team's goaltending. He signed free agent Jonas Hiller in 2014. He traded for Brian Elliott and signed free agent Chad Johnson in 2016. He traded for Smith and Eddie Lack in separate deals in 2017. The result has been that four different Flames goaltenders have played 40-plus games in a season since Kiprusoff's retirement.
Season
ES Sv%
Goalies (GP)

2013-14
.9170
Ramo (40), Berra (29), MacDonald (11), Ortio (9)
2014-15
.9301
Hiller (52), Ramo (32), Ortio (6)
2015-16
.9131
Ramo (37), Hiller (26), Ortio (22), Backstrom (4)
2016-17
.9183
Elliott (49), Johnson (36), Rittich (1), Gillies (1)
2017-18
.9341
(60 GP)
Smith (47), Rittich (14), Lack (4), Gillies (2)
While there has been remarkable turnover in net, Smith is anchoring a group of goaltenders with the best Flames' performances since the Kiprusoff years – an indication that perhaps Treliving's tinkering has ended up working. The challenge posed by Treliving's constant turnover of the goaltending position has been the price paid in the trade market: acquiring Elliott cost a second round pick (and a conditional third round selection, which wasn't converted), while Smith cost the Flames college prospect Brandon Hickey, pending free agent Chad Johnson and a conditional third round pick (which turns into a second round pick should the Flames make the playoffs this spring). Johnson was included for expansion draft exposure purposes, while Hickey remains unsigned – functionally, Smith might end up only costing the team a second round selection.
In the context of a summer that saw the Flames trade a first round pick and two second round selections to the New York Islanders for Travis Hamonic, sending another second rounder away for Smith might seem hard to swallow. But in the context of the Flames' constant search for stability, it's a small price to pay for some of the best goaltending in the NHL.
Smith's Been the Flames' Spark
Smith been a statistical standout in the goaltending categories – sitting top 10 in even strength save percentage among regular netminders – and an absolute workhorse. He's given the Flames a chance to win in the majority of his starts: he has 27 starts with two (or fewer) goals against and 38 starts with three (or fewer). He's allowed more than three goals in just nine of his 47 appearances.
He's also been a spark for the club in other ways. A notoriously hard worker and a fierce competitor, Smith frequently gets engaged in the game through his puck-handling or by getting physically involved in post-whistle scrums – themselves often triggered by his puck-handling. His wanderings outside of the crease have drawn five penalties thus far this season and given his team additional power play opportunities. His play inside the crease has stolen the Flames several crucial points as well. It's unlikely that a second round selection would have had the same impact.