There is a reason that Hilary Knight is considered the star of the USA Women's Olympic Team. She has one of the most impressive resumes in hockey and is looking for her first Olympic gold medal this week in PyeongChang.
There is a lot to know about Knight but here are five quick facts.
1. Family Background
Unlike Olympic teammate Amanda Kessel, Knight did not come from a hockey family. Knight's family were skiers but have been very supportive of her hockey dreams, as she told NBC:
"Both of my parents have loved and supported me from my very first strides. My mother was a strong influence and role model in my life. She taught me that it doesn't matter who I am, but what matters is my passions. If I want something, I need to work hard for it and go get it."
Knight's work ethic has helped her achieve some of her biggest goals but the best is yet to come.
2. Golden Girl
Knight has seven World Championship gold medals as well as two silver World Championship medals and two Olympic silver medals. Her last three World Championships appearances with Team USA have resulted in gold medals.
The only thing missing from her impressive list of accomplishments is an Olympic gold medal. Team USA will face Team Canada in the gold medal game on Wednesday night.
She described the rivalry to NBC as a "blood bath-type rivalry. Both teams come to play, and I think it shows a level of respect when you can get over-the-top competition out of two teams every time we face off."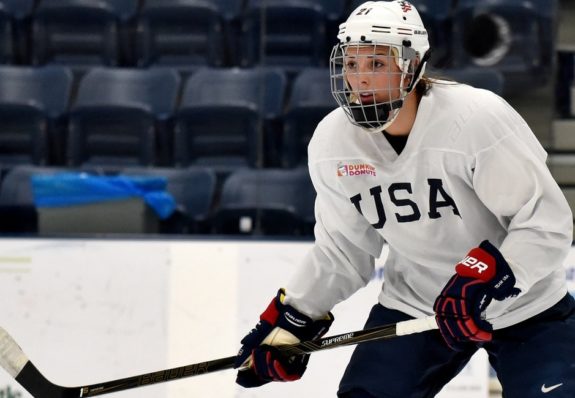 3. College Years
Knight played college hockey at the University of Wisconsin where she won two national championships. During her four years with the Badgers, she tallied a total of 143 goals and 119 assists in 161 games. Her scoring abilities caught the attention of scouts and she began a professional career after college.
4. Professional Career
After graduating college with a degree in history, Knight was drafted fourth overall in the CWHL draft by the Boston Blades. She played for there for three seasons and tallied 29 goals and 33 assists in 41 games. She was third in scoring in the league her first year and won the 2013 Clarkson Cup along with the 2013 CWHL Most Outstanding Player Award.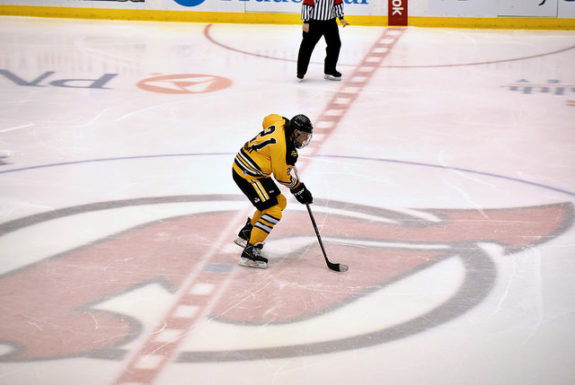 She moved on to play for the Boston Pride of the NWHL in the league's inaugural year. In two seasons, she has tallied 23 goals and 25 assists in 27 games. She was the first scoring champion of the league and also led Boston to the inaugural Isobel Cup Championship.
5. Gender Equality Advocate
Knight is an advocate for gender equality in hockey and hopes to use her influence to spread awareness at all levels of the sport.  As she said in an interview with Red Bull on her experience growing up as a girl playing hockey:
"There are years that I've just blocked out of my memory. I was playing an all-boys sport — there weren't as many opportunities as there are now for young girls and women. I'd get harassed by the parents on opposing teams. Even some parents on my own team weren't happy that a girl was taking a spot from their boy. They didn't think I was good enough.

When I think back to that, I realize all the things that we accomplish as young children. We didn't even know what we were going through, but we were pioneers of the sport. But when I was living it, I just wanted to be the best teammate and the best player I could be — and I wanted to have fun. We all strive to be better when the odds are stacked against us."
She also supported the 2017 boycott of the World Championships if the women's team didn't receive equal treatment. She told NBC Nightly News: "We were asking for greater resources for marketing and PR to really help us tell the storyline of the women on our team. We also needed better programming; you only see us every four years essentially in certain tournaments, so we need more games and financial support."
In the end, the women's team played and won the gold medal.
Hilary Knight and Team USA will face Team Canada in the Gold Medal Game on Wednesday, Feb. 19 at 11:10 PM EST.
Illinois State University graduate and lifelong Chicago Blackhawks fan. I also write for The Odyssey at Illinois State and Fans Talk Sports. Other than hockey, I love to write historical fiction and nonfiction.