From the start of the 2017-18 season, it was clear that this would be a big year for Ottawa Senators defenceman Cody Ceci. The 24-year-old is in the final year of his contract and could be due for a significant raise this summer.
Ceci's name has been mentioned in trade rumors for the last few seasons, back when the Senators were looking to add Jonathan Drouin from the Tampa Bay Lightning and before they traded for Matt Duchene. Since the Sens are expected to make a lot of moves before next week's trade deadline, fans have speculated that Ceci could be one of the players GM Pierre Dorion parts with. However, based on what Dorion said to the media last week, Ceci may not be going anywhere.
"I'm a big Cody Ceci fan…Cody is one player—and I know a lot of the pundits out there might disagree with it—I'd like to have as a Senator for a long, long time."
The organization showed a lot of faith in Ceci when they exposed Marc Methot in last year's expansion draft and they showed trust in him when they traded Dion Phaneuf last week.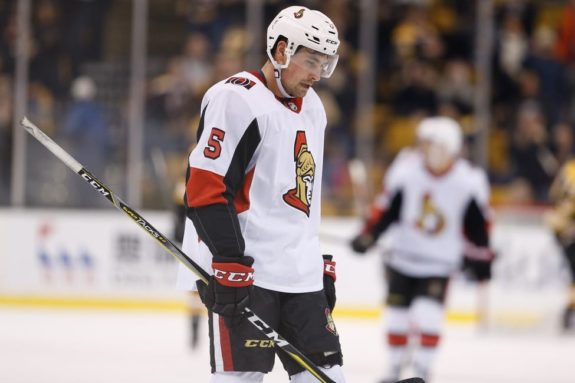 These moves made the Senators' defence younger, though 36-year-old Johnny Oduya remains in the team's top four, and the emergence of rookie d-man Thomas Chabot has made the team more willing to shake up the defence.
Will the Phaneuf Trade Help Ceci?
Ceci has played among the Sens' top-four for the last three seasons and has been given a ton of ice time this season,  regularly facing the opposition's best players along with Phaneuf. When Phaneuf joined the Senators two seasons ago, there was a lot of talk about how the experienced defender would be able to take Ceci under his wing and give Ottawa a reliable second pairing. However, the two-year Ceci-Phaneuf experiment was not a success.
While the Senators were reluctant to split them up, the results were pretty catastrophic. Phaneuf's lack of footspeed was a bad match for Ceci, who tends to get caught at the opposing blue line. This resulted in several odd-man rushes against. The pair also struggled in the defensive zone, with poor coverage of the front of the net they allowed a ton of shots from the slot.
Since the Sens traded Phaneuf, Ceci has been paired with a few different players. With Chabot, whose greatest asset is his skating ability, Ceci registered two assists in a strong effort against the New York Rangers on Saturday. This pair's playing time has steadily increased since the trade and while Dorion has implied that Ceci could mentor Chabot, the rookie might end up helping Ceci even more.
Senators Struggle to Find a Shutdown Pair
Ceci was drafted as a two-way defenceman with offensive upside, but with the exception of one 10-goal season two years ago, he hasn't quite lived up to his draft pedigree. This can partly be blamed on the role the Senators assigned to him for much of his career.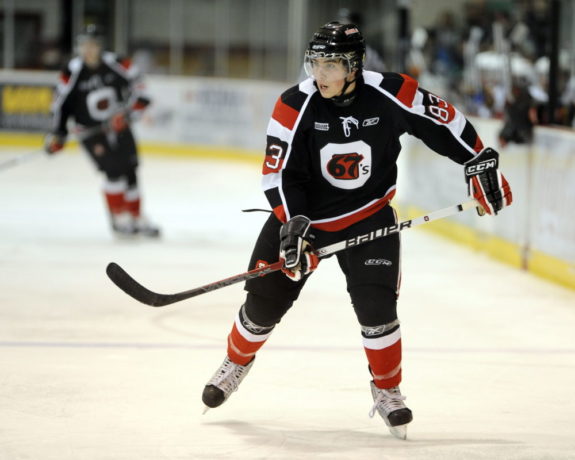 He was ineffective as a shutdown defenceman when paired with Phaneuf and now head coach Guy Boucher has tried pairing Ceci with defensive defencemen Mark Borowiecki and Ben Harpur. While the Sens seem keen on turning him into a shutdown d-man, they would be better off letting him play a more offensive game, which would make Chabot a natural partner for the Ottawa native.
Of course, with Erik Karlsson, Chabot and Chris Wideman all likely returning next season, management might not want another risky defenceman on the team. Despite this, having Ceci play a defensive role would only make sense if he can become an effective shutdown guy. He has the frame of a physical, stay-at-home defenceman but the results have just not been there. Instead, he has been taking some risks in the offensive zone lately, where he has a consistently positive impact on the team.
The Senators will need to make a decision on Ceci's role pretty soon. Based on the contract extension that defenceman Erik Gudbranson signed in Vancouver, Ceci will likely ask for more money than a player with his stats should logically receive. However, since Dorion approves of his play, Ceci may be a Senator for the foreseeable future.
A defenceman who plays as much as Ceci is sure to get a big raise and since Dorion seems to have no interest in trading him, the Senators can only hope he'll take a hometown discount.
A Carleton University journalism graduate, Jacob joined The Hockey Writers in 2017. As an Ottawa native, Jacob has been following the Senators since the days of Radek Bonk. You can also find Jacob at ComicBookMovie.com.