The Vancouver Canucks have signed Erik Gudbranson to a three-year contract extension. The deal is reportedly worth $12 million, according to Sportsnet, which means an annual cap hit of $4 million.
Gudbranson was set to become an unrestricted free agent following the expiration of a one-year deal he signed with the Florida Panthers before being sent to the Canucks. The Canucks acquired the defenceman on May 25, 2016, along with a 2016 fifth-round pick in exchange for Jared McCann, a 2016 second-round pick and a 2016 fourth-round pick.
Gudbranson: A Physical Presence
Over parts of two seasons, Gudbranson has played just 71 games for the Canucks tallying 10 points over that span. In 41 games this season, the 26-year-old has two goals and four points for Vancouver with 33 penalty minutes.
Related: Trading Erik Gudbranson – 3 Potential Suitors
Over his career, between Florida and Vancouver, he's averaged 2.41 hits per game. This season is no different as he's right on pace with his career average, tallying 99 hits through his 41 games.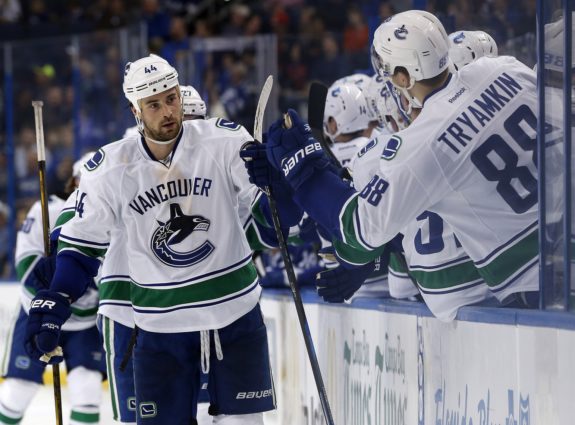 While he's not particularly known for his offensiveness, he does log a lot of minutes and provides a physical presence on the Canucks blue line. His career Corsi For Percentage (CF%) is just 48.0%, while his season has been a disappointing one with just 43.5 CF% so far.
"Erik is an important part of our team and provides a physical element to our blue line," said the team's general manager, Jim Benning, according to Sportsnet. "His leadership qualities help us as we continue to integrate younger players in our lineup. He is a quality person, a great teammate, outstanding in the community and we are excited to have him as part of our team moving forward."
While the Canucks remain a team somewhat in a rebuild, Gudbranson provides them with a solid veteran presence to help in the development of their prospects.
Canucks and Contracts
The $4 million per season will be an upgrade from his $3.5 million from this season. It will also be his highest cap hit since he joined the NHL.
The contract will eat up 5.33 percent of the Canucks team cap, according to CapFriendly, and carries through the 2020-21 season.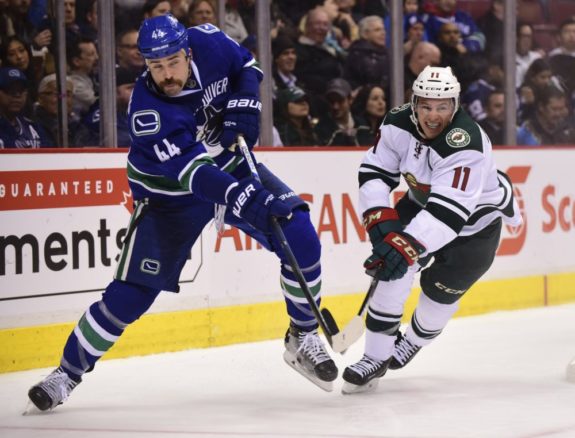 The extension also takes one UFA off the list for the Canucks to worry about as the offseason approaches. Among those still needing to be signed, the Canucks have six UFA including the Sedins, Thomas Vanek, Darren Archibald, Nic Dowd and Alex Biega.
They also have six restricted free agents that will need a new contract before the 2018-19 season. That list includes Sven Baertschi, Markus Granlund, Jake Virtanen, Troy Stecher, Philip Holm and Derrick Pouliot.
As of now, the Canucks have 25 player contracts for next season, with 14 players on their roster. While it's not officially a rebuild, they do have some solid veterans in place as they ready themselves for the next step.