The Boston Bruins have acquired veteran defenseman Nick Holden from the New York Rangers. In exchange for the 30-year-old blueliner, the Bruins sent 24-year-old defender Rob O'Gara and a 2018 third-round draft pick to the Rangers. This deal came shortly after the Washington Capitals sent a third-round pick to acquire Michal Kempny from the Chicago Blackhawks – a similar move for a similar cost.
Bruins acquire Nick Holden from @NYRangers in exchange for Rob O'Gara, 2018 3rd-round pick: https://t.co/bk2fczgyYT

— Boston Bruins (@NHLBruins) February 20, 2018
With this trade, the Bruins now have a total of nine NHL-caliber defenders on their roster. Holden has averaged over 20 minutes of ice time per game in his career. This season with the Rangers, he's right around that mark with 19:57 averaged through 55 games. While Holden may have been tasked with playing a top-four role with the Rangers, however, it's clear that he's better suited as a depth defender than a top-option for a contender. This move was exactly the one the Bruins needed to make.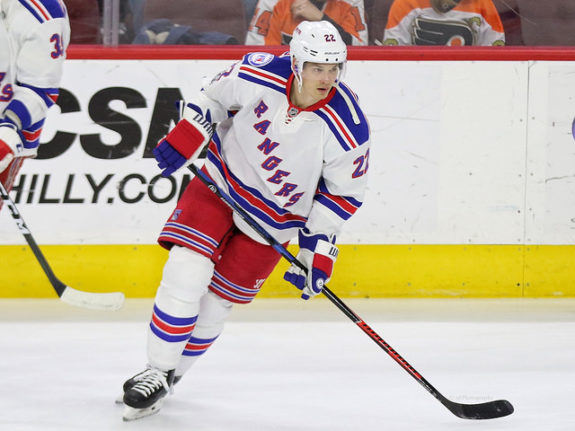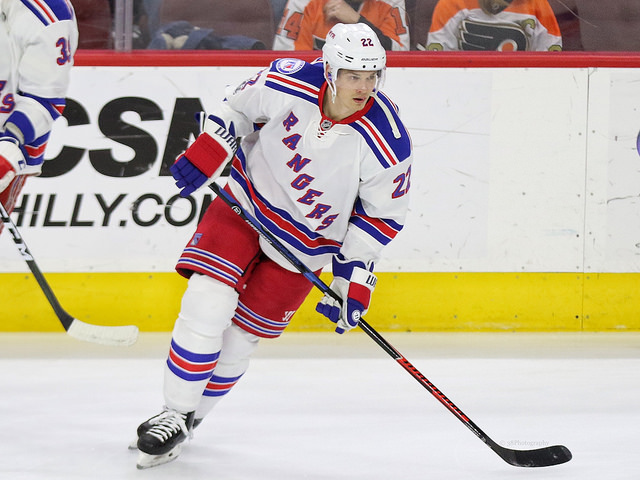 The Bruin already had seven capable top-six defenders with Zdeno Chara, Brandon Carlo, Charlie McAvoy, Torey Krug, Adam McQuaid, Kevan Miller and Matt Grzelcyk all on the roster. Behind them was Paul Postma and at the AHL level, O'Gara was the team's next option. This deal puts Holden ahead of Postma on the team's depth chart, giving them more confidence in their top-eight options for a long postseason run.
Holden Provides Depth
As has been seen many times in the past, the playoffs take their toll early and often. The Bruins only played in one postseason round last season but experienced a plethora of injuries on their back-end that forced certain players into their lineup that ultimately shouldn't have been there. With Holden, the Bruins can now feel confident that they have eight caliber players ready to go with Postma now sitting as the last resort.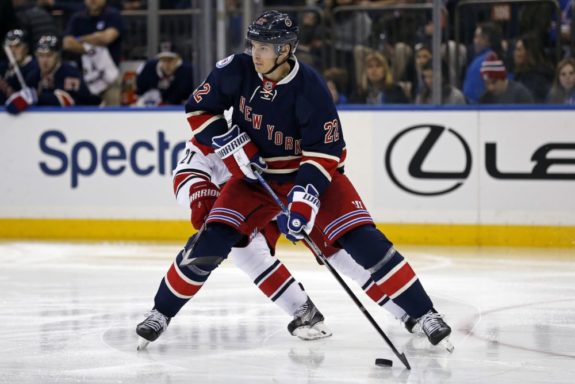 Though he isn't an offensive powerhouse, Holden has been known to chip in some points from time to time throughout his career. With 35 goals and 107 points in 356 games, Holden actually recorded career-highs in goals (11), assists (23) and points (35) last season in New York before regressing a bit this season. Fortunately, the Bruins have McAvoy and Krug who are tasked with producing the most offensive output from the back-end in Boston with Grzelcyk also more than capable of chipping in if need be.
At 6 foot 4 and 207 pounds, Holden also brings size to the Bruins blue-line depth. Similar size to that of O'Gara.
A third-round pick and a depth defender isn't a huge cost for the Bruins. While there have been talks of the team looking into a player like Ryan McDonagh at the deadline, acquiring Holden instead puts this team in a much better position in the long-term in terms of assets. With a loaded prospect pool, a third-round pick was expendable – more so than a first or second-round pick ever should be. O'Gara was also expendable given the Bruins' depth at the left-handed defender position.
Related: Holden Headlines Depth Defenders the Bruins Should Target
O'Gara Buried in Providence
Outside of the NHL roster, the Bruins already have Jeremy Lauzon, Jakub Zboril, Ryan Lindgren and Urho Vaakanainen ahead of O'Gara in terms of long-term potential. O'Gara simply didn't fit into the team's long-term plans and was better suited as a trade chip.
While it may seem redundant to trade away a depth defender playing in Providence for a player best suited to play in a depth role, it comes down to confidence in the player and experience. O'Gara did nothing to show that he can't be an NHL player. Holden, however, has played at the NHL level for a long time and has proven that he can play whereas O'Gara is more of an unknown.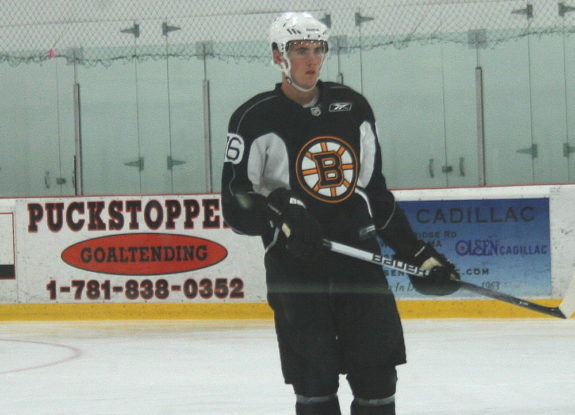 In 11 games with the Bruins, O'Gara went point-less at the NHL level. His job as a 6-foot-4, 207-pound defender was never to be a major point producer, though. After spending four years at Yale University, it was clear that O'Gara had the skillset to be a solid defensive-defender who could skate well and use his size to his advantage. Born in the state of New York, this is a homecoming of sorts for O'Gara who will have a better chance of making the Rangers roster in the future than he would have in Boston.
Rangers in Rebuild Mode
For the Rangers, this deal is the ideal move for them. With more moves likely to come in the next week, Holden being the first chip to fall makes sense. As mentioned, he isn't a fit in a top-four role. Despite this, he's been played there throughout his tenure in New York for one reason or another. Getting a third-round pick and a mid-level prospect in return for the veteran defender is a good value given the circumstances.
It won't be the biggest move they make this season, but it's certainly a good one that fans should take note of. The front office is making an effort to rebuild this roster quickly. Acquiring a draft pick and a defender who is close to NHL ready helps with the quick transition as it gives them young, capable bodies now with the potential for more in the future.
This is evidenced by the fact that O'Gara is expected to join the Rangers immediately, rather than report to Hartford of the AHL. He's capable of playing in the NHL, but the Bruins simply had too many bodies ahead of him on the depth chart now and in the future.
The trade deadline is always a fun time of year and there's no telling what else is in store for the Rangers or the rest of the NHL as the days tick down.
Brandon Share-Cohen has covered the NHL and various professional sports for seven years. Working with The Hockey Writers, Brandon works extensively on covering the Boston Bruins in addition to his role as the News Team Lead.