We are now under a week until the NHL trade deadline.
For the Columbus Blue Jackets, it's a time of trying to figure out how to best use this time. Do they buy? Do they sell? Can they do both?
We are here to try to piece this puzzle together for you. This isn't an easy puzzle to figure out. The Blue Jackets sit just a single point out of the playoffs but the general feeling is that they aren't a "true contender" as of yet. The Pittsburgh Penguins demonstrated the gap this past Sunday night at Nationwide Arena. It's pretty considerable.
So now what? That's the fascinating thing to watch over the next six days. The Blue Jackets could go in several directions.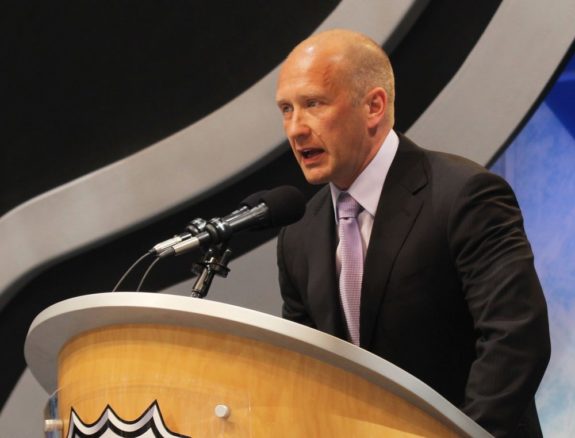 A Long View of the Blue Jackets
Let's take a moment to set the Blue Jackets' mindset for you especially if you are a fan of another team. General manager Jarmo Kekalainen will not mortgage the future for a short-term fix. At the same time, he's not afraid to make a big move. He acquired Seth Jones and Artemi Panarin in big moves.
Kekalainen's mantra is always the same. "If it improves our club, we will make the deal." It doesn't matter if it's a small deal or big trade, the key is improvement.
That said, the Blue Jackets do a great job of keeping things under wraps so us media types don't get clued in on what they're thinking. We're going to try anyway!
Sell, Sell Sell
We do know some things at this point. We will break that down for you now including the player involved and possible outcomes. As you will see, we believe the Blue Jackets could both buy and sell at the same time. Let's begin with the player who asked for a trade.
Jack Johnson
Citing playing time and his next contract, Johnson has asked for a trade from the Blue Jackets. He for a time fell to the bottom-pair due to his play. He is motivated to get the most out of his next contract. Remember that he is dealing with a bankruptcy situation.
These days, thanks to injuries, he's in the top-four and has played better. Although he can help the Blue Jackets in a playoff run if they make it, I expect him to go to a contender by the deadline.
Reports suggest Johnson could net the Jackets a late first-round pick. Whether that's true or not we'll see in time. What seems true is that there are multiple teams potentially in play. Tampa Bay and Toronto immediately come to mind.
There's a trade market for Jack Johnson, alright: NHL insider Pierre Lebrun reports the Blue Jackets could get a first-round pick for him. #CBJ https://t.co/Cdk4l1JG0i

— 1st Ohio Battery (@1stOhioBattery) February 9, 2018
So what does an acquiring team get in Johnson? They get a puck moving defenseman with a ton of experience in the league. He can occasionally add offense as well. He's appeared in the Blue Jackets' shootout rotation at times in their top-three.
Johnson enjoyed his best season in 2016-17 playing with David Savard. They acted as a shutdown pair. Johnson uses his speed and big body to make things happen. He would go to the bottom-four of a contender and stabilize that pair since he won't have to face the best of the opposition.
The likelihood of a trade here? I put it at 95%. The Blue Jackets don't want to lose him for nothing. If they get a late first rounder or an able body, it's a no brainer. Ryan Murray is close to returning and could play in Johnson's spot. I don't suspect the Blue Jackets would re-sign Johnson in the offseason.
Matt Calvert
Calvert is an unrestricted free agent after this season. There's two things to watch here. First, he has value. A bottom-six winger who can kill penalties and create havoc shorthanded has tremendous value to a contender. Second, the organizational depth chart on the left-wing is LOADED.
Look at who's on deck on the left-wing in Columbus. Sonny Milano (more on him later), Tyler Motte, Vitaly Abramov, and eventually Calvin Thurkauf could all make an impact at some point.
The likelihood of a trade? 80%. You don't want to lose him for nothing. He'll at least bring an asset back in the form of a draft pick.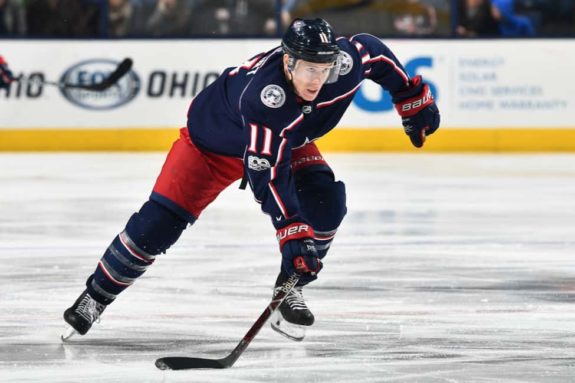 Ranking Other Potential Trade Candidates
Could other Blue Jackets find themselves on the block? It's always possible in the right trade. I will rank other Blue Jackets in order of highest probability. A quick note on these: expect movement only in the event of a bigger move by the Blue Jackets if they choose that route. I am not saying these players are going anywhere. I'm saying they could at least be talked about.
Sonny Milano: Milano is back from injury and playing with AHL Cleveland. His name has always been associated with trade rumors. Given who else is in the organization, a fresh start might do him wonders. Of the non-UFA players, Milano has the best chance of going elsewhere. His has good offensive upside. Chances of trade: 50%.
Boone Jenner: What a fall from grace for Jenner. Once considered untouchable and a future captain, he has dealt with injuries and underperformance. Some have suggested he's no longer untouchable. The issue I see here is that it's a buy low for another team. The Blue Jackets wouldn't get much in return. He could go in a bigger package. He's also an RFA at the end of the season. Tough spot for a team to be in, especially if he's lost a step due to injury or other factors. Chances of trade: 25%.
Gabriel Carlsson: The Blue Jackets like Carlsson. However he's in Cleveland and hasn't made it back up to the big club yet. This only happens in a bigger deal where the other team wants a young defenseman. If the Blue Jackets re-sign Murray, you'd have Zach Werenski, Seth Jones, Murray and David Savard as your top-four. Including Carlsson in a deal could land you an impact forward. Just not sure if it's a deadline move or at the draft. Chance of trade: 15%.
Alexander Wennberg: With the emergence of Pierre-Luc Dubois, Wennberg is no longer in the untouchable category. If you could land an impact forward by dealing Wennberg, you pull the trigger. You get a dynamic playmaker with cost certainty. The Blue Jackets would need a huge return to do it, but it's not completely out of the question. Chances of trade: 5%.
Vitaly Abramov: Same thing here. If the Blue Jackets go big-game hunting, Abramov could go in a package, but it would have to include an impact top-six forward. Chances of trade: 3%.
Oliver Bjorkstrand: He is an RFA at season's end. He's been one of the best forwards in Columbus this season. He lands here because of his contract status. Many around the league would be interested in him. I don't see a trade here, but you never know if a big deal comes along. Chances of trade: 1%.
Pierre-Luc Dubois: CLICK! Next. Not happening. He's listed here because teams will ask (Montreal). He's a major part of the future in Columbus. Chances of trade: 0.001%.
Buy, Buy, Buy!!
The Blue Jackets need an impact forward. Whether they can get one that's not a rental remains to be seen. The team won't mortgage the future for a rental. That goes against the philosophy of Kekalainen and his staff.
So if they buy, it will involve a player who has term left or can get signed to a new contract. I will list a few names that you could see the Blue Jackets have some interest in.
Mike Hoffman
Tomas Tatar
Derek Stepan
Ryan O'Reilly
Derick Brassard
Max Pacioretty
Alex Galchenyuk
Tyler Johnson
Artem Anisimov
Ryan Nugent-Hopkins
Gustav Nyqvist
This is not an all-inclusive list. These are the kind of players Columbus could call about since they wouldn't be rentals and would improve their team.
The name above that I'm interested in is Tyler Johnson. He's no longer the second center in Tampa Bay. When right, Johnson can have a dramatic impact on a game. Imagine Panarin, Johnson, Atkinson as your top line. Goodness.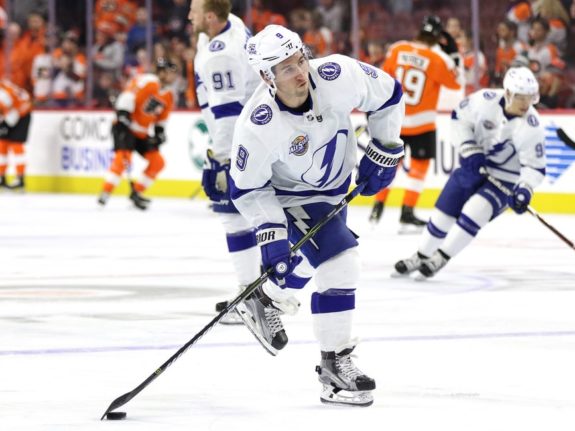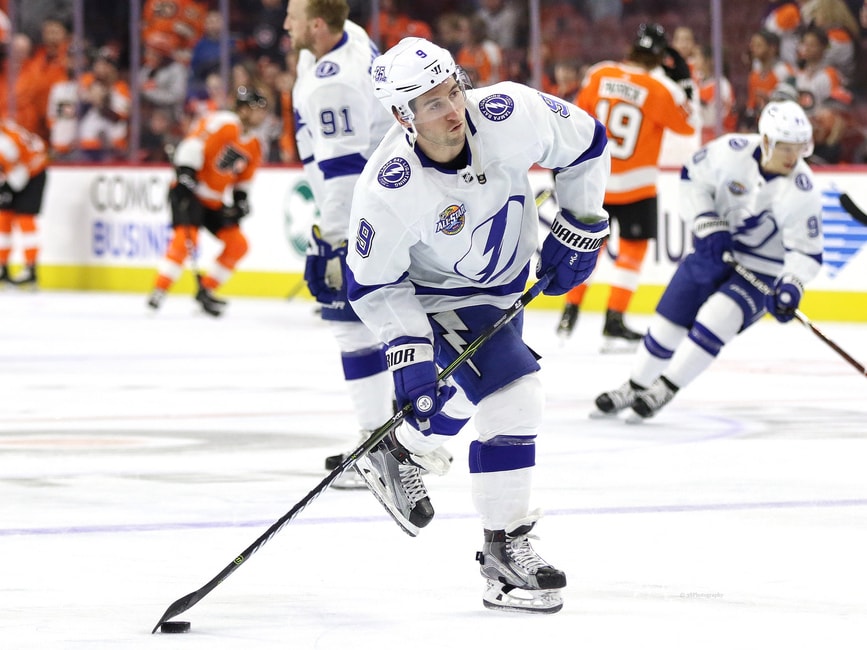 Worth noting, the Lightning and Blue Jackets have scouted each other at all levels for most of this season with the Blue Jackets appearing in Syracuse to watch the Crunch. That's interesting. Given both rosters, the potential of a "hockey trade" exists. We'll see if anything ever happens here.
In Conclusion
The Blue Jackets should sell one or two pieces while possibly buying as well. The x-factor here is the price. If the price is right, they will buy.
The big question the Blue Jackets must answer is how do they perceive themselves in the grand scheme of things. Can they make a big trade at the deadline or is it more realistic in the summer? Will the current roster wake up and play the way they can? They have six days to decide.
It's not a matter of if they'll trade, it's how much. That's what makes the Columbus Blue Jackets a fascinating team to watch at this deadline.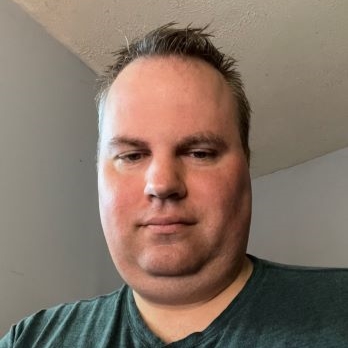 I am a fully credentialed writer who covers the Columbus Blue Jackets, Cleveland Monsters and Erie Otters as well as the Ontario Hockey League and NHL Draft. The 2022-23 season will mark nine seasons with the Hockey Writers. I am also the site's Credentials Manager. Please take note of the updated Twitter handle: @mark_scheig.