The Washington Capitals added depth to their blue line on Monday by trading for Michael Kempny, but another defenseman could be coming.
Kempny spent parts of seven seasons in the Czech Extraliga, the top league of his native Czech Republic. The defenseman recorded 21 goals, 39 assists for 60 points to go along with a plus-14 in 213 games between HC Kometa Brno and HC Slavia Praha.
In 2015-16, he played 59 games with Avangard Omsk of Russia's Kontinental Hockey League (KHL), where he scored five goals and 21 points with a plus-21 rating. He added another two goals and four points in 11 postseason games.
Kempny was a sought-after free agent ahead of the 2016-17 NHL season and ultimately signed with the Chicago Blackhawks.
Kempny's Usage in Chicago
The 6-foot, 194-pound defender, 26-years-old at the time, was chalked up as another solid, overseas find by the organization (see Panarin, Artemi).
He got into 50 games in his rookie season, where he recorded two goals, eight points and a plus-one while averaging 14:58 per game. This season, he has suited up in 31 of 59 games for Chicago—often a healthy scratch—but has scored a goal and seven points with a team-leading plus-13, seven better than second place on the team, Jonathan Toews.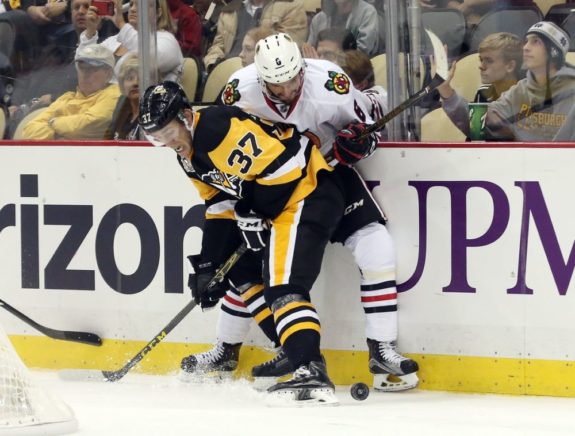 The Blackhawks certainly expected more offense, but Kempny has been a consistent, positive puck possession guy. In his first season, Kempny posted a 56.3 Corsi For percentage (CF%). In 2017-18, he's posted a 53.9 CF% on a Blackhawks team that sits at the bottom of the Central Division.
He appears more comfortable in his own end, where he willfully puts his body on the line by blocking shots and playing hard in the corners. He's the typical depth defenseman playoff-bound teams look for at the deadline; something Washington is and Chicago is not. The Capitals surrendered a third-round pick to land Kempny.
"The young guys are improving," Capitals general manager Brian MacLellan told the Washington Post. "There's maybe a little inconsistency there, but I think it's for us to balance between continuing to develop our young guys and winning. That's the trick for us."
No Need for Mike Green?
With the addition of Kempny, Capitals coach Barry Trotz can now utilize John Carlson, Matt Niskanen, Dmitry Orlov, Brooks Orpik and Kempny as a more-than-formidable top five. It allows Trotz to stabilize the young, bottom pair MacLellan referenced in Madison Bowey and Christian Djoos. Thirty-year-old Taylor Chorney has also seen time this season.
But trade speculation has linked Washington to another defenseman, Detroit's Mike Green, who spent parts of ten seasons in Washington and will likely be moved ahead of the deadline. Green isn't the strongest defensive defenseman as offense has always been the strength of his game, but he's far from useless in the defensive zone.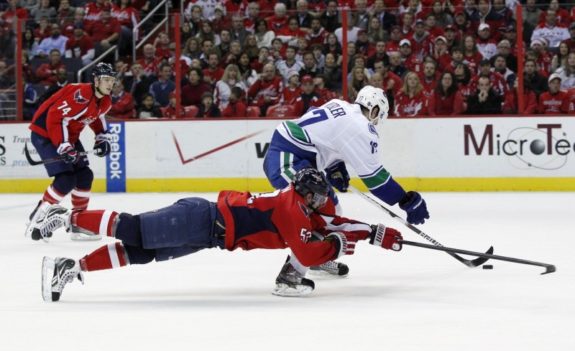 Green, 32, sits with six goals, 29 points and a minus-eight rating through 56 games while averaging 22:16 of ice time per game. The minus-eight doesn't look great on paper, nor does his 47.9 CF%, but keep in mind he's on a bottom-dwelling Red Wings team that has struggled to score goals. During his three years in Detroit, Green has shown a greater knack to play the body and block shots, as that's what his coaches have asked of him as the No. 1 defenseman.
Landing Green would further strengthen the contending Capitals' blue line, but would also eliminate the regular usage of the aforementioned kids, pending an injury or lack of use for Kempny, which they may not find ideal.
Even as a pure rental, Green won't be cheap by any means, and, for a Capitals team likely facing a closing Stanley Cup window, they may not want to pay the price. Or, they'll go all in like last season, when they landed Kevin Shattenkirk, only to lose another second-round series.