The New Year is such an exciting time. It's a fresh start where you can make all of these great resolutions to be a better person! You plan to do more by working out, eating right, and having a more positive outlook. The New Year is a chance to reignite your life!
Then Jan. 15 comes around, and the two-week journey ends for most of us. The gym seems so far away, the Girl Scout Cookies start being sold, and our favorite hockey team does something that makes us lose our positive attitude. It happens to the best of us; however, there are some who shine brighter by sticking to their New Year's Resolutions.
Related Story: Philadelphia Flyers New Year's Resolutions
There were four resolutions made for the Flyers on the eve of 2018. In order to have success and make the playoffs, they had to win at home, play with consistency, improve on the penalty kill, and play with aggression. By working a little bit each day and practicing and living on the success curve, the Flyers have been able to keep their resolutions so far.
Win at Home
In the first half of the season, the Flyers had a record of 8-7-4 at Wells Fargo Center. The goal for this season is a low-50s point total at home. To do this, they need to go 14-4-4 approximately. After a 5-2-0 January and a 1-0-2 record so far in February, the Orange and Black are right on pace to do so.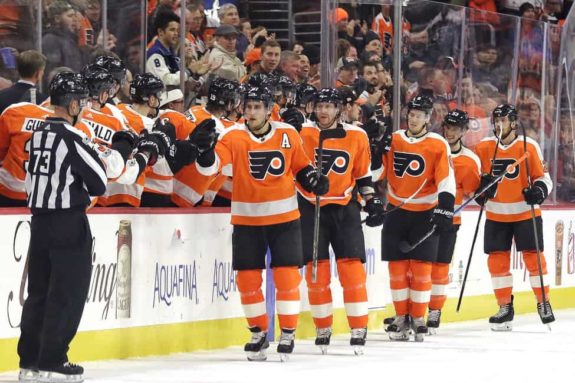 Their play at home is really what has catapulted them out of the basement and into a playoff position. At 6-2-2 at home in 2018, the Flyers have earned 14 out of a possible 20 points. If they can double that record, they will be right around that 50 points at home mark at season's end. The last two seasons where they qualified for the playoffs, they had 51 and 54 points at home.
The Flyers have 12 more home games, eight of them against Metropolitan Division rivals. Not only will the Flyers want to win because they are at home, but they will want to win to keep control of the division and solidify their playoff spot. It's expected that the Penguins and Capitals will fight for the top two spots unless the Flyers can make a move. PPG Paints Arena and Capital One Arena are both electric in the playoffs, so Philadelphia will want to avoid having to play there to start a series if possible. Winning most of their games at home will help to do so.
If you can't win at home, you can't compete. After an average 2017, the Flyers have really electrified South Philly and the Wells Fargo Center with their play.
Play With Consistency
One of the criticisms toward Dave Hakstol has been whether or not he can get this team to play consistently. He has had to shuffle the lines on a consistent basis, looking for the right combinations. Although the line changes are still a factor, it seems they have finally found some consistency in their play and it is leading to consistency winning games.
All but three games have been close in 2018. The Flyers have been dealt a few 5-1 losses, but they have just been speed bumps in an otherwise high-quality year.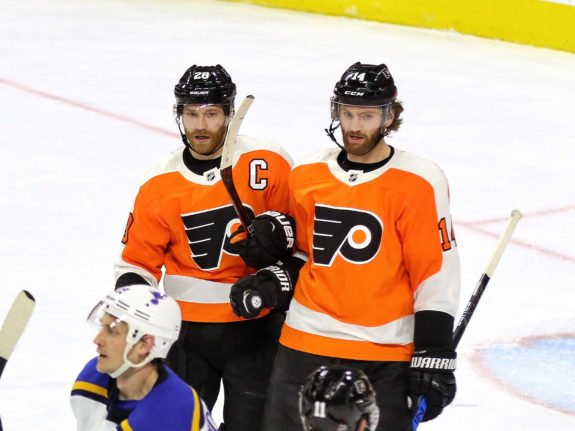 They are winning games by consistently showing up to play. It hasn't always been pretty, but they find ways to win and keep themselves in games. That's the type of consistency fans have been wanting. It is expected that players will go through hot and cold streaks as far as their points are concerned, but do they always play with a will to win and a drive to be successful? The Flyers haven't always played their best hockey in 2018, but they have been playing with energy and determination to win. It has made for exciting games and fun hockey to watch.
Their 14-5-2 record since the New Year is the third best in the NHL. They have 30 out of a possible 42 points. They are winning often, especially in close games. They have played eight overtime games in less than two months. This experience of winning the close games will be huge for the team in the playoffs.
Finally, the play of players not named Claude Giroux, Jakub Voracek, and Sean Couturier has found some consistency. Travis Konecny has locked in a top-line position and is shining brighter with every game. Nolan Patrick continues to improve every game while playing on the top lines. Although the goaltending position has been injured and is filled with question marks, each goalie has stepped up to keep the Flyers in games and deliver an occasional great game.
Consistent action of success compiles over time and grows exponentially yielding significant success. The Flyers are seeing the results of their consistent effort.
Improve on the Penalty Kill
The biggest area of struggle for the Flyers in the first part of the season was their penalty kill. Ranking 29th in the league at 76.8% in 2017, the Flyers have made a move in 2018. A combination of disciplined play and luck has leapfrogged the Flyers to….the 28th-best penalty kill in the league.
Well, the penalty kill has not been the reason for the Flyers' New Year success. Although they rose in the standings, their penalty kill rate has actually been worse so far in 2018 at 70.6% through Feb. 19. Teams are still thriving on the power play, and the Flyers are digging themselves out of holes repeatedly because of their shorthanded play.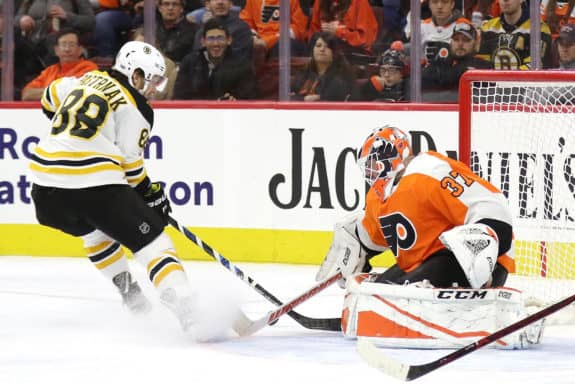 However, the path to fixing the penalty kill may simply be an uncharacteristic one. Instead of improving on the penalty kill by killing more penalties, perhaps the Flyers are trying to improve by avoiding the penalty kill altogether. One thing they have done well is play disciplined hockey. They are not committing as many penalties in 2018. So far, they have only been shorthanded 51 times in 21 games, tied for sixth-fewest since Jan. 1. They are well short of the pace they set at the start of the season when they were shorthanded 121 times in 38 games. They have gone from being shorthanded an average of 3.18 times per game to 2.42 times per game. Considering the number of one-goal games they have been a part of, one fewer power play for the opponent per game is a significant difference maker.
Play as the Aggressor 
Lastly, the Flyers have to play aggressively in 2018. The Hakstol style of play has always been one of speed and transition, but also one of adapting and adjusting. Philadelphia's success comes when they are aggressive. However, many times, we don't see them play that way until they are also desperate. In 2018, they have played with desperation sooner in games, allowing them to be more aggressive and win more games.
Their aggression is sometimes hard to see in the stats, but it is noticeable when watching the games. They play smart, fast, and without fear most of the time. In the 21 games played, they have matched or outhit their opponents 11 times and taken more shots on goal 12 times. In nine games they scored first, but they still lost three of those games. Eight of their wins in 2018 have come been come-from-behind victories. This is a sign that they sometimes get less aggressive with an early lead. It also shows that they quickly recognize they need to step up their game and turn deficits into fuel. They have been using their energy to come back into games and take them over even if they start out behind.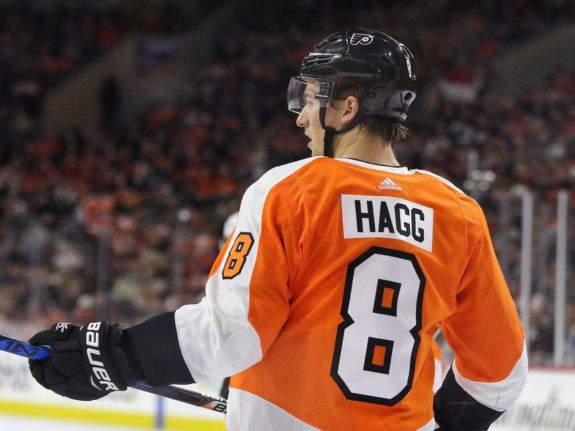 The 2018 Flyers are not the Broad Street Bullies. They have been outhit and outplayed in a few games, but they have still found ways to win. That is what the good teams do. When things aren't going their way, they find a way to win anyway.
The Flyers are winning at home and simply are playing better hockey in the New Year. If they can ride this play through the next couple months, with Petr Mrazek and Alex Lyon for the bulk of it, then who knows how far they can go in the playoffs. Congratulations, Flyers, on keeping your resolutions this long. Here's to keeping them for the entire season.