As the Vancouver Canucks season continues to flounder, there is a bright light that continues to shine at the end of the tunnel. With the team boasting its strongest prospect group in franchise history, the Canucks' future is looking extremely bright. The NCAA's leading scorer, Adam Gaudette, is continuing to illustrate the potential that is waiting in the ranks of the organization.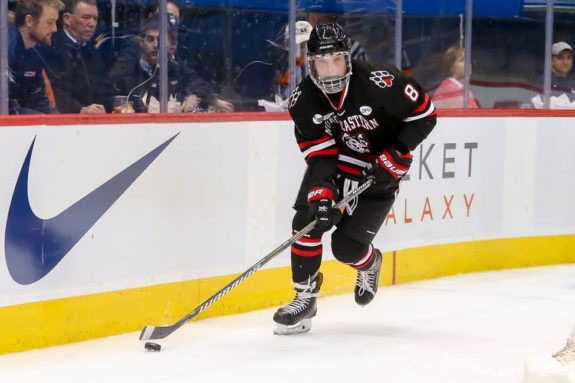 Gaudette, who is fresh off an MVP showing at Northeastern's first Beanpot Championship in 30 years, has continued to see his stock soar over the years. Already a steal from the 2015 draft class, taken in the fifth round, Gaudette's production has continued to trend upward ever since. Through his first three seasons, he watched his points per game clip soar from .73 to 1.41 to 1.59. This season, he is leading the NCAA in scoring, with an outrageous 51 points in 32 games. The top-line pivot is a legitimate candidate for the Hobey Baker award – the MVP of the NCAA.
What Does This Mean for the Canucks?
Over the last few years, not only has Gaudette made a name for himself on the college stage, but he's developed into a legitimate NHL prospect. In Craig Button's 'Top-50 Prospects List', he was ranked as the 26th best NHL-affiliated prospect. Heck, he was even a finalist for the US Olympic hockey team, but was edged out by fellow collegiate stars Jordan Greenway of Boston University, and Ryan Donato of Harvard.
It is just a matter of when the 6-foot-1, 184 pound centre suits up in the NHL and hopefully with the Canucks this season. Once the NCAA season ends, Gaudette could forego his senior season at Northeastern, and sign an entry-level contract with Vancouver — just like Brock Boeser did a year ago after his sophomore season at North Dakota.
Where Would He Fit into the Canucks Lineup?
At the moment, the Canucks are carrying a plethora of players, and currently have three forwards on the injured reserve: Sam Gagner, Brendan Gaunce and Markus Granlund.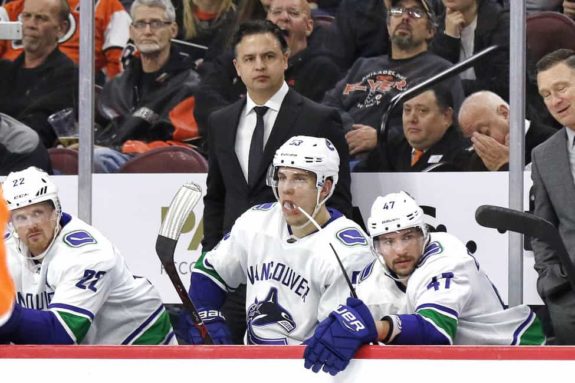 Of the three, only Gagner receives power play time, while Gaunce and Granlund are two of head coach Travis Green's favourites to play in checking and defensive situations. With only Gagner expected back in the near future, there is potential for Gaudette to fit in there, but I think some more tinkering would have to occur.
As of now, Darren Archibald and Nikolay Goldobin have been called up to fill some of the voids up front for the Canucks. The duo, as well as Reid Boucher (who is back in Utica), are all young guns who are trying to make their way on the senior squad. With that being the case, it suddenly appears that the possibility of Gaudette getting his shot this season becomes much more blurry.
Affect on Canucks' Trade Deadline Decisions?
The Canucks are expected to be sellers at this season's trade deadline. With Thomas Vanek their most notable forward asset on the market, it is believed that he will be shipped out of town, but there is still a chance that he signs an extension.
With the Sedin twins indecisive on their futures, it is tough to imagine the Canucks risking the chance of letting Vanek walk in the offseason empty-handed. They also have a few other intriguing names up front, including Sven Baertschi, who was recent healthy scratch by head coach Travis Green.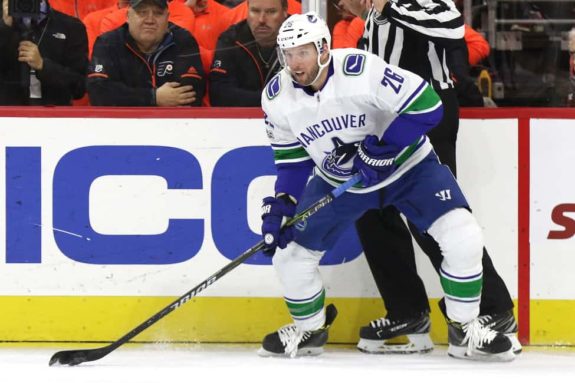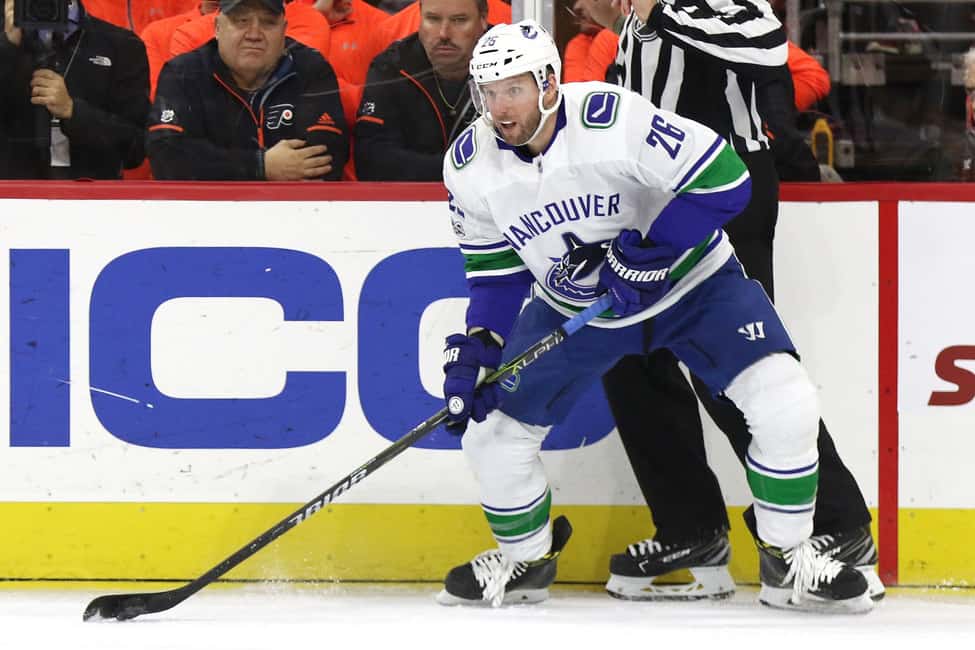 By trading Vanek, the Canucks open up a top six position and a spot on the first power play unit. If that is the case, that absolutely screams Gaudette's name, who is an extremely skilled offensive playmaker and also a right hand shot. Also, by playing Gaudette in a similar role to Vanek, he would be sheltered and not have to worry about playing a defensive game just yet. This all appears to be eerily similar to a year ago, when Boeser stepped right into the lineup after Alexandre Burrows and Jannik Hansen were shipped out of town.
The problem is, it is tough to predict when Gaudette's season will end. With Northeastern currently ranked 11th in the NCAA, they will be in the hunt as they contend for the National Title. Problem is, the Regionals and Frozen Four are well after the trade deadline, as they are March 23-25 and April 5-7 respectively. As much as fans would love to see Gaudette in a Canuck uniform this season, the Huskies would have to have an early playoff exit for that to be possible.
The Verdict
It is tough not to imagine Gaudette being in a Canuck uniform within the next year. Whether it is after the NCAA playoffs, or at training camp next season, he has played at a level that no one could have predicted three years ago. Gaudette has also made it clear that he is excited to begin his pro hockey career.
With general manager Jim Benning working the phones over the next week, he has to be considering making room to bring in Gaudette for an audition before seasons end. In a few short years, he has developed into a scoring machine, NCAA phenom, Hobey Baker frontrunner and US Olympian finalist. It is evident that Gaudette has little to prove anymore, other than on hockey's biggest stage — in the NHL with the Vancouver Canucks.