The Anaheim Ducks find themselves at somewhat of a fork in the road as the 2018 trade deadline approaches. A fringe playoff team that has disappointingly not shown meaningful improvement since mostly recovering from a plethora of early-season injuries, the Ducks likely are a step away from being able to seriously challenge for the Stanley Cup.
Nevertheless, with a veteran-laden roster, Anaheim's tight window is now. Doing nothing, as general manager Bob Murray has suggested is a strong possibility, really isn't the best course of action. Sure, the Ducks have had better teams in years past, but this one is likely one or two key improvements away from being a dangerous club in the postseason—so long as it gets there.
Murray's reluctance to deal stems from the high prices in the marketplace, but it's still too premature to close the door on the possibility of him pulling the trigger on a trade or two.
"These price tags, it's ridiculous," Murray said on Feb. 17, nine days before the deadline. "And the price tags just seem to keep going up every year. Whatever. Maybe it will get there, maybe it won't. Time will tell. There's still enough days left."
Ducks' Deadline Needs
Murray has already swung a major deal this season, acquiring center Adam Henrique, center/winger Joseph Blandisi, and a 2018 third-round draft pick from the New Jersey Devils in exchange for defenseman Sami Vatanen and a conditional draft pick on Nov. 30. The battered Ducks needed help up front and now have great depth down the middle.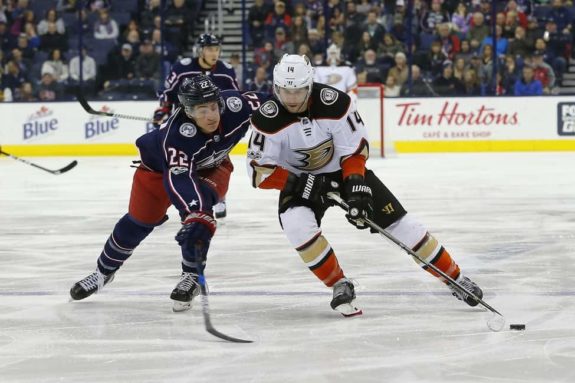 The price, though, was losing a key blueliner in Vatanen. Anaheim is left with a clear need to shore up the back end so it can rely less on veterans Kevin Bieksa and Francois Beauchemin. Another area that could use a little more offensive punch is the wing positions. Last season, Patrick Eaves was the acquisition who bolstered the Ducks' scoring on the wings. He was so effective for them (11 goals in 20 regular-season games and two in seven postseason games) that they re-signed him to a three-year deal. Sadly, he has been sidelined for essentially all of this season with Guillain-Barré syndrome, opening up that wing void once again.
For the purposes of this analysis, let's assume that by the Feb. 26 deadline, Murray will eventually become more amenable to a deal. If he does, there are several available players he could target. Here are five options.
Defensemen
Nick Holden, New York Rangers
If Murray wants to add a defender without breaking the bank, one possibility is left-handed defenseman Nick Holden of the quickly-fading New York Rangers, who have declared themselves as sellers.
Holden has played top-pairing minutes alongside Ryan McDonagh for much of the year. While both the numbers (45.73-percent Corsi at 5-on-5) and the eye test strongly suggest that this role is too much for him, Holden would make a perfectly serviceable third-pairing defenseman. He could supplant either Francois Beauchemin or Kevin Bieksa, as he has the flexibility to play on either side.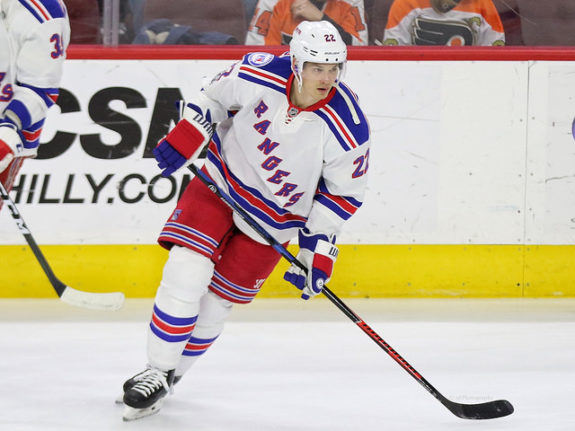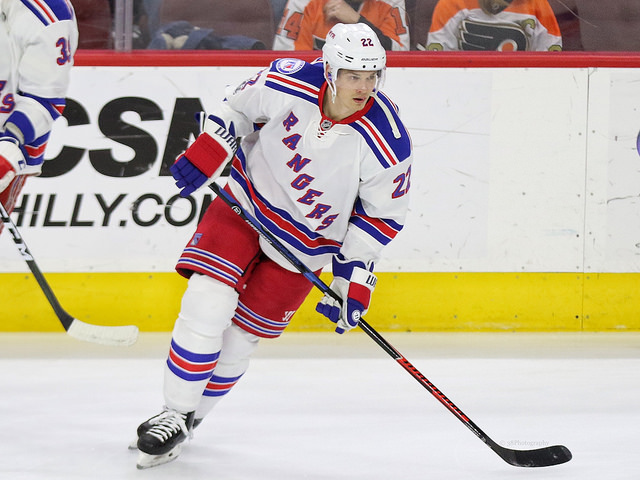 The 6-foot-4, 214-pound Holden is more of a defensive defenseman but does have some offensive ability, as evidenced by his 11 goals and 23 assists last season. This year, he only has three goals and nine assists as his shooting percentage has come crashing back down to earth (13.1 percent last year to 5.6 percent this year).
In any event, the Ducks would just be looking for his defense on the third pair. However shaky he's been for the Rangers, his effectiveness could be enhanced in a lesser role with more favorable matchups. Beyond that, the 30-year-old pending unrestricted free agent (UFA) comes with a cap hit of just $1.65 million for the year and should not cost more than a third or fourth-round draft pick.
Jack Johnson, Columbus Blue Jackets
An interesting name on the market is Columbus Blue Jackets defenseman Jack Johnson, who requested a trade in January. The 31-year-old was a bigger name a few years ago, but he still appears to have plenty left in the tank. His overall season has not been spectacular—just three goals and five assists in 59 games, plus an ugly minus-6.04 relative Corsi-for percentage (CF%) for the year during 5-on-5 play.
That said, Johnson's play of late has improved. In his last 10 games through the weekend's action, he is sporting a 5-on-5 CF% of 56.18 percent and a scoring-chances-for percentage (SCF%) of 58.03. Both marks are good for third-best among the team's defensemen over that span and ahead of star blueliners Seth Jones and Zach Werenski. Of course, those two tend to draw more ice time and difficult matchups, but nevertheless, Johnson's recent improvement can only him his standing as a solid trade target.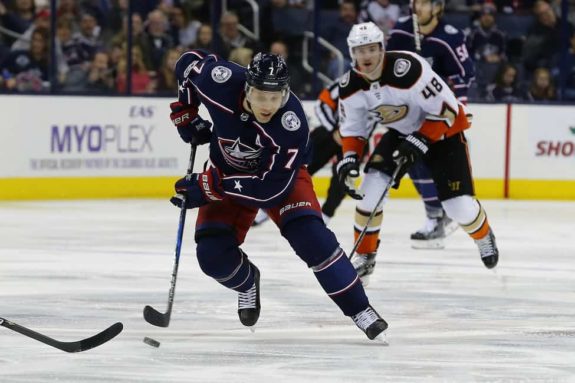 Johnson has been seeing a lot of ice time lately and feels good about his game.
"I think I've been playing well for the last while," Johnson told the Columbus Dispatch last week. "When you get more minutes, you get in more of a groove, into the flow of the game and into a rhythm, which definitely helps you."
Like Holden, Johnson might be a good addition to the Ducks' bottom defense pair. He would seemingly cost more than Holden, but it's possible that he could go for less than a first-round pick. Johnson, another pending UFA, carries an annual cap hit of $4.36 million, but the Ducks would be able to fit the prorated amount under their cap.
Wingers
Michael Grabner, New York Rangers
Looking at the wing position, the Rangers' Michael Grabner, who is certain to go as part of the Blueshirts' firesale, is a very interesting player. His elite speed and quick stick allow him to create offense for himself, as illustrated by his imbalanced offensive stat line of 25 goals and 6 assists. Grabner's unique skill set also serves him well on the penalty kill, making him a disruptive force who can create his own counterattack in the blink of an eye.
Save for a 34-goal season with the New York Islanders in 2010-11, the 30-year-old Grabner has enjoyed the best production of his career on Broadway. His 27 goals last season were buoyed by a career-best 16.7-percent shooting percentage, and prevailing wisdom pointed toward a regression to the mean this season.
Instead, that wisdom did not prevail, as Grabner's shooting percentage has actually increased to 19.1 percent this year, putting him on pace to score even more goals than last season. It's still entirely possible that reality sets in eventually for Grabner, but given that this has been going on for two years, that might not be for awhile. Any team looking to acquire him would surely love to ride this shooting percentage surge for the rest of the season and through the playoffs.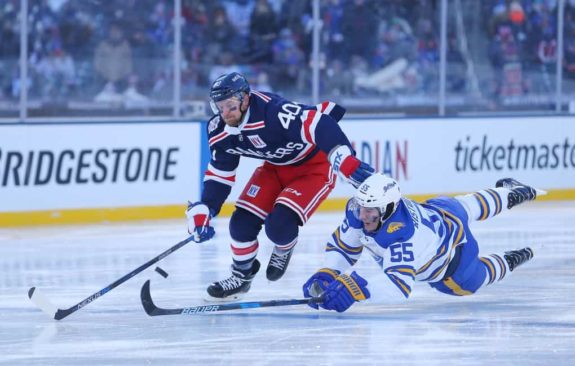 The catch, of course, is that Grabner's scoring numbers mean his price tag won't be cheap. It will probably cost a first-round pick to acquire Grabner. Murray and the Ducks might be reluctant to pay that type of price, but Grabner sure would give them a nice dynamic and some versatility in that he could play in the top six or the bottom six.
Grabner's cap hit is only $1.65 million before he hits the open market this summer, where he will undoubtedly see a raise no matter where he ends up.
Patrick Maroon, Edmonton Oilers
How about bringing back an old friend? Former Duck and pending UFA Patrick Maroon finds himself on the block in the midst of a profoundly disappointing season for his team in Edmonton. Maroon posted 27 goals last year—easily a career-high—helping the Oilers get to the second round of the playoffs before a seven-game series loss to none other than the Ducks.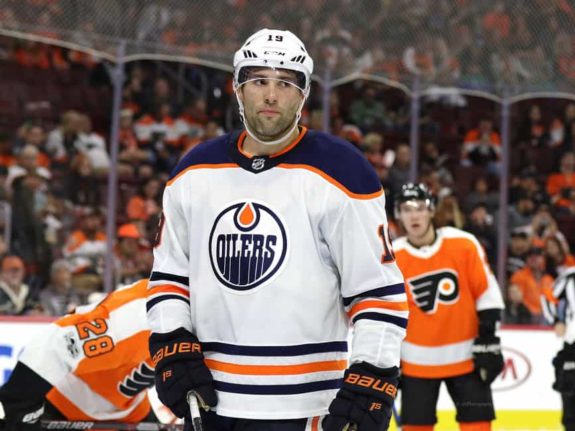 This season, as the Oilers have wilted in the face of heightened expectations, the 29-year-old Maroon has still been fairly productive, potting 14 goals and adding 16 assists through 56 games. At 6-foot-3 and 227 pounds, Maroon would give the Ducks even more size to go along with his finishing ability. His cap hit is a mere $1.5 million, though he too should see a raise in the offseason. Prior to that, however, the Ducks might be able to obtain him for the stretch run this season without giving up a first-round pick or a top prospect.
Evander Kane, Buffalo Sabres
If Murray changes his tune and decides to make a bold move at the deadline, the Sabres' Evander Kane is someone he should strongly consider. Kane is still just 26 years old even though it seems like he's been in the league forever, but that's probably because he broke into the NHL as an 18-year-old right after he was drafted fourth overall in 2009. To provide context for how much time has passed since then, the club that drafted him was the Atlanta Thrashers. Kane was a Thrasher for two seasons before they moved to Winnipeg and became the Jets.
Anyway, Kane has finally been able to stay healthy this year and is third in scoring (19 goals and 20 assists for 39 points) on a bad Sabres team. His underlying numbers are also solid, as his even 50-percent CF% at 5-on-5 places him in the upper portion of Buffalo's roster.
At 6-foot-2 and 212 pounds, the Vancouver native brings good size along with excellent speed. His combination of speed and physicality is somewhat of a rarity, so he would help the Ducks in more ways than one. Kane's versatility also extends to special teams; he has eight points on the power play as well as three shorthanded goals.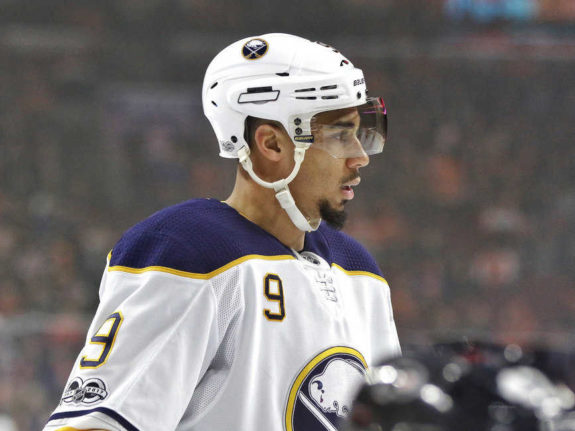 Kane does have a bit of a history of off-ice issues, but he seems to have cleaned those up over the last couple of years. Between that and his price tag that would likely feature at least a first-round pick and a strong prospect, Kane represents somewhat of a gamble. His skill set, though, could make the risk worthwhile for the Ducks. Imagine a lineup featuring Ryan Getzlaf, Rickard Rakell, Corey Perry, Adam Henrique, Ondrej Kase, Jakob Silfverberg, Ryan Kesler, and Kane. Good luck to teams trying to stop that.
Kane's salary cap hit is $5.25 million before he hits unrestricted free agency this summer. As such, and given Buffalo's cellar-dwelling position in the standings, Kane is very much on the block. He has gone cold in the scoring department since the start of 2018, but a fresh start with a good team that has something to play for might very well be the boost he needs to get back on track.
Other Available Players
Kane represents a good target only if Murray and the Ducks are willing to pay up. Other seemingly available players who would help but would be costly to acquire include left wing Rick Nash of the Rangers, defenseman Mike Green of the Detroit Red Wings, left wing Mike Hoffman of the Ottawa Senators, left wing Max Pacioretty of the Montreal Canadiens, and forward Alex Galchenyuk of the Canadiens.
The Ducks might not want to part with highly valuable assets, but even so, there are some realistic options in play who would help them down the stretch.