A few short months ago, prior to the calendar flipping to 2018, the Pittsburgh Penguins and their 'big three' — Sidney Crosby, Evgeni Malkin, and Phil Kessel — were struggling. They were on the outside of the Eastern Conference playoff picture, and, despite their absurd amount of offensive talent, they couldn't score. The Penguins' power play kept them afloat while their even-strength production faltered. It was mind-boggling to think the NHL's most potent offense and high tempo team could struggle so badly in that department.
Then they woke up.
All of a sudden, in the blink of an eye, the Penguins have launched themselves to the top of the Metropolitan division. They're 16-4-1 in 2018 and in that span, they've led the league in scoring with 84 goals. Most impressive is that 66 of those goals came at even-strength, which also leads the league since Jan. 1 and clearly indicates that their 5-on-5 production is no longer an issue. Surprisingly for some, the catalyst for this offensive outburst has been Malkin and not the usual suspect, Crosby. He's on fire right now, and, with a few pieces of hardware well within reach, it seems as if he won't be deterred.
Evgeni Malkin Leading the Way
Just how much of an impact has Malkin had on Pittsburgh's recent surge? Consider the following chart, courtesy of Sean Tierney of The Athletic, which displays players according to their ice time versus production, uncovering who may be overutilized or underutilized. Malkin, as you can see, is being used quite appropriately.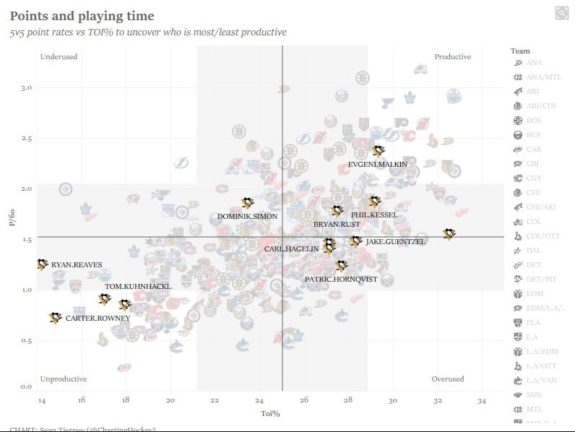 Malkin has separated himself from the pack. According to Natural Stat Trick, he's clicking at 2.38 points per hour of ice time at even-strength, which leads the Penguins among players with at least 25 games played. The closest individual to Malkin is Kessel at 1.87 points per hour, so you can see just how dominant he's been when you realize how great Phil has been this year as well. In looking at that same number beginning on Jan. 1, Malkin's points per hour soars to 3.13.
It's scary to think about his rate of scoring right now.
Related: What's Fueling Malkin's Scoring Surge? 
When a player who already boasts two Art Ross trophies, a Hart Memorial Trophy and a Conn Smythe Trophy is besting his career numbers, everyone should probably take notice. He's clicking at 1.23 points per game this season, which tops his career average of 1.18. But again, his numbers over the last 21 games — a whopping 1.62 points per game played — should terrify the rest of the league. And those numbers should also concern a few individuals who have hopes of winning their own hardware this season because Malkin is gaining ground quickly.
Ovi and Kucherov – Watch Your Back
As it stands, Nikita Kucherov is vying for his first scoring title with 77 points through 59 games played. An impressive pace, and quite the season for the 24-year old Russian winger. There was a point in which Kucherov seemed a lock for that award, but, thanks to their recent surge, a few Penguins have entered the mix. Malkin, above all others, seems quite motivated and poised to battle for the top spot. And with Kucherov's production falling off after three months of absolutely dominating the league, Malkin surpassing him isn't exactly far-fetched.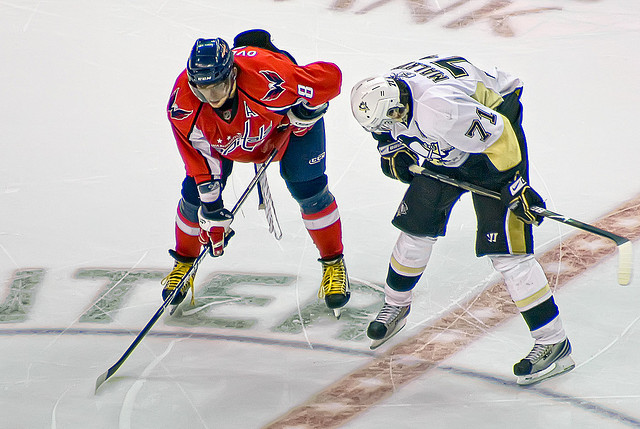 He's staring down an opportunity for his first Rocket Richard trophy, as well.
Alexander Ovechkin is clicking at roughly 0.6 goals per game this season, giving him 35 goals through 59 games played. Malkin, since Jan. 1, is averaging a hair more than 0.7 goals per game and, as of this writing, falls two goals behind Ovechkin with 33. He's also played two fewer games. At their current pace, Malkin would likely lead the league in goals at season's end but it won't be an easy task.
Ovechkin clearly isn't done, despite so many folks in the hockey world assuming he'd lost a step after a down year in 2016-17. And, keep in mind that even in a 'down year', Ovechkin still netted 33 goals. Both of these races — the battle for an Art Ross and Rocket Richard — will come down to the wire. Overtaking either Kucherov or Ovechkin is a tall task, but Malkin is seemingly superhuman right now.
Like the Penguins' bid for a third consecutive Stanley Cup, this will be quite the storyline to watch down the stretch. And honestly, who is going to bet against 'Geno' at this point in time, considering he's making a habit out of taking over games and arguably looks more motivated than any other point in his career?
He's sending quite the message to the NHL for leaving him out of the NHL's Top 100 players, huh?
Pittsburgh Penguins writer for TheHockeyWriters.Com and PittsburghHockeyNow.Com. Youth hockey coach, and student of the game.