At every NHL trade deadline, general managers of contending franchises set out to acquire the last player or two who will push their team over the edge. These buyers truly believe that the Stanley Cup is within reach – there's just one piece of the puzzle missing. So they go looking under the sofa or back in the box for that final piece.
However, only one team achieves their goal after all: winning the Stanley Cup. Their acquisitions instantly pay off regardless of the price – Stanley Cups don't come very often. It's called the greatest trophy in sports for a reason.
Starting with the 2005-06 Carolina Hurricanes, let's take a look at the major deadline deals that Stanley Cup winners pulled off. From savvy swaps to blockbusters, these trades were the final roster additions that gave their team the competitive advantage to take home the Stanley Cup.
2006 Carolina Hurricanes
Carolina acquires Mark Recchi from Pittsburgh for Krys Kolanos, Niklas Nordgren, and a 2007 second-round pick.
Having already acquired Doug Weight, Mark Recchi was the final piece to Carolina's championship roster. The cost for the nearly point-per-game veteran was certainly palatable for the Hurricanes: 26-year-old roster player Niklas Nordgren, minor-leaguer Krys Kolanos, and a second-round pick (that Pittsburgh would later trade).
Once in Carolina, Recchi only registered seven points in 20 games, but rebounded with a 16-point performance in the postseason, which tied him with Weight for sixth-best on the team.
2007 Anaheim Ducks
Anaheim acquires Brad May from Colorado for Michael Wall.
Not the most glamorous trade, but Brad May was a valued member of the Ducks upon arriving in Anaheim. "May Day" suited up for 18 of Anaheim's 21 playoff games en route to the 2007 Stanley Cup and shared his story on a recent episode of Spittin' Chiclets.
"MAY DAY MAY DAY MAY DAY MAY DAY! WINS IT IN OVERTIME!"

Brad May (@maydayhockey) joins us on today's Spittin' Chiclets

Listen: https://t.co/MtYr3LUs47 pic.twitter.com/67YMuB3ZTr

— Spittin' Chiclets (@spittinchiclets) January 12, 2018
2008 Detroit Red Wings
Detroit acquires Brad Stuart from Los Angeles for a 2008 second-round pick and a 2009 fourth-round pick.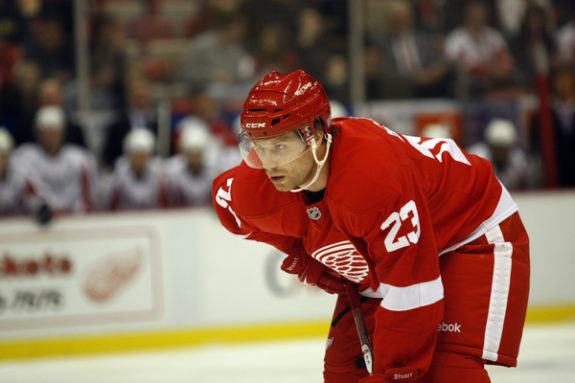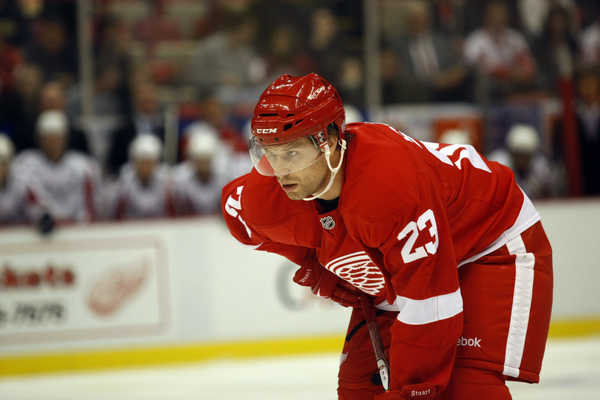 A rental at the time, Brad Stuart was brought to Detroit to solidify the team's second pairing. He and Niklas Kronwall provided coach Mike Babcock with another duo capable of matching up with top competition behind Nicklas Lidstrom and Brian Rafalski.
Stuart put up seven points that postseason and then signed a four-year extension to stay in Hockeytown. For the price that the Red Wings paid, they certainly came out as the winner of their trade with Los Angeles given Stuart's contributions from 2008 to 2012.
2009 Pittsburgh Penguins
Pittsburgh acquires Bill Guerin from the New York Islanders for a conditional 2009 third-round pick.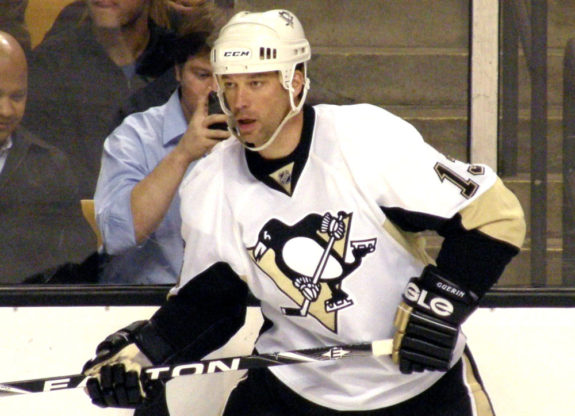 After putting up a decent campaign with the Islanders, Bill Guerin was shipped to the Penguins at the trade deadline for a third-round pick. That pick—goaltender Mike Lee—never panned out. Guerin did, though.
In Pittsburgh, the veteran exploded for 12 points in the final 17 games of the 2008-09 regular season. Guerin continued his torrid pace in the postseason, racking up 15 points in 24 games – trailing only Sidney Crosby and Evgeni Malkin. Guerin's contributions helped the Penguins avenge the previous year's loss to the Red Wings in the Stanley Cup Final with a championship of their own.
2010 Chicago Blackhawks
Chicago acquires Nick Boynton from Anaheim for future considerations.
Having already acquired Kim Johnsson and Nick Leddy the month before, the addition of Nick Boynton was purely for depth purposes. The veteran ended up appearing in three postseason games that year, so the trade did have some impact on the Blackhawks.
2011 Boston Bruins
Multiple Trades
In the month leading up to the 2011 NHL Trade Deadline, Bruins general manager Peter Chiarelli had his hands full. In five separate trades, Chiarelli added the depth pieces needed to bring the Stanley Cup back to Boston.
| | |
| --- | --- |
| To Boston | From Boston |
| Chris Kelly (OTT) | 2011 second-round pick (OTT) |
| Rich Peverley (ATL) | Blake Wheeler (ATL) |
| Boris Valabik (ATL) | Mark Stuart (ATL) |
| Tomas Kaberle (TOR) | Joe Colborne (TOR) |
| Stephanie Chaput (ANA) | 2011 1st round pick (TOR) |
| David Laliberte (ANA) | 2012 2nd round pick (TOR) |
| Anton Khudobin (MIN) | Brian McGrattan (ANA) |
| | Sean Zimmerman (ANA) |
| | Jeff Penner (MIN) |
| | Rights to Mikko Lehtonen (MIN) |
In all, 17 assets were exchanged in the couple weeks leading up to the trade deadline. Kelly, Peverley, and Kaberle each appeared in all 25 playoff games that season and combined for 36 points.
2012 Los Angeles Kings
Los Angeles acquires Jeff Carter from the Columbus Blue Jackets for Jack Johnson and a 2012 first-round pick.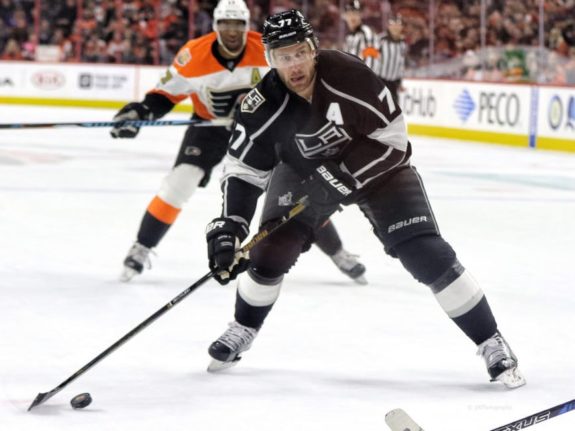 Just before the 2012 trade deadline, the Los Angeles Kings reeled in Jeff Carter to provide secondary scoring. Upon arriving in Los Angeles, Carter teamed up with former Philadelphia Flyers teammate Mike Richards to give the Kings a powerful second line.
Carter finally found a home in Los Angeles. Prior to that, in November 2010, he signed an 11-year extension with the Flyers but was dealt to Columbus before the deal kicked in. Before he could spend a full year in Columbus, the Blue Jackets moved Carter to Los Angeles – and the rest is history.
Since the trade, Carter has won two Stanley Cups with the Kings and recorded 285 points in 383 games. In the postseason, the center has been able to step his game up even more, having produced 53 points in 69 playoff contests.
2013 Chicago Blackhawks
Chicago acquires Michal Handzus from San Jose for a 2013 fourth-round pick.
During the lockout-shortened 2012-13 season, the Chicago Blackhawks could not be stopped. The team only lost seven games in regulation throughout their 48-game schedule, including a 21-0-3 start to the campaign. Clearly, they did not need a bid addition at the trade deadline, just a little depth. They got just that in Michal Handzus.
The veteran center immediately stepped into Chicago's second-line center role behind Jonathan Toews and ahead of Dave Bolland and Marcus Kruger. In the playoffs, Handzus ranked fifth among forwards with 11 points in 23 games.
2014 Los Angeles Kings
Los Angeles acquires Marian Gaborik from Columbus for Matt Frattin, a 2015 second-round pick, and a conditional 2014 third-round pick.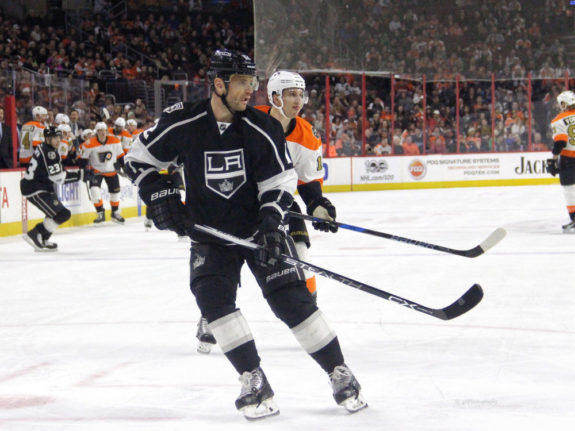 Prior to their 2014 Stanley Cup run, Kings general manager Dean Lombardi hit on another blockbuster with the Columbus Blue Jackets. After coming over to Los Angeles, Gaborik produced 22 points (14 goals) in 26 postseason games and helped the Kings bring home their second championship in three years.
Though he's no longer with the organization, the price paid by Los Angeles was certainly tolerable considering their reward. Additionally, none of the assets traded to Columbus panned out – Frattin was soon traded to the Maple Leafs and the two drafts picks were also dealt.
2015 Chicago Blackhawks
Chicago acquires Andrew Desjardins from San Jose for Ben Smith and a conditional 2017 seventh-round pick.
Since Chicago had already acquired Antoine Vermette and Kimmo Timonen shortly before, the move to bring in Andrew Desjardins fell under the radar a bit. However, the grinder would become an integral part of the Blackhawks' fourth line and appear in all but two playoff games that year.
Like Kruger, John Madden, Adam Burish, Ben Eager, Viktor Stalberg, and Andrew Shaw before, Desjardins' role as a grinding, depth player helped the Blackhawks capture their third Stanley Cup in six years. Even small trades have the ability to pay off big down the road.
2016 Pittsburgh Penguins
Pittsburgh acquires Justin Schultz from the Edmonton Oilers for a 2016 third-round pick.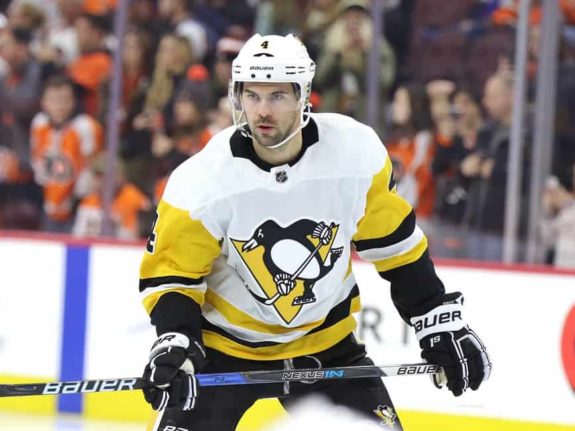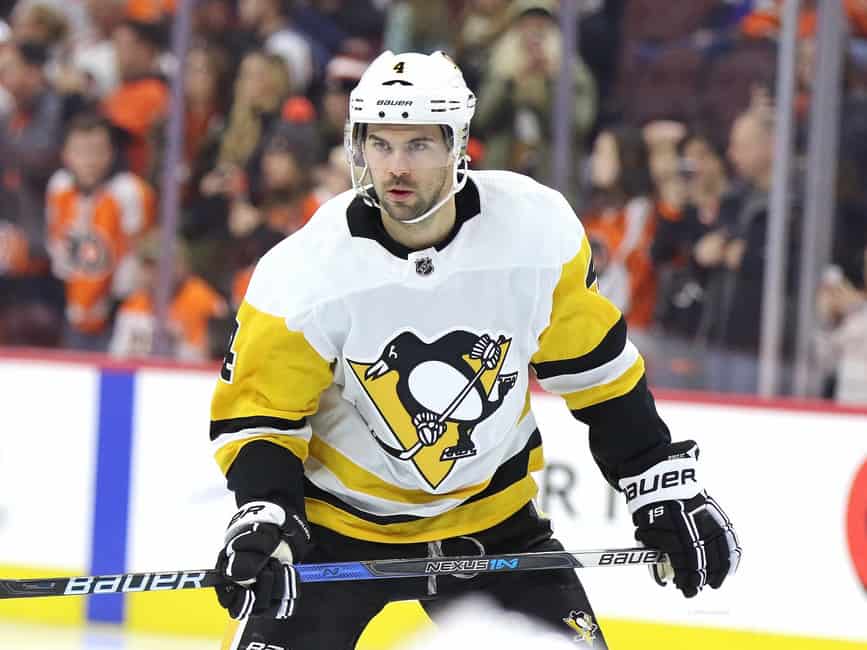 Penguins GM Jim Rutherford was pretty busy leading up to the 2016 trade deadline. After acquiring Carl Hagelin and Trevor Daley to bolster their team speed, Rutherford added some offense for his blue line in Justin Schultz. After three-and-a-half underwhelming seasons in Edmonton, the former college free agent got a breath of fresh air in Pittsburgh.
Though he only appeared in 15 of the team's 24 playoff games en route to the 2016 Stanley Cup, Schultz provided an offensive punch when in the lineup. He'd have an even larger impact the next season with Kris Letang missing half of the 2016-17 campaign and the entire postseason.
2017 Pittsburgh Penguins
Pittsburgh acquires Mark Streit from the Tampa Bay Lightning for a 2018 fourth-round pick.
After dealing for Ron Hainsey, Rutherford doubled down and brought in Mark Streit for additional defensive depth. Streit's acquisition was absolutely necessary considering the injuries that Pittsburgh's blue line had suffered, and he helped the team finish the regular season strong.
In the playoffs, Streit only appeared in three games but recorded two assists in that time. His contributions paid off – Streit now has his name on the Stanley Cup.
Which Stanley Cup-winning trade deadline acquisition was the best? Comment below with your pick.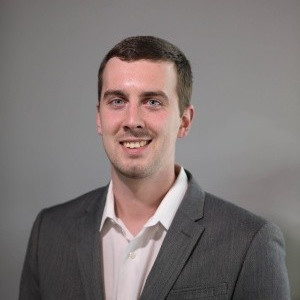 Tony Wolak is based in the Washington D.C. area and covers the Detroit Red Wings for THW. As a former junior and college hockey player, Tony has a unique perspective on Red Wings topics.