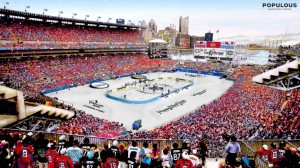 Lindsay Applebaum at the Washington Post says this is the official NHL rendering of the Winter Classic at Heinz Field that will be released later today.
Unless this photo passed through the Post's red-filter before appearing on the site, it's apparent the artist is anticipating 50,000 of the 65,000 in Heinz Field to be sporting red No. 8 Ovechkin jerseys.
____________________
The Pittsburgh Penguins announced on Monday that Bill Guerin has officially retired.  Despite stints with the New Jersey Devils, Edmonton Oilers, Boston Bruins, Dallas Stars, St. Louis Blues, San Jose Sharks and New York Islanders, Guerin is retiring as a Pittsburgh Penguin:
"We were only here a short time but my family and I developed such a deep connection to the city, the team and the fans," Guerin said. "It was amazing. From ownership and Ray Shero to the coaching staff and trainers, from my teammates to the arena workers to the people in the stands, they all treated us in such a first-class manner. It was an extremely positive experience. We all agree that retiring as a Pittsburgh Penguin is the perfect thing to do."
When Guerin visited Pittsburgh in October, I saw him almost skipping through the bowels of the Consol Energy Center high-fiving and hugging arena staff, scouts, ushers, and players.  He spoke candidly about being reinvigorated after being traded to Pittsburgh, and the standing ovation he received later that night by fans likely made the decision to retire as a Penguin a very easy one.
Guerin scored 81 points in 130 games wearing the Penguins uniform and he'll be honored in a special ceremony prior to tonight's game vs. New Jersey.  He had a lengthy conversation at Madison Square Garden with GM Ray Shero a couple weeks ago and it's still unknown at this time if, or in what capacity, Guerin will join the team's front office.
____________________
In a survey conducted by the Sports Business Journal, the CONSOL Energy Center was named the "Best NHL Arena":
"We are honored that the Sports Business Journal and its readers think so highly of CONSOL Energy Center," said David Morehouse, CEO and President of the Penguins. "It's been an exciting first few months – not only because of the great hockey, but also because of all the other events we've been able to host – and now we look forward to maintaining that standard and doing even better to make this the premier sports and entertainment destination in the Pittsburgh region."
____________________
Evgeni Malkin was nowhere to be found on Saturday night when the Penguins routed the Columbus Blue Jackets 7-2, but Sean Leahy at Yahoo! Sports Puck Daddy uncovered this Flip Video ad of 'Geno' in his office:
____________________
Vanity Fair also released their Q&A with Sidney Crosby today.  For hockey fans who have listened to hundreds upon thousands of Crosby interviews, the answers were pretty standard.  He does talk about moving into his new house and compares the physicality of football to hockey:
I used to always wonder which was the more physically grueling sport—football or hockey.

That's a good debate. In football, every play, play after play, there's that physicality. Football players only play once a week, so they must really need to rest. That does kind of tell you how physical the sport is. But in hockey, you have the boards. I just couldn't say which is more physical.
You can read the full transcript of the interview on VanityFair.com.
____________________
The official 2010 Winter Classic commercial featuring a showdown between Crosby and Alex Ovechkin debuted last night on NBC during the Pittsburgh Steelers and Baltimore Ravens game: