By Craig Phelps
It is no secret in St. Louis that the Blues are struggling right now. With injuries to David Perron, T.J. Oshie and now Andy McDonald, things are not looking too bright for the blue notes. The Blues second-five game losing streak of the season had them hungry for a win as they faced the Vancouver Canucks at the home of Eric Brewer and Barret Jackman. The odds seemed to be against St. Louis though.
The Blues had two-separate five-game losing streaks last year, but those were two games apart. This year, only a three-game span separates the two streaks. The last time the Blues had a similar streak through their first 23 games of the season was back in 2005. The stretch lasted from Oct. 20 to Nov. 12.
Alex Steen and the St. Louis Blues seemed to be sick and tired of the negative stats on Sunday night, and they took their frustration out on the Canucks in a 3-2 victory.
Steen scored his sixth and seventh goals of the season, including the game-winning goal, and he also had his ninth assist on the yearl. Steen's eighth-career triple-point game is his first in 30 games, dating back to March 30 of last season when he had two goals and an assist in a victory over the Chicago Blackhawks.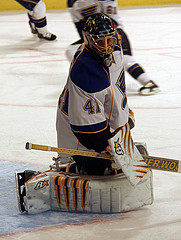 There may have been one performance that was better than Alex Steen's show-stopper night for the St. Louis Blues. The Blues 22nd-worst penalty-kill squad put a plug in the Canucks' No. 1 ranked power play. Neither team could stay out of the box with 30 penalty minutes being handed out in the game, 15 for each team on 6 penalties apiece. The Blues 26th-ranked power play was also held scoreless in the game.
Pat Berglund hooked up with Matt D'Agostini on the Blues first goal. D'Agostini also had a shot from Eric Brewer graze off of his skate and stick that found the back of the net. Steen also had an assist on the goal that put the Blues up 2-1. After Kevin Bieksa found the net off of a Daniel Sedin pass for the Canucks to tie the game up at two all, it was time for Steen to shine again. Jay McClement lost a face off in front of the Canucks' net, but Steen found the puck and shot it in for an unassisted game-winning goal.
The St. Louis Blues advance to 13-9-4 off of the 3-2 victory over the Canucks. The Blues take on the Columbus Blue Jackets on Thursday night at the Scottrade Center.
Sports Director at 89.9 WLCA.
Sports Reporter.
TheLCBridge.com
Fox Sports utility and cameraman.
Sports Journalism student.
St. Louis Cardinals, Rams, Blues, and SIU Salukis.
www.twitter.com/Craig_Phelps