In the mid 2000's, Blackhawks fans were mostly non-existent, and it was nearly impossible to get over a few thousand people to come to a game. The few fans that were loyal to the team were just looking for a sliver of hope.
Now, after nine straight postseason appearances, which included three cups in six years and five western conference final appearances, fans are spoiled. The new generation of fans doesn't know what it's like to watch a losing Blackhawks team, and the older generation of fans seemingly hoped they'd never have to feel what they felt in the early 2000's again.
While this is nothing like the early 2000's, it's certainly something new, something that many are overreacting to. Some fan base's would kill for even this current Blackhawks team. Regardless of the longevity of the fan, they're all asking the same questions: When are the Blackhawks going to get back into contention? How is Blackhawks GM Stan Bowman going to "fix" the team this offseason? Will it be Bowman and Coach Quenneville doing it, or will someone new come in?
Obviously, there are literally hundreds of different routes that could be taken this offseason when it comes to the future of the Chicago Blackhawks. Below is a five step plan that could bring the team back to contention as soon as next season:
1. Trading Marian Hossa's Contract
Navigating a contract of a player who is on long-term injured reserve is one of the trickiest things a NHL GM could have to do in his career. The Blackhawks placed Hossa on LTIR in Oct. 2017 when it was reported that Hossa had a skin condition that could end his career.
Hossa will likely ride out the remainder of his contract on LTIR like several other players have done, meaning that Blackhawks GM Stan Bowman will have to navigate the LTIR salary cap mess for a total of four more seasons, including this one.
In 2010, Hossa signed a 12-year $63.3 million contract with the Blackhawks that included a no movement clause all the way through. The contract expires after the 2020-21 season, meaning the Blackhawks still have him for three more seasons after this one at $5.275 million against the cap.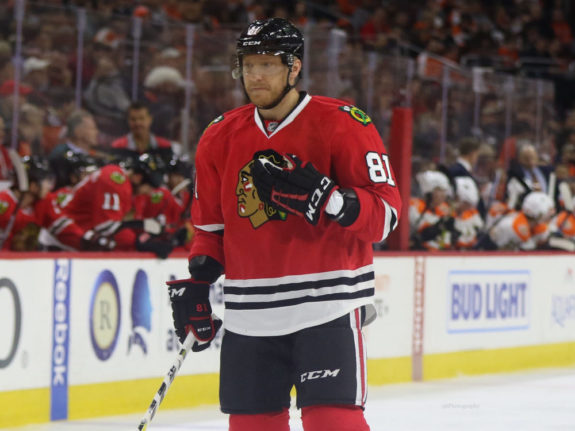 Buying him out doesn't make sense because he would have a $4.61 million cap hit through the 2020-21 season and then a $333,333 cap hit through the 2023-24 season. So, the easiest way out of this salary cap mess would be to trade his contract.
Hossa has a NMC, but he likely knows the situation that the Blackhawks are in because of his condition, and would waive. It's not like he would be playing for the new team, he wouldn't even have to relocate in theory.
But who would take on three more years of a deal that includes $5.275 million cap hit, unless the player is placed on LTIR, which then forces the GM to adhere to the LTIR policies?
Well, teams have taken on similar contracts before.
David Clarkson
The David Clarkson situation is similar to the Hossa situation in the fact that Clarkson can never play again, he had three years left on his deal at the time of the trade, and his cap hit was $5.25 million.
In June of 2017, the Vegas Golden Knights acquired David Clarkson's contract, a 2017 first-round pick, and a 2019 second-round pick from the Columbus Blue Jackets in exchange for expansion draft considerations. The consideration was that Vegas would select William Karlsson in the expansion draft.
Chris Pronger
Chris Pronger hasn't played a game since 2011 when an injury to his eye effectively ended his career. In 2015, the Flyers moved Chris Pronger and Nicklas Grossman to the Arizona Coyotes in exchange for Sam Gagner and a conditional draft pick (either third or fourth-round).
At the time, Pronger would cost $4.9 million against the salary cap for another two seasons. Note that Nicklas Grossman would cost $3.5 million against the salary cap through the end of the 2015-16 season.
Sam Gagner counted for $4.8 million against the salary cap for the 2015-16 season, and then his contract expired.
Looking at a Potential Hossa Trade
Going into the 2018 offseason, there will be two teams with enough cap space to make a deal like this worth it. The Arizona Coyotes ($16.2 million) and Carolina Hurricanes ($15.8 million). While the Coyotes are out of contention, things are trending upwards in Carolina. Therefore, the Hurricanes likely wouldn't take on the Hossa contract unless they got something else out of it and had to give up very little.
That makes the Arizona Coyotes the only realistic landing spot for Hossa's contract, and Coyotes GM John Chayka probably knows this too, meaning he can set the price. If this deal is anything like the Clarkson and Pronger deals, draft picks will be thrown in to sweeten the pot. The return then will be a contract that the other team wants to get rid of.
After looking at the Coyotes salary cap situation, two potential deals make sense.
Deal 1
To Arizona: Marian Hossa, 2018 third-round pick (from Washington), & 2018 fourth-round pick (From Nashville)
To Chicago: Dave Bolland
Dave Bolland has been on IR since 2015, the Blackhawks could easily place him on LTIR. He has one season left on his deal and would cost $5.5 million against the salary cap. While this deal would require the Blackhawks to circumvent the LTIR situation for one more season, that's still two seasons less than they would have to do it for Hossa.
Arizona has the cap space, so it's not like this would be much of a burden for them. In return for taking on two more years of this deal, they would get another third and fourth-round pick. The Blackhawks would still have a third-round pick in the draft, but they would pick zero times in the fourth round.
Deal 2
To Arizona: Marian Hossa, Erik Gustafsson, 2018 third-round pick (from Washington), 2019 seventh-round pick (from Anaheim).
To Chicago: Jason Demers
This trade would actually improve both teams. The Blackhawks would shed Marian Hossa's salary and financial commitment and in return get a veteran defenseman to stabilize their blue line. Demers is playing in his 10th NHL season and is nearing 600 games played. Erik Gustafsson isn't too huge of a loss to swallow, and they would still have a third-round pick in 2018 and a seventh-round pick in 2019.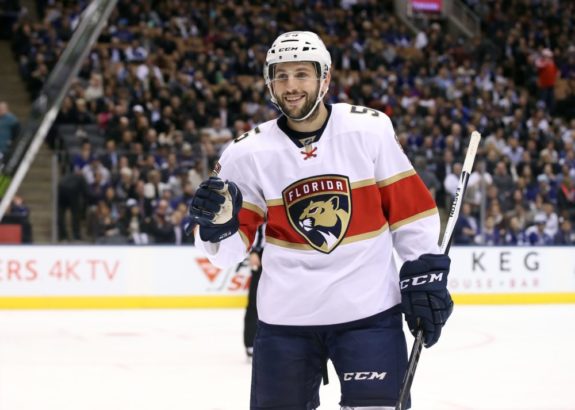 The Blackhawks did re-sign Gustafsson to a two-year deal on March 6th, but maybe GM Stan Bowman decides that his cap hit of $1.2 million per season was too high. Maybe he decides that moving Gustafsson to move Hossa's contract is worth it. I mean, he has included young players such as Phillip Danault and Teuvo Teravainen in trades previously. Carl Dalhstrom, or maybe even Gustav Forsling, could be substituted for Gustafsson, although Gustafsson has more NHL experience.
While taking on the Hossa contract, the Coyotes would be getting a solid and young defenseman who still has room to grow. The two draft picks would, at the least, improve their organizational depth.
2. Trading Brent Seabrook
Let me start out by saying, this is incredibly unlikely. But if Stan Bowman can find a partner, he needs to dance. While it might hurt, and while he means so much to the organization, it has to be done.
Seabrook's eight-year $55 million contract that carries a $6.875 million cap hit is just too much. He is slowing down, and the Blackhawks already have plenty of veteran leadership. While he is useful in sheltered minutes and as a third pairing defenseman, this contract will limit the Blackhawks thoroughly over the next six seasons.
But, who would take on such a deal? What would it take to get rid of him? Note that Seabrook has a no movement clause, so all of this depends on if he is willing to move. Realistically the only way to move Seabrook will be to give up a lot of attractive pieces along with him, and/or take a big contract back in return.
Seabrook's home town is Vancouver, so that seems like the team he would be most likely to waive for. What could a potential deal look like?
Deal 1
To Vancouver: Brent Seabrook, the rights to Maxim Shalunov, and a second-round pick in 2019.
To Chicago: Brandon Sutter
This is a pretty fair deal for both sides. While the Canucks are taking on the atrocious contract of Seabrook, they are getting a veteran leader who is a proven winner and may be rejuvenated playing for his home town.
Shalunov is a forward in the KHL with loads of potential, but he is at least three years away from the NHL. Draft picks are never a sure thing, but a second-round pick has some potential, and a higher pick like that would be thrown in as an added courtesy to the Canucks taking on what Seabrook's contract entails.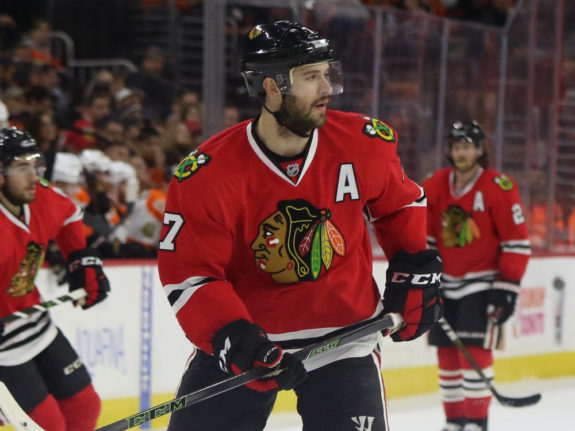 The Blackhawks are doing a few things with this return. For one, they are shedding some salary. Sutter makes $4.375 million through the 2020-21 season. The Blackhawks would be saving $2.5 million per year, and Sutter's contract expires a full three seasons before Seabrook's does.
Sutter is a 29-year-old 6-foot-3 center, so he would give the Blackhawks some much needed depth and size down the middle. He has a career face-off percentage of 49.6%, and while that's not as high as they would like, it still makes him a reliable option in the dot.
Deal 2
Let's say the Canucks don't want to move on from Sutter. What else could the team work out?
To Vancouver: Brent Seabrook, the rights to Maxim Shalunov, and a first-round pick in 2018 (from Nashville)
To Chicago: Chris Tanev
You may notice that I switched up two things: second-round pick to a first-round pick, and Brandon Sutter to Chris Tanev. Tanev would fill more of a need for the Blackhawks and he is a better player, the Canucks know this. It's highly doubtful that they would take on Seabrook and give up Tanev unless a first round pick was coming their way as well.
Other than that, it's basicaly a substitution of Tanev for Sutter. While the Blackhawks are hurting up the middle, so are the Canucks, which is why they might not want to move on from Sutter. But, they currently have five defenseman other than Tanev on their roster who have NHL contracts for next season, so it's not like losing him harms them in a major way. Seabrook would be the sixth.
But what would Tanev bring to Chicago?
For one, Tanev would bring some salary cap relief. He is signed through the 2019-20 season, a full four seasons less than Seabrook. He would bring cap relief as well, his cap hit is $4.45 million annually compared to the $6.875 million that Seabrook costs against the cap.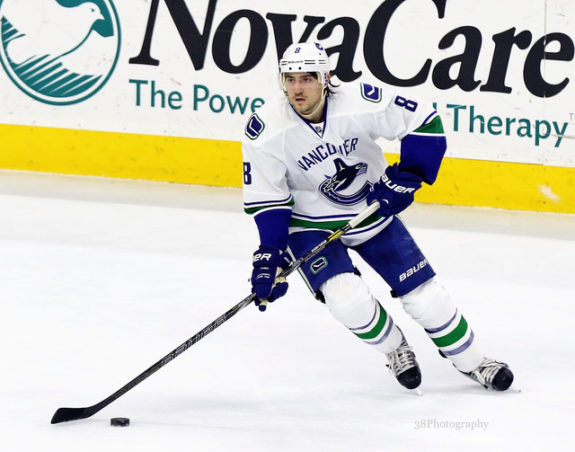 Tanev is an inch shorter than Seabrook, and he is also four years younger. The Blackhawks have a glaring hole in their defense, especially in their top four, and Tanev would slot in there nicely. He has eight years of NHL playing experience, as well as three years of NHL playoff experience. He has 86 points in his 386 career NHL regular season games, with a 6.5% career shooting percentage.
Is this slightly a bit over an overpay on Chicago's side? That's debatable. But when it comes to getting rid of Brent Seabrook's contract, it might just be worth it. Note that Tanev has a modified no-trade clause, meaning he can submit a list of eight teams he does not want to be traded to.
3. Define Anisimov's Role, or Trade Him
Anyone who watches the Blackhawks on a consistent basis knows that Artem Anisimov only seems to have success with Patrick Kane. He needs skilled wingers to do most of the "work" per say, while he gets to the net and causes havoc. When he is moved to the third line, or even the fourth line, he seems to disappear.
Nick Schmaltz is the Blackhawks "second line" center of the future, he and Kane should be playing with each other for years to come. Anisimov should not be bumping Nick Schmaltz down in the lineup.
If the Blackhawks want to get back into contention and make a playoff run anytime soon, Artem Anisimov is your ideal third line center. If he plays "like himself." The Blackhawks either need to define his role as a third line center and try to recreate what he can do on the second line, or they need to trade him.
When discussing a potential Brent Seabrook trade, I discussed that the Blackhawks could target Brandon Sutter to be a bottom six center, likely on the fourth line. You might ask, wouldn't it just make sense to keep Anisimov over him instead? There's an argument to both sides. But why would a trade make sense?
For one, trading Anisimov and bringing in Sutter would provide minuscule cap relief. Anisimov will count for $4.55 million against the salary cap through the 2020-21 season. Trading him would relieve the Blackhawks of a decent amount of salary for the next three seasons. Sutter is signed through the same season, but at $4.375 million against the salary cap. The $175,000 in savings doesn't seem like much; but, on a team that has been as cap strapped as the Blackhawks, any relief is a big deal.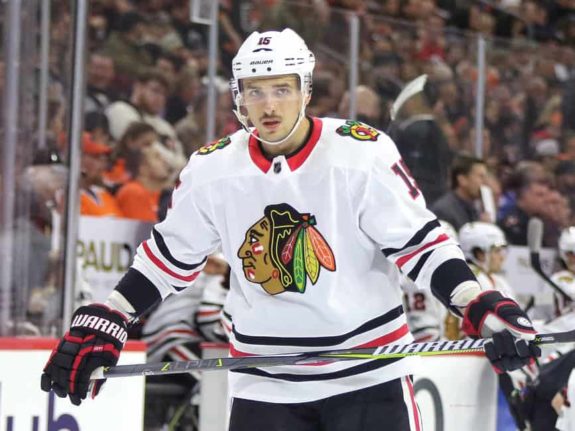 Sutter likely would fit well in the role the team would need him to play, a chippy bottom six center. If David Kampf takes a nice step, or the Blackhawks signed a free agent third line center, they could look like this down the middle: Toews, Schmaltz, Kampf/FA, Sutter. Not great, but not horrible either. Who knows, maybe Sikura or Hayden get a look in the middle. Regardless, the team would still have options
Lastly, if the Sutter deal was to take place along with Anisimov, the Blackhawks would essentially be replacing Seabrook AND Anisimov with Sutter, Anisimov's return, and a decent amount of cap space. The key thing here is that Anisimov seems to only have success with Kane, whereas Sutter would succeed in the bottom six.
But, what would an Anisimov trade look like? What could he reasonably net in return? Keep in mind that starting in July he will have a modified-NTC.
Potential Return
The return the Blackhawks could get for Anisimov would really depend on how much value he had to the team trying to acquire him. Would he be their second line center, third line center, or even fourth line center? Whether or not the Blackhawks are willing to retain any of his salary would also have implications on the deal. If they do look to move him, expect them to retain little or none of his $4.55 million cap hit.
If the Blackhawks wanted to do a one for one trade, they likely would go after a player who could be a second pairing defenseman or a third line center. You could see them go after a prospect and a few picks, or a multitude of picks.
A potential Anisimov deal is so hard to predict because it is highly dependent on how the team values Anisimov and what role he will play. Because of this, let's just look at some potential trade partners, rather than any specific trades.
Columbus Blue Jackets.
FWIW, Mark Lazerus of the Chicago Sun Times reported that  the Columbus Blue Jackets were interested in Anisimov at the recent 2018 trade deadline. He reported that the Blue Jackets only offered up a third-round pick, and they wanted the Blackhawks to retain half of his salary. It's easy to see why that deal went nowhere. Remember that Anisimov was originally traded from the Blue Jackets to the Blackhawks in 2015.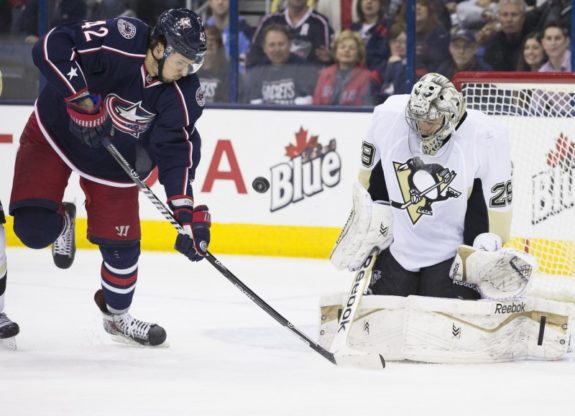 Maybe the Blue Jackets were just looking to low-ball the Blackhawks at the deadline, and they are open to a more realistic trade over the off-season. They have a plethora of NHL ready defenseman, something the Blackhawks need, so why not start there.
As far as who they might target, defensemen like Ryan Murray, Scott Harrington, and Markus Nutivaara would all really benefit the future of the Blackhawks organization. Murray and Nutivaara are both restricted free agents at the end of the season, while Harrington becomes a restricted free agent at the end of next season.
Philadelphia Flyers
The Philadelphia Flyers are another team that's intriguing as far as an Anisimov trade goes. Valtteri Fippula will be an unrestricted free agent at the end of the season, maybe the Flyers see Anisimov as his upgrade. If they think they have a decent shot at contending next year too, this is a move that could be made.
This is a trade I could see the Blackhawks calling the Flyers about first though, as they have a few prospects the Blackhawks might be interested in. Samuel Morin, a 6-foot-7 defenseman, and Travis Sanheim, a 6-foot-4 defenseman. Neither of these players could necessarily step in and be a difference maker right away, but they are both worth taking a shot on because of their size, if nothing else.
Who knows, maybe the Blackhawks shock the hockey world and go after a Wayne Simmonds type. They do need more of what he brings, and he's affordable.
4. Take Advantage of NHL Draft Day
In 10 years, Blackhawks fans could be looking back on the 2018 NHL Draft the same way we look back on both the 2006 and 2007 NHL Drafts. The Blackhawks will be in the draft lottery for the first time since the 2008 NHL Draft, and they'll have an additional pick much later in the first round as well. The 2018 NHL Draft is also a very deep draft.
It's looking that the Blackhawks first pick will likely fall around the eighth or ninth pick, although they have a combined 18% chance to land in the top three. Tankathon  puts together a nice chart of each team's draft odds as well as a mock draft.
For the sake of argument, let's say the Blackhawks don't luck out in the lottery, and they end up with the eight pick. Nashville is looking like a strong team this year, so let's assume their pick (that was traded to the Blackhawks) is between 28 and 31.
How could the Blackhawks go about using these picks? What is the value of a first round pick on draft day?
Value of a Draft Pick
On NHL draft day, plenty of draft picks are moved to allow teams to change their draft position. Look at a few examples from recent draft years:
2017: The Philadelphia Flyers acquired pick 35 (second-round) from the Arizona Coyotes in exchange for pick 44 (second-round), pick 75 (third-round), and pick 108 (fourth-round). To move up 11 spaces in the second round, it cost Philadelphia three picks.
2017: The Chicago Blackhawks acquired pick 29 (first-round) and pick 70 (third-round) from the Dallas Stars in exchange for pick 26 (first-round). It cost Dallas two picks to move up three spots.
2016: The Ottawa Senators acquired pick 11 (first-round) from the New Jersey Devils in exchange for pick 12 (first-round) and pick 80 (third-round). It cost New Jersey two picks to move up one spot.
In 2007, the St. Louis Blues offered the Chicago Blackhawks an incredible package for the first overall pick. Picks nine, 24, and 26. Alas, three first round picks wasn't enough to move up to the number one pick. Blackhawks history would be drastically different if that trade was made, that's the pick that was used to select Patrick Kane.
The Blues also drafted Erik Johnson over Jonathan Toews. How would hockey history look if the St. Louis Blues had Toews and Kane instead of the Blackhawks?
Options
The Blackhawks have an unbelievable amount of options at the 2018 NHL draft thanks to the second first round pick that GM Stan Bowman acquired at the trade deadline.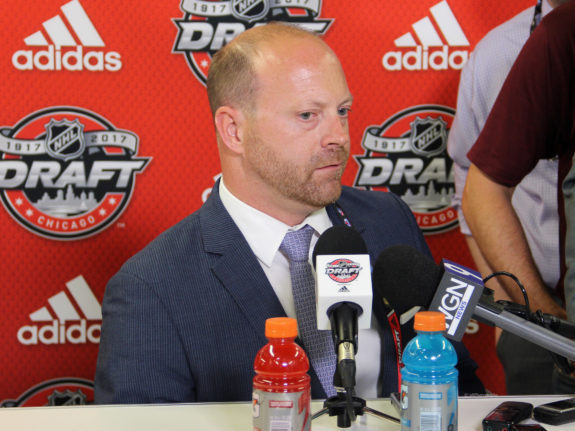 For one, if you're hoping the Blackhawks will package their two first round picks to land Rasmus Dahlin, you likely will be disappointed come draft day. Even if the Blackhawks were to get picks three and, say, 20, that likely might not be enough to land the number one pick. Or, even if they offered up more picks, trading up to get number one is just so unlikely.
But, let's say they end up with nine and 28. Then, trading up into the top five might not be out of the question. They also could potentially move one of the two picks packaged with one of their otherwise unshakable contracts, although that would be a serious bargain.
There's no way to predict what the Blackhawks might do at the draft, even if we did know where they were selecting this early on. The Blackhawks front office seems to always have a trick up their sleeve and do the right thing eight out of ten times, let's hope they can pull it off again.
5. Improve in Free Agency
For the first time in a long time, the Blackhawks are going to have a legitimate amount of cap space to play with this summer. They should have not only enough money to re-sign their players who become free agents, but they should be able to make a significant splash in free agency as well.
First, who will they re-sign? Let's look at the upcoming Blackhawks free agents who have a chance to make an NHL impact. Direct your attention to our Blackhawks Salary Cap Information page.
Upcoming Blackhawks Free Agents
Anthony Duclair: RFA, counts for $1.2 million against the cap
Vinnie Hinostroza: RFA, counts for $717,500 against the salary cap
Patrick Sharp: UFA, counts for $800,000 against the salary cap
Tomas Jurco: RFA, counts for $800,000 against the salary cap
Cody Franson: UFA, counts for $1 million against the salary cap
Lance Bouma: UFA, counts for $1 million against the salary cap
John Hayden: RFA, counts for $925,000 against the salary cap
Who Comes Back? Who doesn't?
The following players are guaranteed to return: Vinnie Hinostroza, John Hayden
The following players likely will return: Anthony Duclair, Tomas Jurco (ugh)
The following players likely will move on: Patrick Sharp, Cody Franson, Lance Bouma
Anthony Duclair
My opinion of what the team should and will do are two different things. I think the Blackhawks should bring Duclair back on another one year deal to give him another chance to prove himself and to put it all together.
His speed is incredible, maybe he just needs a little bit more time to let his hands catch up to his feet, similar to what we saw with Vinnie Hinostroza at one point. His contract would be fairly cheap, another low risk and potentially high reward move.
With the lack of ice time Duclair has been getting, and with the lack of defensive skill he has, I feel like the organization may choose to move on. Regardless of what the Blackhawks do with Duclair, they were able to shed Richard Panik's salary, so it's already a win.
Tomas Jurco
Let me explain myself: I don't think Jurco should return, but I think he will. Stan Bowman has a history of giving the players he likes as much of a chance to succeed as possible (ex: David Rundblad), and I think Jurco is another example of that. I mean hey, Bowman pursued Jurco for six weeks before trading for him…
Jurco getting playing time with Patrick Kane while John Hayden is sitting in Rockford is beyond me, it just shows how badly Blackhawks management wants Jurco to succeed. It's almost like they think if they play him with Kane enough, he'll have to succeed eventually.
Free Agent Market
Marian Hossa was the last big time franchise altering free agent signing the Blackhawks have had, and that was way back in 2009. An argument might be able to be made about Artemi Panarin, but Hossa would win out on that one.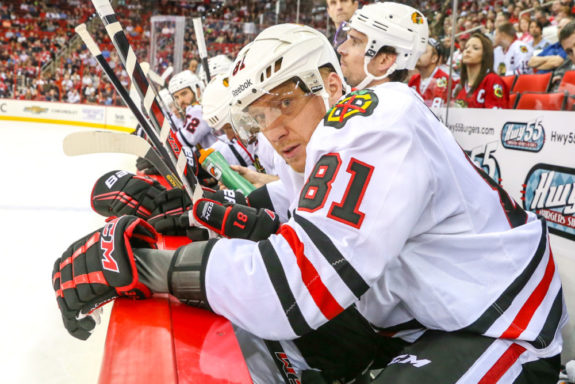 The Blackhawks have a chance to make a Hossa type signing again, bringing in a player to fill a current hole for many years to come. There are a large amount of UFA defensemen and RFA defensemen on the market, and that's what the Blackhawks likely will be in the market for. That, and maybe a bottom six center.
What two players should they sign?
John Carlson
Arguably the best free agent defenseman on the market this summer, a player who could jump right into the Blackhawks top four for many years to come. Carlson is 6-foot-3, 28 years old, and has been playing in the NHL since the 2009-10 season. He counts for $3.96 million against the salary cap right now for the Washington Capitals, so he is due for a significant raise, one the Blackhawks likely could give him. If the Blackhawks could lock him up for several years at around a $6 million dollar AAV, that would be a win.
Stastny, Jenner, & Danault
The Blackhawks aren't going out and signing John Tavares, sorry. Looking at what's available, Paul Stastny, Boone Jenner, and Phillip Danault are three players I could see the Blackhawks reaching out to. Danault and Jenner would be more about the future as they are younger and have more time ahead of them, Stastny would be more of an aggressive win-now type move.
All three players would be affordable for the Blackhawks, with Danault obviously being the least expensive. Signing one of these three centers would give the team some solid depth down the middle, something they desperately need. Toews, Schmaltz, Stastny/Jenner/Danault, Kampf looks pretty darn good on paper.
Side note: Don't be surprised at all if Tommy Wingels comes back this summer.
Salary Cap Totals…
Lets break this down. Factoring in the Gustafsson extension, Rutta extension, and hypothetical trades of Hossa, Seabrook, and Anisimov, what would the Blackhawks salary cap situation look like next year?
Forwards
Let's make several assumptions: Jurco is not brought back; Hayden, Duclair, and Hinostroza are brought back;  Sikura is signed.
Patrick Kane – $10.5 million
Jonathan Toews – $10.5 million
Brandon Saad- $6 million
Anthony Duclar – $1.2 million (new contract needed)
Nick Schmaltz – $925,000
David Kampf – $925,000
Alex DeBrincat – $778,333
Vinnie Hinostroza – $717,500 (new contract needed)
John Hayden – $925,000 (new contract needed)
Dylan Sikura – contract needed
That totals up to $32,470,833 with two full-time spots open and four new contracts needing to be signed.
Defense
Let's assume Seabrook is in fact traded.
Duncan Keith – $5,538,462
Connor Murphy – $3.85 million
Jan Rutta – $2.25 million
Carl Dahlstrom – $750,833
Erik Gustafsson – $1.2 million
Jordan Oesterle – $650,000
That totals up to $14,239,295 with no full-time spots open, although a free agent signing could easily kick most of those guys out of the lineup. If Forsling makes the jump and knocks Dahlstrom out of the line up, he only counts for a little over $100,000 more against the cap.
Also, I can't address the future of the Blackhawks blue line without addressing Henri Jokiharju. Asking an 18-year-old defenseman to come from Juniors directly to the NHL and make an impact is a large request, so don't have many expectations for Jokiharju going into next season.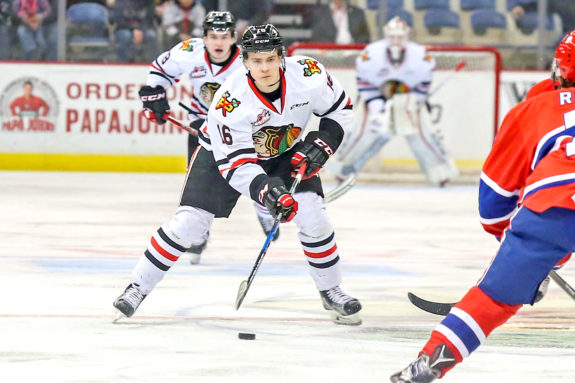 The Blackhawks may give him a look if they like what they see in prospect and training camp, but him earning a full-time spot in this defense next year seems like a long shot.
A defense of Keith, Murphy, Carlson (free agency), Rutta, Forsling and Oesterle would be an improvement over this year at least.
Goaltending
Corey Crawford – $6 million
Anton Forsberg – $750,000
JF Berube – $700,000
For the sake of this, let's say Forsberg keeps the back up job. That totals $6,750,000.
Totals
That totals to only $53,460,128 with several new contracts needed to be given out. The salary cap is expected to increase to between $78-82 million next season, meaning the Blackhawks could potentially have between $15-20 million to play with. Keep in mind that the Blackhawks would also have to include the salary of any players that return in these trades (Tanev, Sutter, etc).
Final Thoughts…
The Blackhawks can only be so aggressive this summer because of what the following summers entail. Schmaltz and Kampf are free agents after the 2018-19 season, as are Forsling and Ejsdell. DeBrincat is a free agent after the 2019-20 season.
When making moves and signings, the Blackhawks need to think ahead to the following summers and make sure to allocate enough money to be able to pay each of those guys.
Furthermore, this entire article was written under the assumption that Corey Crawford is in fact going to be ready for next season. What if he is unable to play again?
The Blackhawks would have to use some of that free agency money to get a goalie. Notable free agent goalies this summer are Connor Hellebuyck, Cam Ward, Jaroslav Halack, Jonathan Bernier, Anti Raanta, Kari Lehtonen, and Petr Mrazek.
Lastly, I think it goes without saying that trading Marian Hossa's contract and Brent Seabrook's contract are easier said than done, as is coming up with realistic trade scenario's for these types of deals. Whatever does happen this summer with the Blackhawks, it's guaranteed to be an interesting one.
I am an undergraduate student at the University of Illinois at Urbana-Champaign, studying Community Health: Health Planning and Administration. I previously have covered the NHL at FanSided & BlackhawkUp.