It's no secret that the Blackhawks' main weakness this season comes on their defense. Brent Seabrook is slowing down and Duncan Keith has had an unusual season. Connor Murphy is evidently still finding his own, and other than that, the defensive group is made up of mostly first or second-year players.
If the Blackhawks want to get back into contention anytime soon, they are going to need to upgrade their defense, and do it fast. While they have Henri Jokiharju possibly coming in next year, and they might select a defenseman with a high pick in the draft, they need someone to come in and make more of an immediate impact.
This summer the Blackhawks will have more cap space to play around with than they have had in a very long time, and they might need to look towards the free-agent market to fix their defense. I already took a look at the restricted free agent defensemen on the market. Now, let's take a look at the unrestricted free agent defensemen on the market!
Note that the youngest UFA defenseman on the market this upcoming offseason is 24 years old and the oldest is 40. The Blackhawks are trying to get younger and faster, so they likely will target a younger player even though the older ones have much more experience.
Calvin de Haan
Calvin de Haan is a defenseman for the New York Islanders currently playing in his fifth substantial season in the NHL. He currently measures in at 6-foot-1 and has played a total of 304 games, accumulating 81 points. He has recorded an additional 16 games of playoff experience in the NHL, where he has a total of three points.  Last season was the best of his career, as he posted career highs in goals, assists, and points.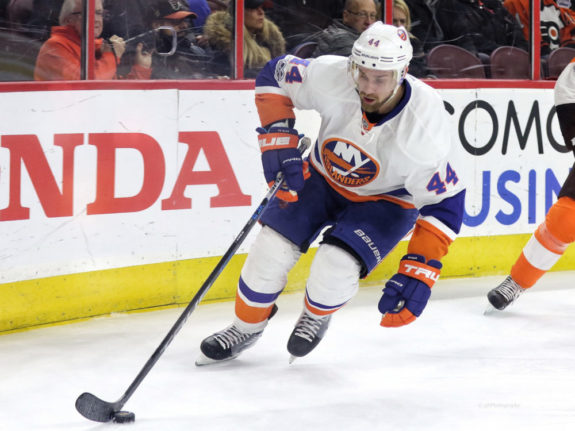 The 26-year-old is on a one-year, $3.3-million dollar contract that expires upon this season's conclusion. While the Blackhawks could afford to give him a small raise, they should steer away from giving him a contract that has higher than a $4-million dollar hit to the salary cap.
Note that de Haan has been injured since December and will miss the rest of this season.
John Moore
John Moore is a 27-year-old defenseman currently playing for the New Jersey Devils. Moore is on the third year of a $5-million dollar contract, counting for $1.66 million against the salary cap.
While he has been in the league for parts of 10 seasons, his most recent contract was also his most expensive one, so he likely won't command too much of a raise. He is most definitely affordable for the Blackhawks for that reason. But, would they want him?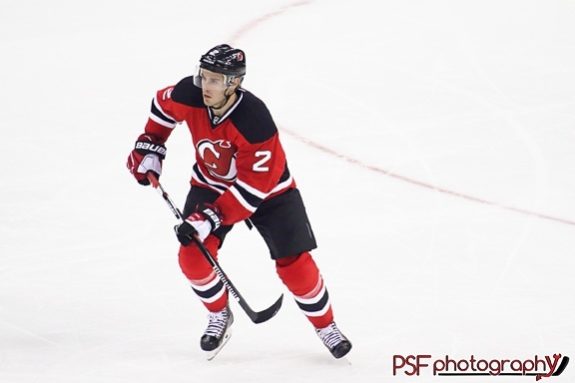 Moore has played 430 regular-season NHL games in his career between the Columbus Blue Jackets, New York Rangers, Arizona Coyotes, and the Devils. He has been good for 98 total points in that span. He's a career 5.4-percent shooter and has a plus/minus of minus-30. He has played an additional 33 NHL playoff games, all with the Rangers, where he totaled three assists.
With his age, experience, and cost, Moore would be a nice stabilizing presence on the blue line. While he may not be the most flashy player, he would pair nicely with a less experienced defenseman, and the Blackhawks have plenty of those.
Note that he has played for both the Chicago Mission and Chicago Steel in his career. Who knows, maybe he liked Chicago so much the first time around that he wants to come back again!
Ryan Sproul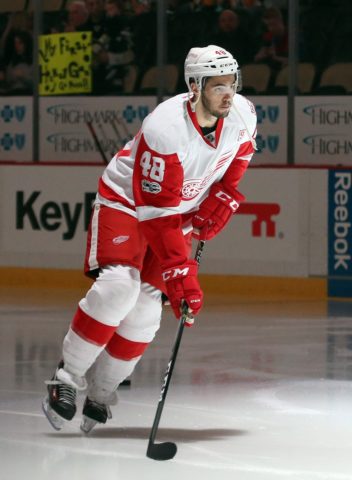 This one may come as a surprise to some, but Ryan Sproul is someone worth taking a chance on for several reasons. While he only has 32 games of NHL experience in his career, he has loads of potential. Enough so that he is being included in the New York Rangers' rebuilding plans.
Sproul was originally drafted by the Red Wings but is now giving his services to the New York Rangers. His 6-foot-4 frame would provide the Blackhawks something they're missing on the back end: size.
As far as his contract goes, he's on the second year of a two-year, $1.25-million dollar contract that counts for $625,000 against the salary cap. Because he has already been on two NHL franchises, if he goes to a third, he likely will want stability. This means the Blackhawks could potentially lock him up for three or four years at a really cheap price.
At the most, he's a phenomenal find, a diamond in the rough. At the least, he would continue to develop down in Rockford (AHL) and give the organization some added defensive depth. If Sproul is willing to test the market, he's a player the Blackhawks shouldn't sleep on.
Andrej Sustr
Andrej Sustr's main asset is his size. His 6-foot-8 frame is what may make the Blackhawks interested in him come free agency. Sustr went undrafted and eventually signed with Tampa Bay as a free agent in 2013. He played two games with the Lightning in the 2012-13 season before being sent to Syracuse in the AHL.
Sustr became more of an NHL regular in the 2013-14 season and has played 314 total regular-season games in the NHL. He also has 46 games of playoff experience across three seasons to add to his resume, and by the looks of it, his Lightning will be making another long run this year.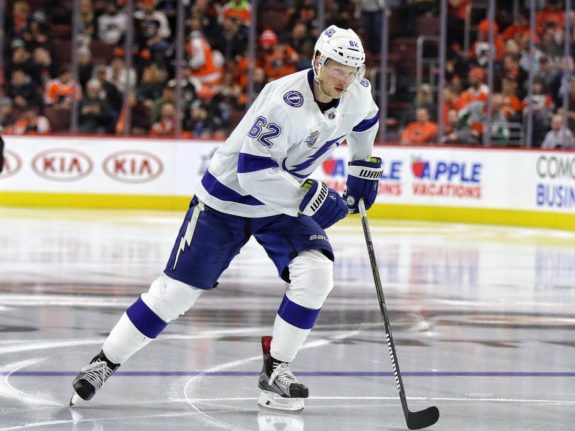 He boasts a solid 62 points in the regular season along with five more in the playoffs; But, of those 67 points, only one has come on the power play. While his lack of experience on the power play would be a downside to the Blackhawks as their power play could use a quarterback, Sustr would be very useful in a more defensive defenseman-type role.
Sustr is currently signed to a one-year deal worth $1.95 million against the cap, so it's not likely that affordability would be an issue for the Blackhawks. Because he has been with the Lightning his entire career, the main issue if the Blackhawks were to try to pursue Sustr is whether or not he is willing to leave Tampa Bay.
Considering the fact that the Lightning have a legitimate chance to win the Stanley Cup this year and next year, prying Sustr away from Tampa Bay might not be too easy. The Blackhawks' only chance comes through how crowded the Tampa blue line is due to the acquisition of Ryan McDonagh. If Sustr is losing playing time, he may be more inclined to leave.
John Carlson
John Carlson might be the most attractive UFA defenseman on the market, and he likely will command the most money in his next contract. He's currently on the last year of a six-year, $23.8-million dollar contract that counts for $3.96 million against the salary cap per year.
He will be due for a significant pay raise simply because while this is already his ninth season in the NHL, he has been so cost controlled for so long, and he is only 28 years old.
The most likely scenario for the Blackhawks would be to offer him several years at a moderate term, although he might command close to a $7-million dollar AAV. Depending what he commands, the Blackhawks may have to assess how soon they plan to get into contention, and what they might have to do in terms of cap hit and term to outbid other teams.
Aside from all of this, should the Blackhawks want him?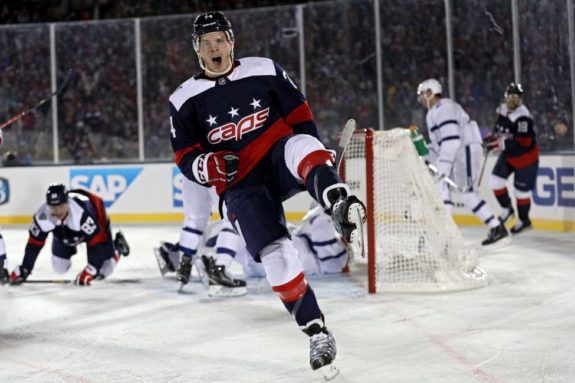 As previously mentioned, Carlson is a nine-year NHL veteran. He has played 591 NHL regular-season games to date, along with 76 playoff games, all with the Washington Capitals. He has 318 regular-season points in his career and is on pace to surpass his season high this year. He also has 35 points in the playoffs, including 13 goals.
Carlson would be perfect on the Blackhawks' second pair. He is a guy they can sign if the front office envisions their team being back in contention sometime soon. Because he may command a pretty large contract, the team should be cautious before handing it out, as past lengthy contracts given by the Blackhawks front office has put them in tough situations.
Ian Cole
Ian Cole is the last "big" name the Blackhawks could potentially target, although he probably should just be a fall-back option. The 29-year-old is a 388 game NHL veteran who has played for the St. Louis Blues, Pittsburgh Penguins, and now the Columbus Blue Jackets. He has an additional 56 games of playoff experience and was a part of the last two Stanley Cup winning teams. He has recorded 90 regular-season points and 14 in the playoffs.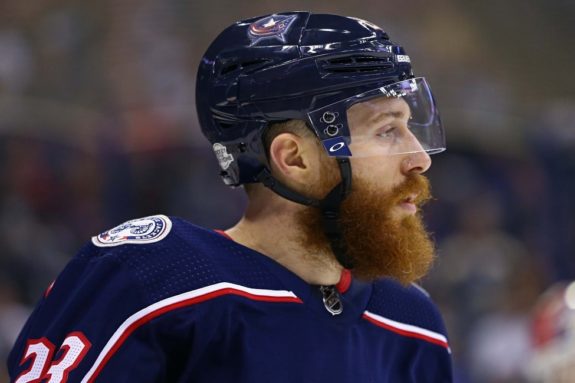 Cole is currently on the last year of a three year $6.3 million dollar deal, counting for $2.1 million dollars against the salary cap. Like most of the other defensemen on the market, he would definitely be affordable for the Blackhawks this summer, but it just seems like there are better options on the market.
Current and Former Blackhawks
Finally, four current Blackhawks defensemen will be unrestricted free agents at the end of the season: Jan Rutta, Cody Franson, Michal Rozsival, and Viktor Svedberg. Could we see any of them brought back?
Rozsival's career has been all but over since he was placed on LTIR at the beginning of this season, so he is out. Franson has spent most of the season in Rockford, and since he likely wants a job playing in the NHL, he won't be back. Svedberg seems like a career AHLer, so in that case, the only UFA defenseman they have a shot of bringing back is Jan Rutta.
Two former Blackhawks defensemen will be UFAs at the season's end: Michal Kempny and Johnny Oduya. Oduya is aging and slowing down, and his second stint with the Blackhawks didn't go as planned. Considering that the Blackhawks just traded Kempny, and the fact that he wasn't getting much ice time while he was still in Chicago, it isn't likely that he returns either.