Rasmus Dahlin
2017-18 Team: Frolunda HC (#8)
Date of Birth: April 13, 2000
Place of Birth: Trollhattan, Sweden
Ht: 6'2" Wt: 181 lbs.
Shoots: Left
Position: D
NHL Draft Eligibility: 2018 first-year eligible
Rankings
NHL Central Scouting: 1st (among EU Skaters)
Future Considerations: 1st
McKeen's Hockey: 1st
ISS Hockey: 1st
Hockey Prospects.com 1st
There is no better prospect in the 2018 NHL Entry Draft than Rasmus Dahlin. The 6-foot-2 defender only just turned 18 years old and has already proven to be a dominant blueliner despite playing against mature competition in the SHL.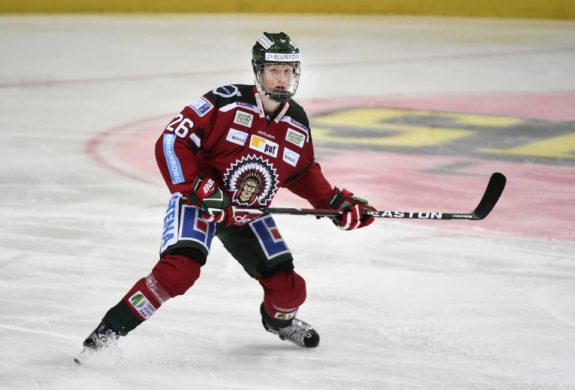 Whether it's his size, speed, vision, shot or general knowledge of what to do and when to do it, Dahlin has proven to be a clear step above his fellow draft prospects this year.
Scoring only a goal and three points in 26 games in his first season with Frolunda in the SHL at 16 years old, Dahlin was able to raise his draft stock simply due to his defensive ability while playing against competition way more experienced than himself.
In his second year with the club, Dahlin showed more of the same defensively and was a stalwart all season with Frolunda. Despite playing under a microscope with the entire hockey world knowing the name Dahlin before the puck even dropped on his first game of the season, Dahlin managed to up his offensive game and score an impressive seven goals and 20 points in 41 games at only 17 years old.
Playing regular minutes on Frolunda's second pairing, Dahlin's ability to match up against top competition shouldn't be understated heading into this year's draft. His ability to identify a play, know when to join a rush and when to fall back make him an elite prospect. What really separates him from the rest of the group, however, is his ability to quickly recover from a bad decision or bad positioning coupled with his intense compete level.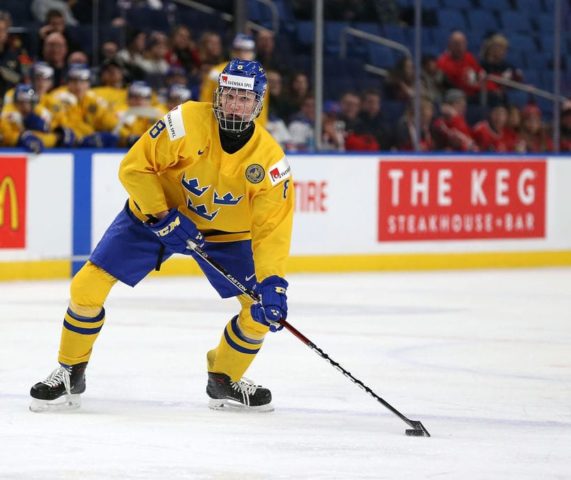 Pressure and elevated competition haven't yet proven to be an issue for Dahlin who has only gotten better as he's grown and matured as a player. While it would be unrealistic to expect him to be an all-world defender in his first season in the league, there should be no reason to doubt that he could achieve that feat. as early as next season either.
Players grow at their own pace and adjusting to the North American ice size and style of play has proven to be difficult for some players. Even if Dahlin takes a little time to get used to the NHL, the sky is the limit for his potential.
If there's any knock to be found on Dahlin it's that at 6 foot 2 and 181 pounds, he could stand to add a little mass to his frame. That is especially true with the way he likes to play hockey. A big open ice hitter, Dahlin doesn't shy away from contact. Playing that way can take a toll on a player's body, however, and bulking up a bit could help him in the long-run.
RELATED: THW's 2018 Draft Guide
Other THW Draft Profiles:
Rasmus Dahlin – NHL Draft Projection
Dahlin will be taken with the first-overall selection in the 2018 NHL Entry Draft. While every other player in the class could fall anywhere within a variety of ranges, Dahlin is about as sure-fire of a first-overall pick as it gets. This isn't a year of Taylor or Tyler nor is it a year of McDavid or Eichel. Dahlin has separated himself as the clear-cut No. 1 and the team that wins the lottery will undoubtedly know who they are selecting immediately.
Quotables
"After the WJC there is zero doubt who the top draft pick should be in June. Dahlin has everything you want in a defenceman in 2018. Can help turn a franchise around." – Jeff Marek, Sportsnet
"He has all the tools to become a game-changing pillar for an organization. His effortless skating and offensive tools make you swoon while his defensive game grows with each passing contest. An outstanding World Juniors, and will be a prominent figure on the Olympic squad in a few weeks. A border-line generational talent on the backend." – Cam Robinson, Dobber Prospects
"He is a franchise-defining defenceman with an unprecedented ability to control the game in all areas. The last blueliner I saw with that capability at this age was Victor Hedman. " – Craig Button, TSN
"Nothing has changed in the eyes of scouts and the Olympics will likely prove that he'll be ready to play in the NHL as early as next season." – Sam Cosentino, Sportsnet
"He's been the best prospect in Sweden for years," said Goran Stubb, the NHL director of European Scouting. "He's a smart, two-way D-man who can control the game in almost every situation using his stickhandling, smooth skating and overall skills. He's not overly physical but can give and take a hit." – Mike Morreale, NHL
Strengths
Skating
Vision
Hockey IQ
Defense
Offensive instincts
Under Construction (Improvements to Make)
Needs to add a little weight
NHL Potential
A player with as much potential and hype behind him as Dahlin has to be projected as a No. 1 defender at the NHL level. No matter which team drafts him, Dahlin should immediately find himself playing major minutes in an NHL uniform next season. He's the kind of player who can be transcendent and transform an entire unit just based on his presence.
At the same time, he'll be 18 for just about the entire 2018-19 season. Expectations should be aligned with that as no player is immune to hitting a rookie wall in some way or another. While it's true that some players never actually hit the wall, the risk is always there.
Risk-Reward Analysis
Risk – 0.5/5, Reward – 5/5
Fantasy Hockey Potential
Offence – 9/10 Defence – 9.5/10
Awards/Achievements
Most points in the AHL by a U18 Junior (20 points). Named Swedish Junior Hockey Player of the Year in 2017-18. Won a silver medal at the World Junior Championships while also taking home best-defenseman honors and being named to the WJC All-Star team.
Interview/Profile Links
Videos
https://www.youtube.com/watch?v=3WeMHXRdbU8