Adam Boqvist
2017-18 Team: Brynas IF (#3)
Date of Birth: August 15, 2000
Place of Birth: Falun, SWE
Ht: 5'11" Wt: 170 lbs
Shoots: Right
Position: D
NHL Draft Eligibility: 2018 first-year eligible
Rankings
While all the attention of this upcoming draft is focused on the top-three of Rasmus Dahlin, Andrei Svechnikov and Brady Tkachuk, there's a player available if you miss out who has a lot of Erik Karlsson in him. Sounds interesting, right?
High-end offensive defensemen are hard to find. But there is one available in Adam Boqvist who could make a lot of aspects of your team better. It starts with what he is able to do with the puck on his stick.
RELATED: THW's 2018 Draft Guide
Boqvist is as good a playmaker as he is a shooter. He is equally dangerous in both offensive aspects. He can score from anywhere on the ice. If he doesn't have the shooting lane, he can complete almost any pass. It's usually the right pass and on the tape. He does all of this at a high rate of speed as he is a dynamic skater. Need an example of how offensively gifted he is? When his team needed a shootout goal, he was called upon to deliver and usually did.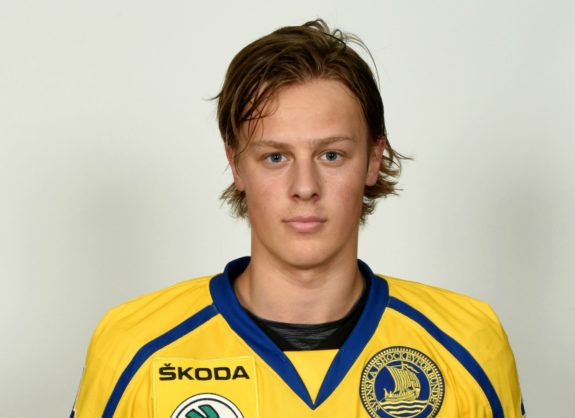 Of course the question with an offensive defenseman is how good is his two-way game? In Boqvist's case, it's decent. There's certainly work to be done especially in his own end, but it's improved. He's actually really effective breaking up plays in the neutral zone. He uses his speed and stick handling to do this. Where he needs to improve is his size and strength in order to become more effective in his own zone. He thrives in open space, but needs to solidify his play in tight spaces.
What do you get in Boqvist if you draft him? You get a potential top-four right-handed defenseman who can quarterback your power play. Considering he played in Sweden, his line of 14-10-24 in 25 games is rather impressive. Not sure he starts in the NHL right away, but don't discount that in a year or two. He is one of the youngest players in this draft as he will be just 17 when he hears his name called.
Other THW Draft Profiles:
Adam Boqvist – NHL Draft Projection
Boqvist is a sure fire top-10 pick and could go as high as fourth overall. The way he slips is if a team prefers offense in a particular spot, say Brady Tkachuk or Oliver Wahlstrom. For my money, Boqvist is the second best defenseman available in this draft given the dynamic offensive tools he brings.
Quotables
"A dynamic offensive defenceman that can carry plays with the puck on his stick. A highly mobile and nimble skater that moves with fluidity, balance, and confidence. Utilizes an active stick and creates turnovers frequently. Could be more proactive in his own end, but has shown progression in understanding lanes and reading unfolding plays; most of his best defensive work comes through the neutral zone, as there is a lot less time and space to work with, and it is in those moments that Boqvist shines. Offensively, Boqvist is electric; he has the toolbox of a top line forward. Slick puckhandling ability paired with excellent vision and positional awareness makes him a dangerous threat every time he is on the ice. He also takes advantage of the attention and bodies he draws towards himself in creating space for teammates. All-in-all, Adam Boqvist is a complete offensive defenceman that knows how to get the puck from point A to the back of the net, and can make it happen all by himself."-Elite Prospects
"Smooth-skating puck mover who plays with flair and grace while owning one of the hardest shots of any draft-eligible defenseman. Boqvist is an attack-first option who loves to use his speed and agility to dart and weave around opposing zone schemes. He can quarterback a power play with the best of them, and he's not shy towards unloading his howitzer with or without shooting lanes being clogged. His puck skills — especially stick-handling — and play within the offensive zone are extraordinary, and he appears to have a firm grasp on how critical his job is as his team's center of gravity. Boqvist has a lightning-quick first step and uses it to escape trouble or interdict an opposing pass." –Steve Kournianos/The Draft Analyst
"Boqvist is a confident, puck-moving blueliner…skates well with quick agile feet that generate solid levels of speed…solid on his edges…very efficient skater…keeps the game simple, and cuts out the extra overly creative pass by finding open teammates in good position…moves the puck quickly and beautifully around the ice with crisp clean passes…can fire the puck accurately on the net with a quick release…adept at sneaking into open lanes for an opportunity…a steadying presence…plays the point well and has impressive ability to keep the puck in the offensive zone…very active stick at both ends, and uses it wisely to keep the pressure on the defense, helping hem them in their own zone or to disrupt the attack defending in his zone…very active feet, can contain his assignment with good agility and willing to get after the opposition with physical play…positions his body to box out opponents…his size is the obvious drawback…provides his team with a steady presence on the blue line, and thinks the game at a high level…a potential top-four two-way defenseman."-Future Considerations
Strengths
Great skater
Dynamic shot
Excellent hands
Elite puck mover
Under Construction (Improvements to Make)
Size & Strength
Physical play
Play in his own end
NHL Potential
Boqvist is behind his fellow countryman Dahlin, but the gap isn't that far. Boqvist projects as a top-four defenseman who can quarterback your power play. The way he attacks is very similar to the style of Erik Karlsson.
Risk-Reward Analysis
Risk – 3/5, Reward – 5/5
Fantasy Hockey Potential
Offence – 9/10, Defence – 6.5/10
Awards/Achievements
Boqvist had the most goals and points in 2016-17 in the J20 SuperElit. He also helped Sweden win a bronze medal at the Ivan Hlinka tournament.
Interview/Profile Links
Videos