Cole Fonstad
2017-18 Team: Prince Albert Raiders (#24)
Date of Birth: April 24, 2000
Place of Birth: Estevan, Saskatchewan
Ht: 5'10" Wt: 160 lbs
Shoots: Left
Position: Left Wing
NHL Draft Eligibility: 2018 first-year eligible

Rankings
In every draft there are a few players that are a challenge for scouts and evaluators to place for various reasons. In the 2018 NHL Draft, one of the biggest challenges is Prince Albert Raiders forward Cole Fonstad. Fonstad is a player with a lot of attributes scouts usually value, but with a few concerns that might see him slide down the rankings.
A product of Estevan, Saskatchewan, Fonstad came up through the ranks as an undersized yet offensively talented young center. The fifth overall pick in the 2015 WHL Draft, he joined the Raiders in 2016-17 and put up 26 points in a secondary role as he adjusted to the league. This past season he doubled his goal-scoring and nearly tripled his points from the previous season. He ended up with 21 goals and 73 points in just his second year in the WHL – and all before hitting his 18th birthday.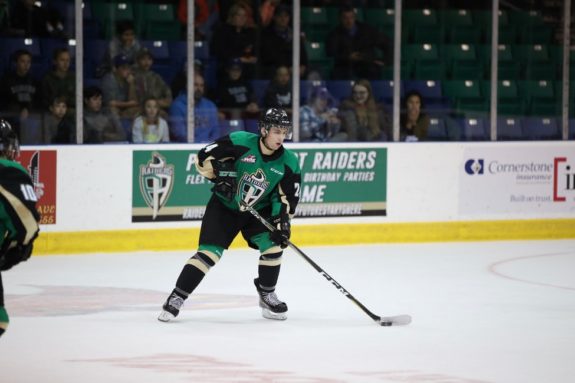 Fonstad took off offensively this season for a few reasons. First of all, he's got great offensive instincts and motors around the ice really well. He was also moved from playing center to the wing, where he didn't have to jostle with Winnipeg Jets pick Jordy Stallard, Sean Montgomery, Kody McDonald and Parker Kelly for ice time. As a result, he played a lot more and also didn't have to worry about the defensive responsibilities of a pivot. He also played a ton with Stallard, which gave Fonstad the ability to be the set-up man for somebody who could bury his chances.
It's the Stallard angle that's the most challenging part of evaluating Fonstad. On one hand, he led his entire WHL age group in even strength scoring and even strength primary points. He's definitely talented and definitely contributed to Stallard's success – Stallard nearly doubled his previous career-bests for offense playing with him – but he assisted on twice as many of Stallard's goals as the other way around. Is Fonstad going to be as productive next season playing without Stallard? How much of his offensive leap forward is because of his teammate, how much is because of moving to the wing, and how much is because of Fonstad being a smart player and adapting to the WHL game? It's very difficult to separate the factors, which is why there's a lot of variation in his rankings.
The other big concern about Fonstad, for now, is likely his size. He's still very much a skinny kid. He's an offensively talented skinny kid, but he'll need to fill out and add a physical element to his game as he matures to have a hope of translating his game to the next level. His hockey sense and speed will definitely help him make the jump, but his success in the WHL has so far been dependent on having enough time and space to make a smart play – two things that will be at a premium in the pro ranks.
Related: THW's 2018 NHL Draft Guide
Fonstad has shown promise and has great numbers in his draft year – better than any WHL player in his age group. But the lack of a large body of work might hurt him in the eyes of scouts, as might his lack of a large body of work away from Stallard, and his overall lack of a large physical body. Time and additional experience with the Raiders will likely start to take care of those concerns, but they represent some immediate risk factors for teams considering selecting him in this year's draft. Fonstad is definitely a good hockey player, but it's unclear precisely how good he is and where his developmental ceiling lies.
Cole Fonstad – NHL Draft Projection
Fonstad's size and questions about his ceiling probably place him in the mix to be selected in the third, fourth or fifth round of this year's draft. But his offensive potential, especially if he can drive offense away from Stallard next season, might make him a great value selection in the middle rounds of the draft.
Quotables
"Scored in the Top Prospect game this past month and has been one of the more unique draft eligible. Showing much more creativity than most other eligible and producing at over a point per game pace on a team outside a playoff spot. Small in stature but dynamic and hockey IQ allows him to make an impact game in and game out." – Brayden Sully, Dobber Prospects
"I don't know how to explain it, he's a special kid and he's proving that right now. He's been off to a tremendous start, I got an opportunity to watch him play a couple weeks ago in Moose Jaw and he's playing very well… The big thing for Cole is the move to wing, it's allowed him to show off his play making skills and certainly you see that with every pass, it's spot on." – Tom Copeland, Estevan Bruins Bantam AA head coach
Strengths
Strong skater with good acceleration
Effective passer and puck distributor
Responsible two-way player
Under Construction (Improvements to Make)
Quite skinny, needs to fill out physically
Needs to shoot more
Questions about playing style translating at the next level
Other 2018 NHL Draft Profiles
NHL Potential
Right now, Fonstad projects as a middle-six winger at the NHL level.
Risk-Reward Analysis
Risk – 1.5/5, Reward – 4/5
Fantasy Hockey Potential
Offense 8.5/10, Defense 8/10
Awards/Achievements
Fonstad represented Team Canada at the Under-18 World Championship.
Interview/Profile Links
Videos