The better team won on Thursday night. It took the Nashville Predators two periods to get started but once they did, it wasn't even close. The Colorado Avalanche won the high danger and scoring chance battle but the Predators controlled possession for much of the game. Star players had a huge impact on both sides, although it's debatable who was better. Nathan Mackinnon could've had five points if Pekka Rinne had not been on his game, but Filip Forsberg would not be outdone.
Forsberg scored two goals, one of which was the game-winner and the other is already being nominated as the goal of the playoffs. Poor Sam Girard, who was dangled harder than anyone I've seen recently. The ex-Predator was having an incredible game but no one will remember that. Instead, the image of Forsberg muscling his way around Girard will be exhausted as the top highlight for days to come.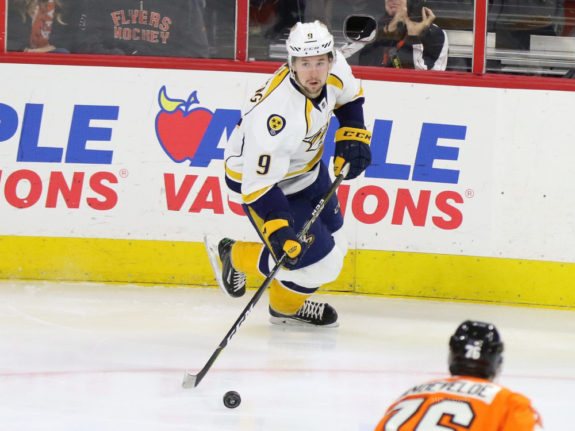 A 5-1 win will convince many that the Predators dominated but that's not true. Much like a game-winning and highlight reel goal will convince many that Forsberg dominated. But did he? The numbers don't lie.
Filip Forsberg, All by Himself
Forsberg made some great individual efforts on Thursday, the best being his dangle and goal. But here's a closer look using goals, shots, scoring chances created (SCC), and high danger chances created (HDCC), all at five on five.
The goals are nice but it's not likely that Forsberg will continue to shoot at 33%. The only player who can do that is Wild Bill Karlsson on the Vegas Golden Knights, and I'm only partly being sarcastic. In 13 and a half minutes, Forsberg created six shots, with two coming from the slot. That's almost 27 shots per hour, good for tops on the team by almost ten shots and although one game is a small sample size, Forsberg's willingness to shoot is a great sign for the future. After all, you have to shoot to score.
Otherwise, creating two scoring chances and two high danger chances is great. Forsberg was around the net and looked hungry all night. His individual skill shined but his actual contribution wasn't as bright.
Was Forsberg a Team Player?
Offensive contribution is Forsberg's main job but a hockey rink is two hundred feet and every player needs to be good in every zone. For reference, we're using unblocked shot attempts (Fenwick), scoring chances (SC), high danger scoring chances (HDC), and zone starts for (offensive) and against (defensive). Once again, all stats are at five on five.
Things don't look as good now. While Forsberg was on the ice for more unblocked shot attempts, when we refer to all shot attempts, his percentage moves from 56.52% down to 46.88%. The Avalanche controlled the majority of possession when the Predators' first line was on the ice, as Ryan Johansen and Forsberg couldn't slow down Nathan MacKinnon.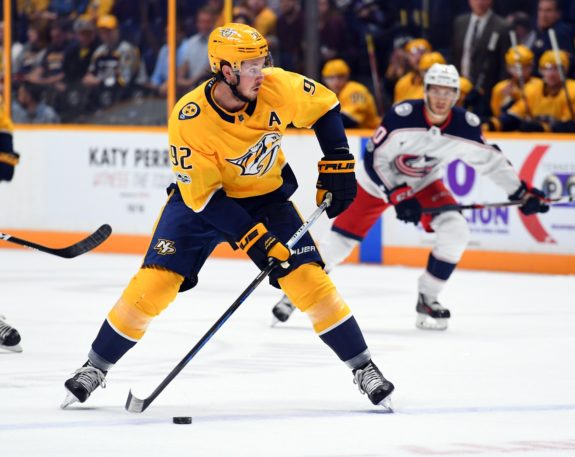 Even though the Predators only gave up two high danger chances with Forsberg on the ice, they got shelled in scoring chances. Granted, six of the regular scoring chances came against the Avalanche's top line but that's still unacceptable. The first two periods were rough on Forsberg and if it wasn't for an incredible third period, we may be discussing how the Predators should try to avoid an upset.
Forsberg's Usage
Forsberg was deployed mostly in the offensive zone, starting over 60% of his shifts there. What's interesting is that most of those offensive zone starts came in the second half of the game, which isn't by accident. Head coach Peter Laviolette was deploying the JoFA line to shut down MacKinnon but made the adjustment after it clearly wasn't working.
After Laviolette started playing the first line to their offensive strengths, the tide of the game started to turn and the Predators surged. Forsberg owes a big thank you to the third line, most notably Nick Bonino, who was a defensive stalwart. Reinforcements are coming as well, as defensive specialist Calle Jarnkork is almost back from injury. A line of Bonino and Jarnkrok will be extremely effective against the Avalanche's first line.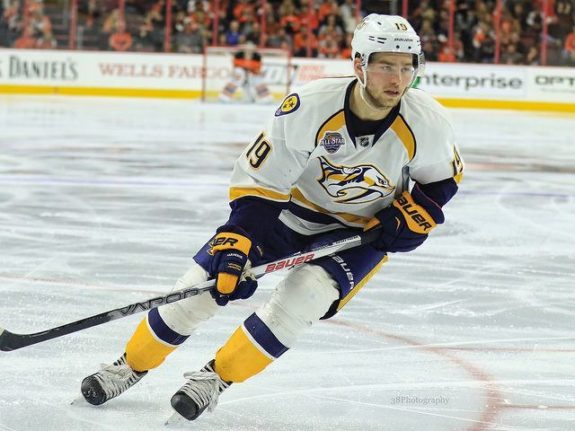 Keeping JoFA in this offensive role will be a game-breaker for the Predators. If you don't believe me, just look at the stats. With JoFA in a defensive role, the Predators are relying on Pekka Rinne to bail them out. But when playing JoFA to their strengths, the Preds can take advantage of mis-matches and turn the tide of the game.
While Forsberg was ultimately the player who won the match for the Predators, he was pretty much invisible for two whole periods. This won't matter as much against the Avalanche but could spell doom against bigger and better teams.